Did you know that posting before and after photos of your dental patient's teeth condition can help you get more new patients? In this blog post, we'll share with you several tips and tricks for creating an effective smile gallery that will surely bring in more patients to your clinic!
Importance of Smile Galleries for Dentists
A Dental Smile Gallery consists of smile transformations of a patient. This is something that your prospective patients consider when looking for a dentist. It is also one of the factors that help them decide whether to engage with your brand or not.
In this section, we'll share with you some of the benefits of having smile galleries on your dental website:
To showcase your work
Dental smile galleries serve as proof of how effective your dental services are. It gives your prospective patients an idea of how their teeth will look after getting the right treatment from your clinic. If your clinic is new, use our marketing guide for dental start-ups for effective first steps.
To create a good first impression
It also helps you establish a good impression as to how capable you are as a dentist. Having a good impression is important in every business. So, if you want to create a positive reputation for your brand, creating a smile gallery that's accessible to all devices could be a good starting point.
Want to be easily found on search engines? Read our blog post on SEO for Dentists to learn how you can improve your dental site's rank on Google.
Helps you get more page visitors and more new patients
Smile galleries aren't used for decoration purposes only but they can also be a powerful selling tool especially if you were able to hook the emotions of your prospective patients. So, if you want to make the most of your patient's smile makeovers, don't just focus on uploading before and after images, provide useful information beside or underneath the picture.
Like this:
Boosts conversion rates
Another thing that dental smile galleries do to your page visitors is that it helps your patients visualize the outcome of the treatment procedure that they're planning to get. In fact, if you have good photos of the results of your services, 50% of consumers are more likely to engage with your brand. And if they seem convinced by the photos and testimonials found on your website, these individuals could be one of your dental patients! Besides an effective gallery, here are other tips for a successful dental marketing plan.
Want to create a smile gallery for your dental website but don't have enough time?
10 Tips in Creating Effective Dental Smile Galleries
Now that you have an idea of how dental smile galleries can help your practice stand out among your competitors, we'll share with you 10 tips on how to come up with an effective gallery for your dental clinic's website.
1. Ask permission from your patients
Before you take pictures of the outcome of your patient's dental health conditions, the first thing you should do is ask for your patient's consent. You can provide a consent form so that your patients will fully understand how it'll take place, its purpose, and what will they get from it.
First time capturing before and after photos? Here's an article that will guide you on how to seek consent from your patients Getting Permission to Photograph Patients [with Consent Form Template]
2. Use a high-definition camera
Once you've already created your patient consent form, the next thing that you should do is find a camera that can capture the best photos for your brand. If you don't have one, you can just hire a professional or a freelance photographer to take pictures of your patient's smile transformations.
3. Take pictures using good lighting
Lighting sets the mood and the atmosphere of your practice. Since your goal is for your prospective patients to see the drastic improvements in your previous patient's condition, you have to make sure that there's consistency in your photos (e.g. background, lighting, quality, etc.) this will help you persuade more new patients to your clinic.
4.  Take many shots as possible
You'll never have another chance to photograph your patients, so while you are at it, make sure to take many shots and angles (e.g. close up, headshots, or portraits) as you can. This will give you many options to choose from in case the previous photos were not as good as you expected them to be.
5. Take pictures of various kinds of dental treatments
Dental smile galleries don't just showcase how skilled you are as a dentist but can also be used to get more new patient consultations. With that, you shouldn't focus on one type of dental treatment when taking photos. Provide your patients with various pictures of the before and after each treatment offered in your clinic (e.g. Invisalign, teeth bleaching, dental bonding, porcelain veneers, etc.) this way, your prospective patients will know that you specialize in these kinds of dental treatments.
6. Tell a story behind each dental transformation
A picture alone is good but telling a story behind each case is better. Once you've already chosen the best transformation photos, try adding a short background on each patient's case. You can indicate the treatment procedure that was used, along with the results. This will give your page visitors an idea of what the before and after images are all about.
Like in this example:
7. Smile gallery should be accessible
Since you want to get noticed by more new patients, you have to make sure that your smile gallery is easy-to-find. You can do that by creating a separate page where you'll display images of the before and after each dental procedure or by adding a sneak peek of it on your homepage. Use Google Ads for your dental clinic to attract even more patients to your page.
There are lots of formats you could choose from in creating your dental smile gallery. You could display images in the form of a carousel, slide show, split screen, etc. It depends on your preferred layout. Just remember to display it in a logical format and label them properly so that your page visitors won't get confused about the results.
Here are a few examples: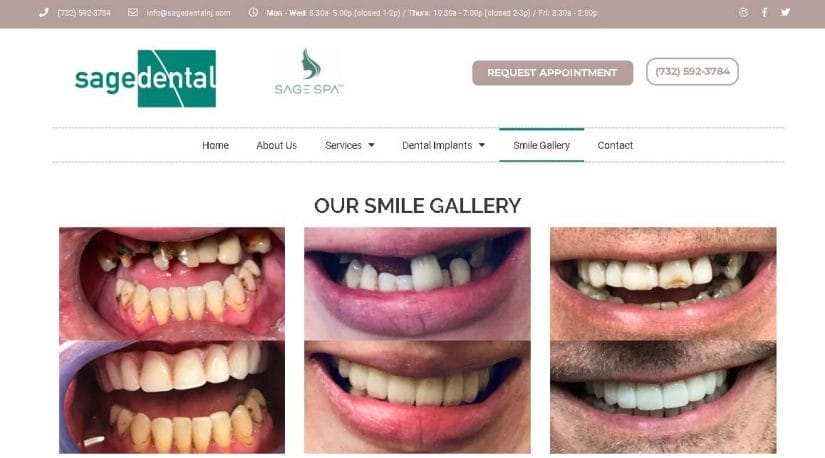 Source:sagedentalnj.com
Source: alluredentalcenter.com
Source: skydentalnj.com
Want to see more smile gallery ideas? Check our blog post on The Best Pediatric Dental Websites Of 2022.
Haven't created a website for your dental practice?
8. Share it on social media
Social media posts with pictures get 2-3 times more engagement rate than those without. So, if you want to expand your patient base, sharing your dental clinic's smile gallery on social media sites like Facebook, Instagram, Twitter, and YouTube where most of your prospective patients are would be a great idea!
Wondering why dentists need social media? Check out our blog post on Social Media Marketing for Dentists to learn more.
9. Make it mobile-responsive
The average page loading speed of the top-ranking websites is less than 3 seconds. And if your dental website takes more than 3 seconds before it fully loads, 57% of your page visitors are more likely to leave your site without taking action. So, when creating a smile gallery, don't put too unnecessary effects and elements that may affect the loading speed of your page.
To check if your site is mobile-responsive, run a free test using Small SEO Tools.
10. Don't forget to add a call-to-action button
CTA buttons guide your page visitors to take action towards your site. And placing call-to-action buttons underneath your smile gallery is a good idea because it prevents your page visitors to be overwhelmed by too much information and clicking away from your site.
Take a look at how this dental clinic website used CTA buttons:
Want to keep track of your dental clinic's website performance? Check out our blog post on Google Analytics for Dentists to learn more.
Need help creating your dental smile gallery?
Schedule A Free Strategy Session!
Key takeaway
Having a smile gallery is a must on every dental website. It doesn't only make your brand stand out among your competitors but it also helps convert page visitors to your actual patients, especially when done right. Just follow the tips and tricks we've mentioned and you'll surely have more new patients in your dental clinic!