Are you a psychologist looking for social media marketing tips on bringing your practice into social media? We are here to help. Read the following article to learn more about social media marketing for psychologists: a breakdown.

Social Media: Why does it matter?
Social media is a huge part of everyone's lives, from staying in touch with friends and family to checking out that new restaurant that just opened nearby.
Every year, the average time people spend on social media grows exponentially. According to whatagraph, people only spent an average of 90 minutes in 2012, which has jumped to an average of 180 minutes in 2020. Three entire hours!
According to statista, the influence of social media impacts both online and offline activities, behavior, and life. In statista's global online user survey in 2019, many respondents reported that their accessibility of information had improved because of social media use.
Not to mention, there is incredible growth in social media users, a huge potential pool of clients who will be able to learn about your business.
Whatagraph mentions in 2019 Facebook had over 2.2 billion active users.
YouTube had over 1.5 billion viewers each day. Instagram is expected to have 120.3 million active users per month. Twitter has 330 million active user per month, and on Pinterest 175 million users share per month.
In conclusion, most people spend a lot of time online: so you want to be where people are –which is social media.
Now, more than ever, having an online presence is the best way to attract new clientele and promote your business.
Too busy to deal with social media marketing? Let us help! Contact our social media marketing experts to get advice:
How Does This Factor Into Social Media Marketing?
Used successfully, you can attract a loyal growing customer base for your psychology practice. Furthermore, your psychology practice can reach out to more of the population online through social media. 
Following the tips and tricks provided on how to break into any social media and grow your practice online, you will be able to expand the reach of your psychology practice in no time!
Looking for help on how to break into the world of social media for your Psychology Practice? We can help! Click the link to chat with our social media experts:
At YoYoFuMedia, our experts help psychologists and therapists maximize their social media influence to expand their pool of patients and establish their practice.
Building a Brand
Your psychology practice will be engaging in building a brand every time you interact with current patients and potential patients through social media. Done well, and you will be well on your way to gaining new patients and building a following.
Social Media Marketing Techniques for Psychology Practices
Facebook:
Best choice and popular
Create a business page and verify it.
Maintain the page by making regular posts and using ads to target new clientele, and get reviews on your page to build credibility
Include photographs of various events and the staff to draw patients attention
Make sure to include links to blogs as well as new updates
Examples of good engagement include:
Notices about contests and other promotions
Information on business hours and holiday calendar
Posts that include helpful tips on maintaining mental health
More resources for patients
More tips here: Best Facebook Pages: 10 Essentials You Should Have
Instagram:
A visual social media platform, best used if your psychology practice has an aesthetic or unique looking office or includes features that can be shared with your audience visually.
Depending on what your psychology practice focuses on, you can use Instagram to post creative work that expands your interaction with your audience.
Create a business page and learn to use hashtags and tags.
Post consistently and with consistent graphics and creative work to build an aesthetic feed.
Do not overuse image filters. Learn how to present not only beautiful images but attractive feeds.
Examples of Instagram Ideas Include:
Behind the scenes series of the office
Photos of patients in the office (be careful of HIPAA regulations while posting information or pictures including patients)
Video testimonials of patients with their consent
Promoting Events
For more tips on Instagram: Instagram Tips
Twitter:
Requires time to post frequently, however the posts can be shorter text posts
Good channel to engage patients, but is more fast paced and requires more time commitment
To get started, follow patients, industry leaders, and local communities
Learn how to hashtag
Engage actively in online conversations
Post links to blogs and latest news
Share useful content from people you follow
Post live-tweets from conferences and industry events
Respond to questions on psychology practices
@the_speakmans time to take this weight loss seriously, no more excuses! I'm fed up of feeling rubbish about myself and having low self-esteem issues! I know this book will help me… The Speakmans are life-changers. Love you guys ❤️ pic.twitter.com/I03kYjzLTr

— Amy Mitchell. 🧚🏻‍♀️ (@Mitchy_x) March 25, 2021
YouTube:
Longer videos which take more time commitment but also leads to good exposure although you will need to be aware of the interests of your patients and audience
Youtube ads are useful to expand exposure to your psychology practice
Posted videos can be embedded on your website
Examples of content for youtube videos include:
A virtual office tour
Patient reviews on your psychology practice
Staff interviews and introductions
Compilation of photos and videos from team experiences
LinkedIn:
Great tool for making professional connections and networking
Helpful in establishing your credibility
Set up a profile and check up on it to update it around once a year
Connect with other professionals in your field
Writing a good summary for your LinkedIn profile means to be aware of your audience, focusing on writing a personal narrative, and keeping it short and concise
TikTok:
An expanding social media platform that allows health professionals to reach a greater span of audiences through short video clips
Set up a Tiktok, and look into the recent trends
Look up other professionals through hashtags such as "#tiktoktherapist"
Build a following by addressing a specific niche which also builds credibility
Quick facts that show up in people's feeds on tips in dealing with relationships and promoting mental health awareness
Tips and tricks to help people living with specific mental health issues
Yelp:
Answering and responding to reviews on Yelp is a really good way to increase your rankings on Yelp. The more activity you have on your page, the higher it'll rank.

Includes highlights and updates from the therapist.

Showcases reviews from patients and interactions with the clinic.
Not sure where to start? Here at YoYoFu Media, we can answer any questions you may have. Speak to one of our social media staffs here:
Google My Business
Set up your Google My Business page and include important information about your psychological practice such as operating hours and pictures of your psychology practice
Engage with your audience by answering any questions people have and responding to reviews clientele leave.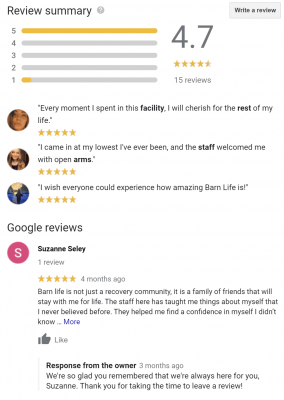 Important Tips to Maintaining Your Social Media Presence
Make sure to post at constant intervals and engage your audience.
Stay present on current trends
Use analytics provided by each social media platform to track your social media performance
For more guidance on developing your social media presence, contact us here at YoYoFuMedia:
Contact our Marketing Experts!