This complete guide on SEO for Hair Salons will offer you the top digital marketing strategies that will get your hair salon to the front page of Google search results. With this knowledge, you will outrank your competitors and drive traffic to your website.
Within this guide, you will learn every important SEO factor that contributes to boosting your Google rankings. We will cover keyword research, on-page optimization, and off-page optimization. Having a solid foundation in these SEO topics will help keep your business at the top of Google search results and increase the visibility of your hair salon.
After reading this, you will take away practical information to grow your salon and attract more clients.
SEO for Hair Salons
What is SEO?
SEO is short for Search Engine Optimization. It is a method that aims to improve a website's ranking on the search engine results pages (SERP). Search engines like Google use a combination of complex algorithms and signals to rank their searches.
Google constantly updates its algorithm and it becomes impossible to predict what will rank at the top of the search results. Marketers have to adapt to these changes to stay ahead of the competition.
However, if you understand and properly use SEO, you will increase the visibility of your website and drive traffic to your business. As a result, you will develop the top practices to deliver the best user experience possible and differentiate yourself from the competition.
To keep it short, understanding SEO will help you succeed in any business.
If your hands are full, schedule a free appointment and let us help you get your salon to the top of Google.
Why is SEO Important for Hair Salons?
Having trouble deciding what food to eat or what countries to travel to? What do you do? You google it.
In this information age we live in, people run a Google search for everything and anything.
In fact, the daily number of Google searches surpasses 3.5 billion. What this means is that by getting your salon to the top of Google search rankings, you will maximize the amount of exposure and brand awareness to your business. Thus, you will consistently attract new clients and increase your revenue.
Before implementing SEO practices in your hair salon, it is vital to have a basic foundation of SEO. This guide will teach you all the hair salon SEO knowledge you need to achieve and maintain the #1 spot in Google search results and outrank your competitors. Going forward, we will dive into the three main components of SEO and learn the top SEO strategies in each category.
Let's begin.
Top 11 Tips to Boost SEO for Hair Salons
Keyword Research for Hair Salons
With the world at people's fingertips, how can your beauty salon reach users that are looking? Through keywords!
Keywords are words or phrases that people type into search engines to find what they are looking for. They are essential to get your hair salon in front of people's eyes.
Even before making a list of keywords, you want to do your research to understand who your target audience is and what potential customers are searching for. What kind of topics are your clients likely to search for?
Items That Your Customers Might Search For:
Types of hair services offered
Hair salons near me
Hair salons in [a location]
Hairstyling and hair coloring
All these topics are potential keywords that you can target.
Understand the Search Demand Curve
Now, let's say, you own a hair salon. You are thinking about which keywords would be best to focus on. "Hair salons" or "hair salons in los angeles."
"Hair salons" is a general term that does not offer a lot of information. From Google's perspective, Google does not know what the user is looking for. The user can simply want to learn what a hair salon offers or the history of hair salons but has no intention of going to one.
The point is the user's intent is unclear. With this information, it becomes difficult to know if we can convert the user into a potential customer.
On the other hand, "hair salons in los angeles" is more specific and has a higher intent to convert. People looking up this are more likely to buy the product or service.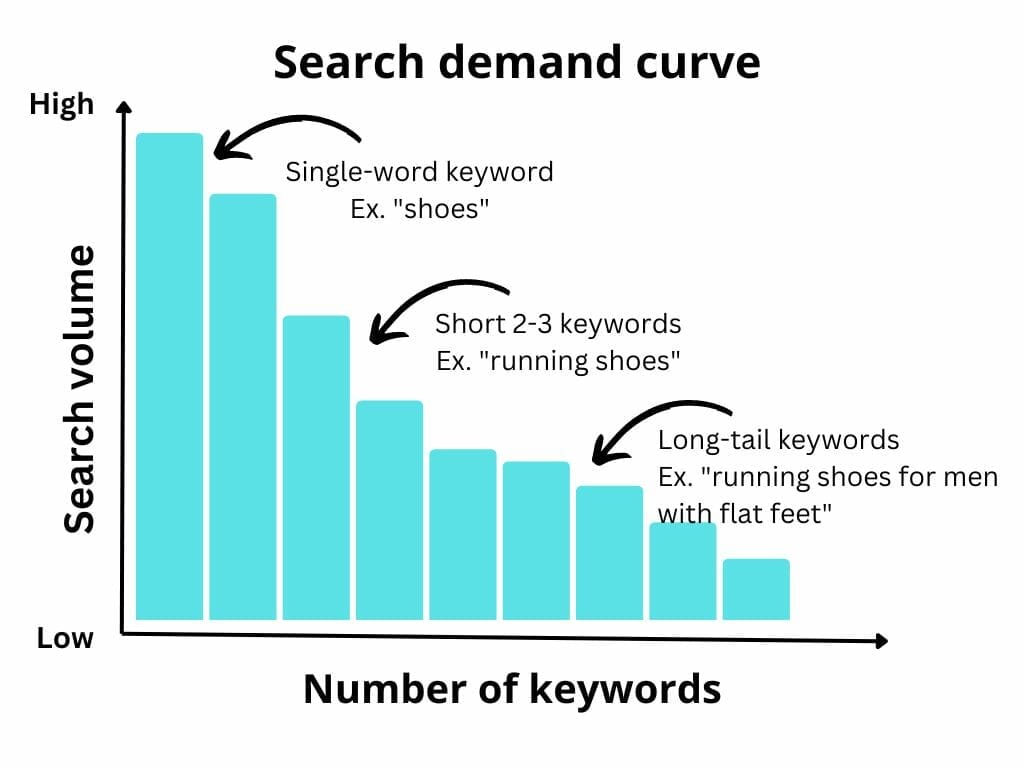 To illustrate this point, as a keyword gets more specific, there is less search traffic and competition for it. This means that you have a better chance to rank for it. The higher conversion rate comes from the idea that if users know exactly what they are looking for, Google will provide search results that match their intent.
From an SEO perspective, targeting relevant keywords around a specific niche can be a lucrative marketing strategy to increase website traffic and search volume.
Incorporate Long Tail Keywords into Your SEO Strategy
The previous tip revolved around the intent of keywords. Now, we will specifically focus on the two different types of keywords and phrases that people use when searching for a product or service.
Short-tail keywords are search phrases that consist of one to three words. They are also known as "head terms" and lean toward general search queries. Because they cover broader topics, they have a high search volume and are competitive to rank.
In this screenshot above, you can see that "backpack" is not a specific search term. Someone searching for "backpack" may be interested in learning about the different features of a backpack or buying one for school. From an SEO point of view, these broad keywords make it hard to target users that are most likely to convert.
Alternatively, long-tail keywords are search phrases with over three words. Their length makes them more specific than short-tail keywords. Because they are precise, they produce a low search volume. But, their precision leads to a higher probability of conversions.
Continuing with the example of backpacks, someone searching for "backpack for college students" has a specific intent to buy one. The search results are targeted toward meeting their long-tail keyword.
In general, long-tail keywords are the best tool for attracting potential clients to your salon. People that use long-tail keywords know exactly what they want and are trying to find answers to their questions. Since it is more targeted, you have a greater chance to rank for it.
When you incorporate long-tail keywords into your SEO strategy, you will see a high search traffic and conversion rate.
Find What Keywords Your Competitors Rank For
Not only is it important to target your keywords to what users are searching for, but it is equally important to identify which keywords your competitors are ranking for.
Performing keyword competition analysis is one of the best ways to boost your SEO game. If you can figure out your competitor's keywords, you can see what you are up against and use that information to refine your SEO marketing strategy.
This allows you to find new opportunities and gain a competitive edge in the search rankings.
Remember that your hair shop is competing with every other hair salon in your surrounding area. To stand out, you must know what keywords they are using to drive traffic to their salons.
You can also find targeted keywords that have not been focused on by your competitors and discover new keywords that you hadn't thought of yourself.
How can we do this and keep track of everything? Luckily, there are a few competitor keyword research tools that I recommend.
The first is Google Keyword Planner. This is a free tool from Google that allows you to find keywords that can help you reach users interested in your salon. Also, it reveals the monthly search volume of keywords that can give you insight into which keywords are competitive.
The second tool is SEMrush. This is a powerful tool that analyzes your competitors' keyword rankings and traffic. On top of that, it provides the URL of their ranking pages. Being knowledgeable of your competitors' strategies enables you to make well-informed decisions to guide your own SEO strategy.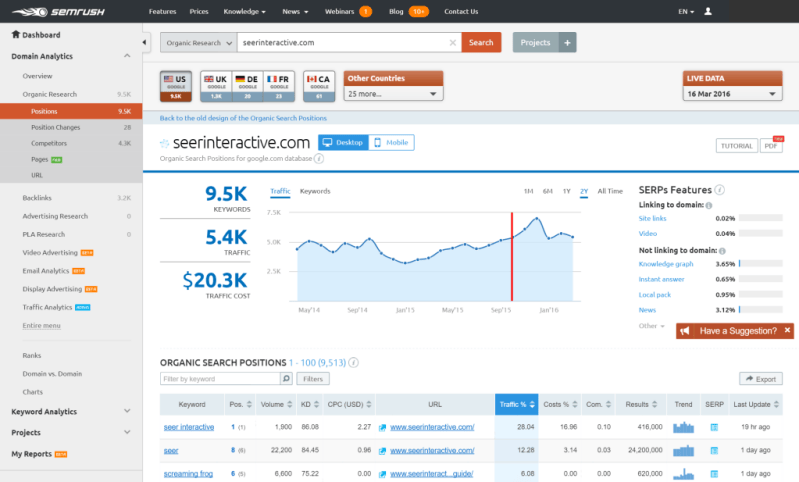 The third and final tool is BuzzSumo. It is a bit different from standard competitive keyword tools because it tracks the social media aspect of keywords to see which pieces of content perform the best.
Manual keyword research
If you prefer doing keyword research manually, here are the steps on how to do it:
On Google or any search engine of your preference, type in the keyword that you're planning to write about. For example, you want to create content about "hair care routine."
Enter that keyword to see the type of posts that rank for it.
Then, individually check the posts that rank for the keyword "hair care routine."
In this example, we clicked the post that ranks #1 on the search results page. To see how many times the keyword "hair care routine" was used by your competitors, press Ctrl + F. Then, in the upper right corner of the page, you can start typing in the keyword "hair care routine."
It'll show you the specific areas where the keyword was used throughout the article. In this example, you can see that the keyword "hair care routine" was used 9 times. Some of the places where the keyword was used are at the beginning of the content and on one of the headings.
Do the same procedure for the rest of the posts that rank for your chosen keyword. From there, you'll have an idea of where to put your keywords so that it ranks high on relevant search queries.
Focus on Targeted Keywords
After compiling a list of keywords, how do you know which one to pick?
As a small local hair salon, you should focus on localized phrases and keywords. This will give you the highest probability of attracting clients to your salon.
For example, if your salon is in Los Angeles, you can include every variation of the local keyword. This means "los angeles hair salons," "hair salons in los angeles," "la hair salons," and "hair salons in la." This ensures that you cover every phrase that potential customers might be searching for.
Another factor to consider is search volume. The more people search for a keyword, the more search traffic it has. It means that the traffic is high, but the competition will likely be tough as well. It is advisable to target keywords that you have a solid chance of ranking for.
Another factor is click-through rate. Even if you are on the 1st page of Google search results, if users don't click on your website, then you have a 0% chance to convert them. We will cover this more in-depth in the following section.
To secure a ranking for your targeted keywords, you want to focus on creating content around it. Like the point made above, the next section will teach you this and much more.
If you need extra help with keyword research or want professional input, feel free to reach us here.
On-page Optimization for Your Hair Salon Website
In this section, we will cover how to optimize your website and individual web pages to improve your visibility on search results. We will aim to make your website more user-friendly and valuable to people.
Create Specialized Content for Each Unique Service
Applying what you learned from keyword research, now it's time to tie it to your website. Focus on one keyword per web page of your site. This puts you in the best position to rank for all your keywords.
By creating original content around relevant, high-traffic keywords, you will boost SEO and drive organic traffic.
A way to do this is to have a page for every service your hair salon has to offer. This can be haircuts, highlights, conditioning treatments, and styling. Whatever unique services your salon offers, be sure to have a dedicated page giving more detail on it.
The central takeaway is to include a page for every keyword or service.
As depicted above, there is an abundant amount of hair services available from haircuts to waxing. Each of these services is an opportunity for you to create content around.
Covering all these services will maximize your reach capability and allow you to get your salon in front of the most amount of eyes possible. Also, this establishes you as an authority figure because it demonstrates your knowledge within the beauty industry. As a result, clients are more likely to trust your business and convert.
Craft the Perfect Title Tags and Meta Descriptions
Title tags are the first things people see when looking through the search results. It is impossible to miss and should be optimized on each page of your salon website.
You want to create a compelling title tag to capture the visitor's attention and provide relevant reasons for them to click on your website.
In general, title tags should be clear, concise, and descriptive. It should include the focus keyword and a modifier such as "best." But, it should not be stuffed with keywords.
Similarly, meta-descriptions follow the same practices. On search results pages, the meta description is right below the title tag and URL. It is often overlooked but is considered the last chance to persuade users to click on your salon website.
An important tip is to include your keywords in the meta description because Google will bold it to draw attention.
Additionally, your meta description should emphasize the benefits of your hair salon and describe how you are different from the competing salons. Focus on what you can offer customers and provide incentives for them to visit your business.
Some examples can be to mention that your staff consists of highly trained stylists or to highlight your quality service at an affordable price. One more idea is to offer discounts or special promotions when new customers sign up for the newsletter.
The main focus is to write something enticing and creative so that visitors have a reason to click on it.
Include Keywords in Your URLs
A URL is an address to a page on your website. It is an important component of on-page optimization because it serves to improve your website's architecture and assists with ranking high in the search results.
For example, which of the following URLs would you be more likely to click on?
https://www.example.com/category/keyword.html
https://www.example.com/sshy7Ukop0911Ghtr25n.html
The first example uses an optimal format with 3 words to represent the main topic of the article. It is concise and gives a preview of what to expect on the page. This structure helps to improve the user experience.
When clicking on a readable URL, visitors have a clear sign of what the destination page will be about. It makes navigating the website an intuitive process and adds to your website's overall visibility.
Make Your Website Lightning Fast
Your website's loading speed is a significant factor in SEO. A slow page frustrates users and discourages them from clicking on your website.
With the accessibility of instant information, people are accustomed to fast websites and expect nothing less from yours. There was a research study conducted by Google to determine the length of time people waited for a website to load before exiting. The results were surprising. It revealed that if it took longer than 3 seconds to load, over 50% of visitors would leave the website.
There are a lot of ways to improve your site's loading page and I will cover 3 simple methods.
The first way is to use an SEO-friendly website theme. They are designed with SEO in mind and include page builders for extra speed. You can find the fastest themes here.
The second way is to not have excessive plugins. A plugin is a code of software that contains extra features you can use on your site. But, having too many plugins can cause site crashes, considerably slower loading speed, and poor performance.
This can negatively impact SEO because visitors might be frustrated and leave the site. Fortunately, a way around this is to deactivate plugins when you do not plan on using them.
A third way is to compress high-resolution images. Depending on the file type, you want to pick the one that offers the best compression while preserving the image quality.
After implementing these steps, you can check the loading speed of your site on PageSpeed Insights. PageSpeed Insights gives you a score of 1 to 100 and provides feedback on how you can increase the loading speed of your website.
Remember that even a slight improvement in loading speed will drastically decrease the percentage of users leaving your site. Google gives priority to websites with faster loading speed!
Off-page Optimization for Your Beauty Salon
In this section, we will go over digital marketing practices to increase the authority of your site and build brand awareness. Off-page optimization is important to SEO for hair salons because it is one of the many factors that Google looks at when determining the ranking position of web pages.
Get Quality Backlinks
The greatest off-page SEO factor is the quantity and quality of backlinks to your site. Backlinks are made when another website references your site. When credible websites with a high domain authority like YouTube and Reddit refer to your website, it shows Google that your website is also a trustworthy and knowledgeable source.
Essentially, a backlink is a thumbs-up that tells Google your website is valuable and reputable. Thus, Google will want to rank your website high on the search results pages.
How do I get quality backlinks then? There are various ways to do this and I will cover the 2 most common means.
First, you want to create quality content that people would want to click on. This increases your likelihood of obtaining backlinks because your content is valuable. In doing so, you open yourself up to the opportunity of sharing your content on social media platforms like Twitter, Reddit, and Facebook.
From here, you aim to establish yourself as someone with expertise in the beauty salon industry and continue growing your reputation. By being a figure of authority, you build trust with your clients and develop long-lasting relationships.
The second way is guest posting. When doing so, you are contributing to other websites while also including links directed back to your site. This is a great way to increase your brand awareness and share your content with a wide range of people.
If you want to reach out to companies or people through social media or email, these templates are excellent to get their attention. Or you can use this standard email format:
Subject: "I'd Love To Write For Your Site!"
Hi [Insert Name],
My name is [Your Name], I am the owner of a local hair salon.
I was reading one of your articles when I noticed you accept guest posts.
If you still do, please let me know – I'd love to put together a rough draft for you to review!
Thank you for your consideration and time,
[Your Name]
[include link to your website]
Although link building can be time-intensive, it is essential to any SEO strategy because it increases your chance to rank number 1 on Google. There is a positive relationship between the quality of backlinks and search engine rankings.
Provide Innovative Offers
People are always searching for the best deals and discounts. A way to attract their attention and differentiate yourself from other salons is to provide an irresistible offer.
Like meta descriptions, you want to highlight how your hair salon can solve the client's problems. Take time to determine your strengths and hone in on the benefits.
Some examples include:
Free Booking Appointment
20% Off Any Services
Special Promotion for Students
Engage in Social Media
After understanding what your customers are looking for, you can leverage social media to gain traffic and further cement yourself as a credible figure. Actively sharing and posting on social media will generate links and make your social media presence spread like wildfire.
Final Thoughts on SEO for Hair Salons
As every business and industry in the world is transitioning into a digital age, it is critical to get a head start and plant your hair salon at the top of Google search results. This process will not happen overnight, but with patience, I am confident that your salon will reach new heights. Taking these hair salon SEO tips into practice will expand your customer reach and drive revenue growth.
If you have any questions about the SEO tips or need clarification, do not hesitate to reach us at our website or book a free consultation to identify areas of improvement.
Suggested SEO Articles: