If you have your Google Ads campaign already set up and you are still having a hard time managing your account, here are some Google Ads optimization tips and tricks for you!
Advertising is not magic where you could immediately get conversions and impressions with just one click. There is no software that will instantly make your ads perform well, but instead, it is a science where you make informative decisions based on data and results.
According to Google, from their FAQs page, they recommend spending at least 30 minutes per week analyzing your current data and making changes based on your observations.
You would actually spend more time if you don't know which area to look at in a campaign, so here are additional Google Ads optimization tips that you might consider using to make your campaign management easier and to also improve your results.
Want a comprehensive strategy for your Google Ads campaign?
Practice Segmenting
Having data is crucial when handling a Google Ads campaign. It gives you insight into the behavior of your potential customers which you could later use to improve your campaign. Segmenting each of your campaign settings will give you more data to work on, which will result in making better decisions. We recommend segmenting your ad schedule, location, and audiences.
Ad Schedule
For the ad schedule, you can segment the schedule every 6 hours of the day, or you can also segment it into shorter hours. To do this, go to the ad schedule settings of the campaign you want to optimize. Click the edit icon and edit your schedule.
As you can see from the screenshot below, your ad schedule data will be shown in 4 segmentations within the entire day. You can decide how you want it to be segmented based on hours and days.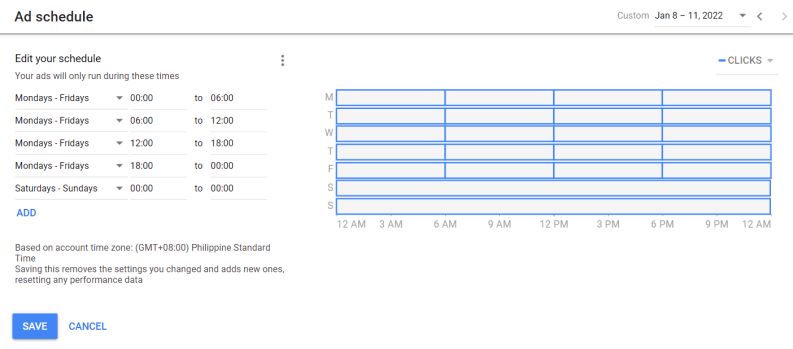 And here's the awesome part about segmentation, you can now bid individually for each segment you created for your ad schedule! You can increase the bid adjustment for peak hours and decrease the bids for the hours where your ads receive fewer impressions. You will also get specific data for every hour segmentation.
But before you make these bid adjustments, make sure that you already have existing data as the basis of the changes you'll make to your ad schedule.  Here's the preview of the ad schedule segmentation for every 6 hours from Monday to Friday:
Location
For the location, you could also segment your targeted areas from country level to city level or even use postal codes for it. To do this, go to the campaign's location settings and click the edit icon.
Click the toggle switch on the upper right corner of the map and click the dropdown symbol. This will give the option on how you want to segment your targeted areas, you can segment it by postal code, city, congressional district, and by county.
Just click on the areas that your business is serving and click 'target', the postal code will be included on the locations list that your ads will be shown. 
Now, wait for your ad campaign to gather some specific data on these postal codes and adjust the bidding if you notice some results that need to be optimized. If your ads are really doing well in a certain postal code, you can increase the bidding adjustment in this specific area.
Audiences
You can also get more specific data on the behavior of your audiences and you can have the option of adjusting the bidding per audience type through segmenting. To do this, go to the audiences tab and click 'edit audience segments'
Select the 'Observation' option, this will let you adjust the bid on each audience segment while not limiting your ad from showing to other potential audiences. Click browse and this is where you can choose which option you want to segment for audiences. In this example, we will choose 'In-market' to segment the audience based on what they are actively researching.
This will show you all categories provided by Google. For example, your business is a Bridal Shop where you sell wedding gowns, with this, you want to target an audience who are actively researching for apparel & accessories and any categories related to the bridal shop. Once you click on categories, they will immediately be listed on the right side.
To be more specific you can also segment through sub-categories. Click on the dropdown button to see more sub-audiences and click on what applies to your business. In this case, we click on the 'Apparel & Accessories' dropdown button and select 'Formal Wear' and then 'Bridal Wear'. You can see it on the right side once you select it.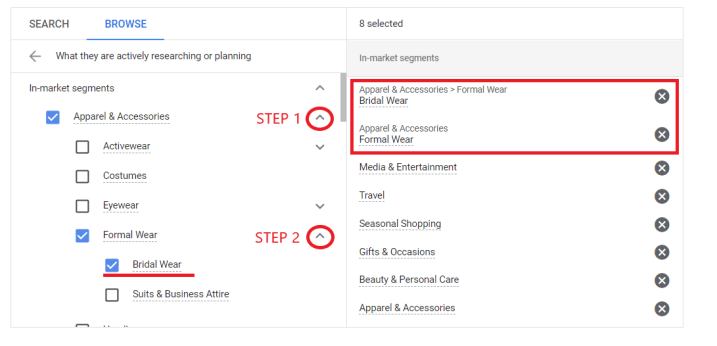 Now, just wait for data and results on these segments and we can also increase the bidding on the sub-category 'Bridal Wear' which is the main product of our business in this example.
Segmenting is an awesome way to get more hidden data and to bid more on specific campaign settings. This Google Ads optimization tip will help you more in your campaign management.
Get Keyword Ideas
Your ad will only reach its target audience if you first research the right keywords for your product and services. And although you have your keywords ready, you still need to update your list as people will always have new ways to search on things. These are some techniques to help you update and improve your keywords list for your ad campaign.
Use Keyword Planner
If you are still building your keywords list, this feature by Google will give you insights into which keywords are important for your industry. Just go to 'Tools & Settings' and under 'Planning' select 'Keyword Planner'.

This will redirect you to the Keyword Planner page, then choose 'Discover new keywords':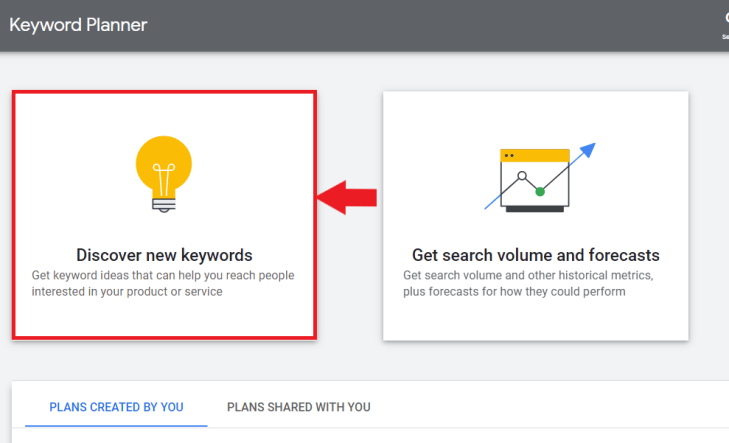 Now, put all the keywords related to your products and services and input your website. Your website domain will give extra information to Google to find the best keywords and results for your industry. Don't forget to select your target location and then click 'Get Results'.
The results will give you current keywords that people are using for their bridal search queries on Google. These should give you an insight into which keywords to target and which keywords are competitive. Use this information to adjust your bidding and update your search keyword list.
Check Google Autocomplete Suggestions
Checking Google autocomplete suggestions is another crucial step when researching keywords for your ad campaign. These suggested keywords are usually what people are searching for that is relevant to your search query.
In this example, you can add the keyword 'wedding gown with sleeves' to the list if you have the same product in your store since people are searching for it.
Although these keywords are really helpful, make sure that these align with the intent of your ad campaign. If your campaign goal is to get more conversions, make sure to only add keywords that have the intention of buying to your store.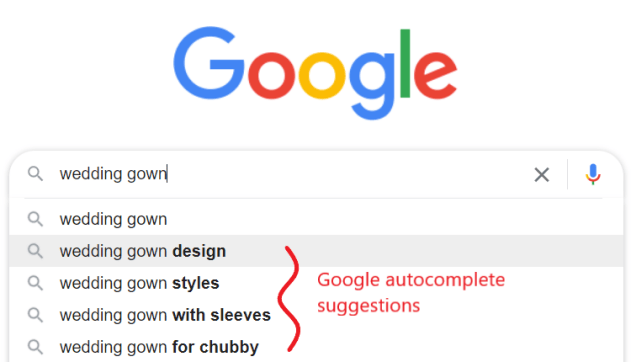 For example, the person searching for the keyword 'wedding gown design' is obviously still in their research stage and does not have the intent to buy as of now. The next logical step is to add these keywords to your negative keywords list.
If you want to learn more about negative keywords, then check this article for tips on how to increase conversions using negative keywords.
Use Keyword Generator Softwares
There are lots of keywords generator tools and here are some free online tools you could use for your keyword research:



Utilize Search Terms
Now, this is the most important data you can get for your keyword research since this is directly from your potential audiences. But first, you need months' worth of data before you can get valuable information from these search terms. Search terms are the keywords that people are using to trigger your ad campaigns.
You can discover new ways on how to search for your products and services and you can add them to your keywords list. Also, you can exclude irrelevant keywords that are triggering your ads. These irrelevant keywords will just get you unnecessary clicks and unnecessary spendings.
Being updated with keyword trends in your type of industry is one of the important Google Ads optimization tips. Just follow these keyword ideas tips and you'll be good to go!
Determine What Metrics To Use
There are lots of metrics to look at when deciding if your campaign is performing well or not. Well here are some important Google Ads metrics and how to use them.
Clicks. This metric determines how many times your ads were clicked on, this is not a good metric for success especially if your campaign goal is conversion or sales.
Impr. This is the number of times your ads have been seen. This will be a good metric for success if your campaign goal is awareness.
CTR or click-through rate. This metric determines the number of time it has been clicked on versus the number of time your ads was seen. This is a good metric for success in some ways. If you have a good CTR, then your ad is getting the interest of your potential customers.
Avg. CPC. This metric is incredibly important since your goal is always to lower your cost per click (CPC). The lower the CPC, the better since you will pay less for more clicks.
Cost. This metric determines how much you are spending within a specific time frame.
Impr. (Abs. Top) %. Number of times that your ad shows in the first position of the paid search ads
Impr. (Top). Determines how many times your ad is placed above organic listing.
Want hassle-free Google Ads management?
Conversions. The number of times a click has been converted into action on your website. This is a very important metric as it also affects your ROAS or return on ad spend and revenue.
Cost/conv. This metric determines how many times its been converted divided by cost. As much as possible, you want a lower value for this metric.
Conv. rate. Determines how frequent are your conversions. This also gives you an idea of what is happening with the metrics.
Conv. value/cost. This is just the same as ROAS or return on ad spend. Critically important metric if you have set up the system for it.
Search impr. share. This determines the impressions you've received on Google search sites divided by the estimated number of impressions you were eligible to receive.
Search IS lost (rank). This metric estimates how often your ad didn't show on Google search sites due to poor ad ranking.
Search IS lost (budget). Estimates how often your ad didn't show on Google search sites due to low budget. This can only be seen at the campaign level.
Invalid clicks. These are the clicks that Google considers illegitimate. You're not charged for these clicks and they don't affect your account statistics. This metric is not really crucial unless the value is really high and this is something Google tracks and takes care of.
Bounce rate. This shows how much does your traffic interact with any page of your website. 55% is still a good bounce rate but higher than that is not really good.
Pages/session. If you have a good bounce rate, then you'll get good numbers on this. The higher the value, the better.
Avg. session duration (seconds). Determines how long does your traffic interact with any page of your website.
% new sessions. Shows the percentage of new people on your website.
Modify Columns
Now that you are already familiarized with most Google Ads metrics, you need to organize your columns or the table where you can see most of the metrics for your ad campaign. This technique will really help you with your google ads optimization.
Columns can be modified to show other hidden metrics for a better view of the entire campaign data. To do this, go to the campaign level of your account and click the columns icon.
Then you will see here all the metrics that you can add to your columns for easy access to your most important data. Just check on the metrics that you want to add to your column. You can see on the right side all the metrics that is currently added.
You can also save your own column set if you ever want to modify your columns temporarily and you want to recreate the column set you created earlier.
For better viewing of data, you can adjust the size of your columns. Just hover your cursor, hold it, and then drag it to your desired size.
This technique is really useful when you are analyzing your data and you want to see all the important metrics at the same time.
Use Automated Rules
Automated rules will save you a lot of time with managing your Google ads account. This feature will let you create a set of rules and it will automatically make changes on your Google Ads account within the conditions you assigned. To do this, just go to the 'Tools & Settings' and under bulk actions, click 'Rules'
This will redirect you to the automated rules page. Click the plus button and choose which rules you want to create for your account. You can create rue for:
Campaign
Ad group
Keyword
Ad
Display keyword
Topic
Placement
Audience
Age range
Gender
Parental status
Income range
In this example, we will create an automated rule where we will receive an email once the cost/conv. of an ad group reaches $200 since this campaign can only tolerate a cost/conv. that is lower than $200. Click on 'Ad group rules' to proceed.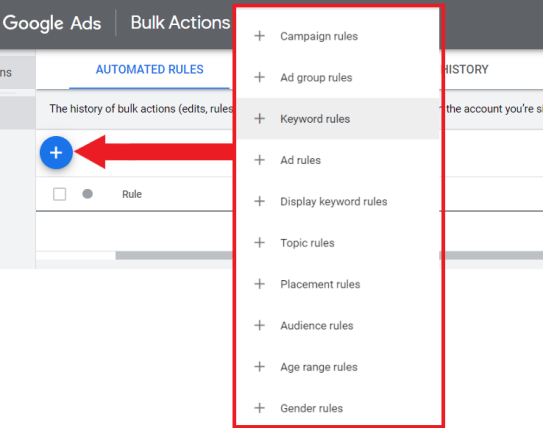 Input the name of your rule, make sure that it is recognizable and specific to make things easier for you. Then select the action for this rule, and we will choose 'Send Email' for this. Then in apply to, select the ad groups that you want to apply this rule to.
Now it is time to set the condition for this rule. Click 'Add condition' and select 'cost/conv.' which can be found under 'Conversions. Then, type in the value which is $200, and click 'Apply'.
Once applied, you should see the rule conditions here. After that, set the frequency ad the data you want the rule to be based on. Then, select 'Every time this rule runs' for email results and input the email address where you want to receive this notification.
There are still a whole lot of ways you can maximize this automated rule feature by Google, just test and try it out to save time in managing your Google ads account.
Conclusion
Managing a Google ads account can be tedious, but if you have the right techniques and tricks that you can apply to your Google ads optimization practices, then it will save you time and energy. These strategies could also help you in improving the performance of your ad campaign.
Just remember all the tips and tricks about segmenting, keyword ideas, metrics, modifying columns, and using automated rules. These are just a few of the strategies and there is still a lot more to learn and new things will always come up. If you want hassle-free Google Ads optimization and management, schedule an appointment with our experts today!
Problems with getting new customers?