You may be thinking to yourself, what is Google Ads (Adwords)? Why should I run Google ads for my hair salon/ beauty salon/ hair salon and spa? In this Google Ads for Hair Salons guide, you will learn exactly how to run your account like a pro.
Google Adwords is essential for local businesses like hair salons. Anytime people want to know about places to go in their areas, they look it up online. Google specifically has 86% search market share. This means that 86% of searches online are through Google. Within those searches, 40-50% of them end in an ad click.
What are Google Ads for Hair Salons?
Google ads / Adwords uses a pay-per-click (PPC) system. You will only be charged for each time someone clicks on your ad. This is highly efficient and completely different from traditional forms of online marketing and advertising because it means you are not charged for simply running the ad. Using Google ads for your salon is highly beneficial and can double the revenue of your salon. In this guide, you will learn exactly how to run your account like a pro.
*Formerly known as Google Adwords
Don't have time to read this guide and implement these steps? Don't worry.
Creating your first Salon Google Ads Marketing Campaign
To begin, you must have a Google ads account. Before you set up your account, it is important to understand the structure of Google ads. There are certain settings you can only do at certain levels; account, campaign, ad group, or ad level.
Your ads are specific to whatever product/service you are marketing. Ad groups are subcategories/themes, and campaigns are umbrella topics. An example of this would be creating a campaign for hair-dying services. An ad group for balayage, and then an ad about a promotion for balayage.
Campaign Settings
When setting up your account for the first time, everything is done at the campaign level. Think of one of the best services that your hair salon offers and base your marketing campaign around that. You will get to choose all the network settings, location settings, languages, daily budgets, bidding, and extensions for this campaign.
Keep in mind that almost anything Google Adwords suggests in these settings is a way to get you to spend more money.  They are looking to take advantage of you not knowing enough about how their marketing works.
First, you will be asked what your main advertising goal is. You should skip this step by pressing "switch to expert mode".
You are also going to create a campaign without a goal. If you were to click leads or sales, Google would automatically set up your campaign for you. It is better for you to take control and see exactly what methods you are using when setting up your marketing campaign. After you click the without a goal option, you should click the search campaign type. Ignore the section below with the results question.
Network Settings
Now you have reached the general settings for a campaign page. You have to name it, and should pick a service category you want to market. You will see a Networks portion of the settings, under the campaign name.
You should untick the display network setting. By focusing on the search you will generate more efficient data to bring in more clients. Google search partners should also be unticked as it isn't typically relevant for local businesses. What this does is display your ads on their partnered sites like Amazon, the Wall Street Journal, etc. However, you will not know which sites your ad will be shown on and this will drive up costs on your ads.
Like with everything, there are exceptions to this rule but that is a more advanced tactic that can be used later on.
Location Settings
To efficiently run management for Google ads for hair salons, it is important to utilize location targeting since a lot of your business comes from locals. It is possible to target anywhere from a 1 to 500-mile radius surrounding your beauty salon. You can also exclude locations from seeing your ad.
It is highly recommended that you keep your radius to 5-10 miles to make the traffic to your ads relevant. You don't want someone from Arizona clicking on your ad if you are located in California. This should all depend on whether your salon is located in a city or town and the population density. If you are in an area with high population density and more competition, your radius should be smaller. If you are in an area with not as many other hair salons and a smaller population, you should make your radius bigger. People are more willing to drive further in this case, so it would make the most sense to make that larger radius.
Another great way to figure out how large of a radius you should be targeting is to look at your client database. If you have the information on where every client is coming from, it can let you know what percent of your clients are from zip codes in your surrounding local areas. Then you will know exactly how far you need to target.
You can type in an exact address, city, state, or postal code to pick what locations you would like to target for your PPC ad.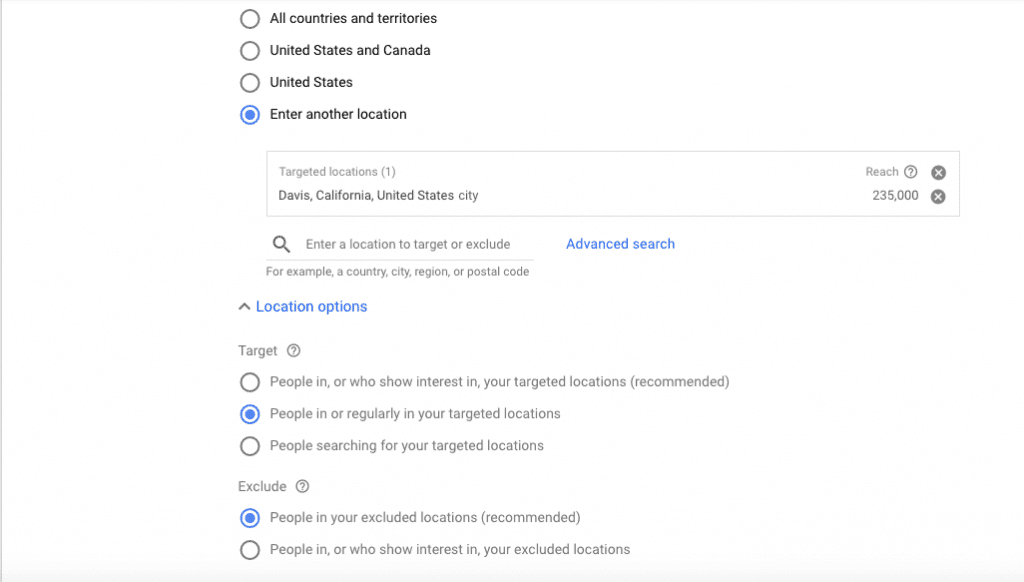 It is very important that you expand location options and make sure to tick "people in or regularly in your targeted location." This allows for your ads to only be shown to people who are physically in your location of choice. So if someone in Irvine, CA looked up "best balayage near me," your ad will be shown. If someone in New York, who has never been to Irvine before, looked up "best balayage in Irvine, CA," your ad will not be shown.
These location settings are the most efficient to use in your Google ads for hair salons journey.
Languages
If your salon business is located in an area where there is a commonly spoken language other than English, the language setting may be useful to you. If you were to enable this setting in another language at this campaign level, the entire category must be filled with ad groups and ads in that language.
Keep in mind that only people who have their default Google settings in your desired language will see your ad. If someone's default settings are in English and they type in "hair salons near me," in another language, your ad will not be shown.
Daily Budget
This is a brand new marketing campaign and your first time using Google ads for your hair salon. Google runs on a pay-per-click (PPC) system. With that being said, there is a way to try and figure out your daily budget without data through a Keyword planner. However, it is best to start with at least $20-$50/day and just accrue the data to use more advanced determinations.
Realistically, you should aim to spend about $20 on 1-2 keywords for advertising. If you can swing for $50 a day, then it is important to keep it to a maximum of 5 keywords. You do not want to spread your budget thin amongst tons of keywords because you will accumulate data much slower and waste money. Google tries to give each keyword the same amount of exposure.
So if you have 15 keywords and are only spending $20, it will take you a very long time to get data that is useable, if at all.

Bidding Strategy
In this section, you once again have the option to use one of Google's premade marketing strategies or to develop your own. There are three ways to develop a bidding strategy:
Autonomous
Semi-autonomous
Manual
Salons should want the most control over our ads, so it is important that you select a bid strategy directly to achieve the manual approach. Eventually, when you have the data and experience, it would be wise to move to an autonomous approach by using Target CPA (click per acquisition). With Target CPA, you are telling Google what you want a conversion to cost you.
As a beginner though, it is best to click the Manual CPC option. Here you will only pay what you are willing to pay and cannot go over budget. You can set default bids at the campaign management level, ad group level, and even set individual keyword bids. Google won't spend over your max under any circumstances.
Advertising Extensions
Ad extensions allow you to create a bigger marketing ad while giving more information about your salon. More real estate on a Google search page and more relevant information regarding your ad. This is a measure Google uses to determine if your ad is relevant to the searchers' query. You don't want irrelevant traffic. So it is best to add ad extensions and make sure your ad copy and anything you link is relevant to the keywords you are targeting to obtain customers.
There are 6 different ad extensions you may utilize to improve your marketing:
Sitelink extensions
Callout extensions
Call extensions
Message extensions
Promotion extensions
Sitelink Extensions
These are clickable links back to pages of your website with headlines and descriptions. They send the user to additional inner pages that may better answer their questions. Ex: clearance page, FAQ page, etc
After searching Aveda in the Google search bar, this ad was shown. Their sitelinks are the virtual hair color tool, best sellers, hair quiz, and Afterpay links. With such a broad search of just the brand name, their marketers decided to use these pages since they most likely are popularly searched by potential customers.
Callout Extensions
This is where you may highlight any additional features or benefits of your services. You can also write whatever promotion you are pushing.
Ex: No booking fees, 25 years of experience, etc
Call Extensions
This feature displays your phone number in the headline of a desktop search and displays a button to click to call on a mobile search. Remember that a call is priced the same as a click. Even if someone clicks call on your ad, but not on their phone, you will be charged.
You can also select when you would like to implement your call extension. It can be indefinitely or for a limited time. You may also designate hours when you will allow calls. It would be best to input your business hours.
Structured Snippet
A structured snippet extension gives more context and information about your products/services. There is a predefined list of headers you can choose from: Amenities, Brands, Courses, Destinations, etc. With ads for hair salons, it would be wise to pick types to explain the types of services you have. Brands would be another good choice as well if your salon has a decent selection.
This Olaplex ad decided to use a structured snippet with a type header for their types of products.
Message extension
This gives searchers the ability to send you a message either through email or text. Just like the call extensions, if a user clicks it you will be charged. They do not need to actually send the text. So if someone were to click the text, but then click back, you would be charged.
As a hair salon, the message extension offers easy management of collecting bookings/appointments.
With this extension, you also get to choose the default message the person who clicked on your ad will send to you so you know which ad they are coming from. You can also choose an auto-reply message to send to potential clients as well.
Promotion Extension
For the promotion extension, you can choose an occasion/holiday, promotion type, and start/end dates. If you plan on adding this feature at the campaign level, all ad groups will contain this promotion/offer. It is also possible to go back and add this extension at the ad group level later on.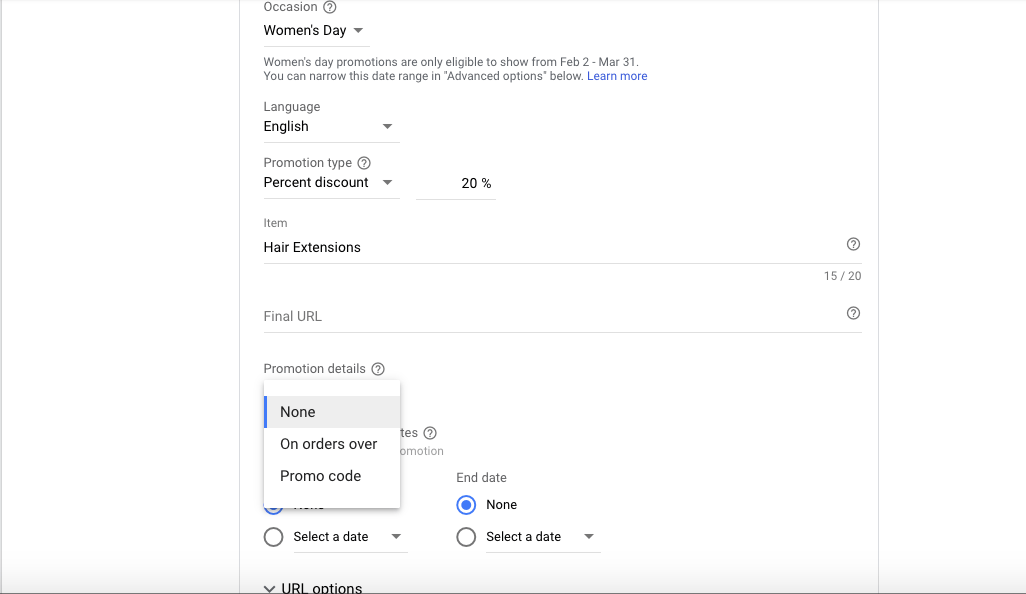 You may specify promotion details as well. For example, salons that sell hair products online can make the offer only valid on orders over a certain amount. Or you can set up a promotion code that will be shown on your ad for searchers to use. Once done with setting up all your extensions for this campaign, press save and continue to move on to the next steps.
Ad Groups
The second step of marketing your first Google ads for hair salon campaign is to create ad groups. Since your campaign is about one of your general services, here is where you can get specific. Think of ad groups as themes. Product categories, locations, subcategories, the brand you sell, colors of a product, services, different parts of a service (sub services), events, etc.
If you chose to do a hair-dying campaign, you can create an ad group for balayage and another one for highlights. If you want to do a skincare campaign, you can create a pumpkin facial ad group and a microdermabrasion ad group as well.
You can always change this as you move along. Aim for structuring your groups in the most organized way as possible. Choose ad groups that will be best for your business.
Ad Rotation/Scheduling
This is another case where you should ignore what Google ads / Adwords suggest. You have the option to run your ads on the web indefinitely, which is what you should do instead. No one knows what Google does to optimize ad rotation. By deselecting you will get to accumulate data to determine how to run your ads.
As for ad scheduling, it is best to spend most of your budget on ads during business hours. That way if someone clicks on your ad and wants to book an appointment, they can do it instantly with a call to your receptionist.
While creating your ad group you also have the option of adding keywords, which are the words people type into the Google search bar. There is a lot of research, planning, and organizing that goes into this which will be discussed later on in this article.
Ads
Once you finish creating your ad groups, you can move on to creating your very first Google text ad for your hair salon! These ads have a lot more regulations compared to Facebook ads. Yet, the basics of the design are still the same.
You want to highlight what makes your company unique. What are the benefits of your services? What are the features of your salon? Are all your products vegan or chemical-free? Did you win an award for the best hair salon in your city?
Including client reviews and the number of clients you have served is another great addition to your text ad. This information must be true. It could be from a testimonial written on Yelp about your business, or even something a blogger/influencer posted about your salon.
Your headline is essentially what will draw potential customers to your ad. Make every word you write count, because if it isn't good then people won't click on it. Aim to write 3 headlines. Although these won't always be shown together it is nice to do because it gives your ad a bigger space on Google.
Here are some other guidelines for writing your ad:
Call to action in the description, can't be too vague. Ex: "Click here" It should say something like: "Call now to schedule a consultation."
Not allowed to have excessive capitalization, not even one word in all caps. Title case is okay
Unnecessary repetition is not allowed. Ex: Sale Sale Sale
No phone numbers in the description or headline
Make sure your landing page follows up on your ad and it is all cohesive

Your ad can look something like this. It displays the promotion, an eye-catching headline, and in the description mentions an achievement and an amount of clients served.
Keywords
Keywords are the most important aspect of your Google ads. These are the building blocks of SEO marketing. If you are not targeting the right ones, your foundation is cracked, you will receive irrelevant traffic, and nothing else will work. The keywords you add instructs Google to know which queries/search terms should trigger your ad.
Keyword Research, Planning, and Organizing
Keyword research is where you always will need to start when thinking of running a Google ad. You need to get this right. You should ask yourself: How would a client/customer search this on the web?
You have to understand how people search for salons. Not everyone will look up something in the same way or will use the same words. Put yourself in the consumer's shoes. Understand your industry and the way people look for your services and products online.
Another thing to keep in mind is your budget. After compiling a list of keywords you want to target, you will need to think about the bid amounts.
Keyword planning is about understanding how these lists fit in your overall structure. Begin planning bids for certain keywords that are more valuable to you and your salon. You can figure out the costs of words and which words are worth it to your business by using free websites like; Keyword Planner and Ubersuggest.
Keyword planner is a Google application. It shows you average monthly searches, competition level, and bid prices. Ubersuggest will suggest other related keywords to yours. In addition, the search volume, competitiveness, and CPC (similar to PPC, which means cost-per-click) of each keyword.
Remember that keywords are like hashtags. If you use something very broad and popular, like "hair salon," you won't generate any clicks from your ads. Your post will not be the first one when scrolling through an Instagram hashtag. The same will happen with ranking your ad on Google. You should choose the location and service-specific keywords. Even if the search volume is 100 searches per month. If it is a keyword that implies the searcher's intent is to buy/spend money, you want to bid on that keyword.
Keyword research can be as simple as adding your salon's location to your service types. Above is a screenshot from Ubersuggest with the keyword "balayage los angeles." It provides other suggestions below the phrase that was typed, the search volume, and CPC. (Disclaimer: The information isn't always 100% accurate or updated. $0 CPC is not correct.) This would be a really great keyword to target. A search volume of 170 is perfect, and one of the suggested words has an average CPC of $0.89 cents.
Lastly, keyword organization is placing keywords in the appropriate ads/ad groups. List out all the keywords you would like to bid on and begin moving them into themed groups of 10-25 keywords.
Themes can take many forms:

Funnel
Relevance
Buyer interest
Needs-based
Action words
Category
The best choice for salon ads would be to place keywords into category-based themes.
Match Types
There are 5 different match types of keywords in Google ads. Each of them varies in the way to express themselves, what they do, and how much the PPC. These are the following:
Broad: Symbol=none. This match type gives Google the most freedom possible in figuring out what should trigger your ad.

Synonyms, variants, related terms, different phrases, different words, different concepts. You will get a lot of irrelevant clicks and traffic. These are the hardest type of keywords to drive conversions and brand awareness.

Broad match modified: Symbol=+Keyword. Your ads will show if it contains modified terms and any other terms in any order. The word just needs to show up, doesn't matter what order.

+best+balayage+ Los Angeles can be shown as best free balayage Los Angeles. This match type can still generate a lot of bad clicks from irrelevant queries.

Phrase: Symbol= "keyword." Searches that contain the exact phrase, with appended and/or prepended words will trigger your ad.

Ex: keyword= "best balayage," Google will show your ad for "best balayage near me." You get more control of your search terms and there is less unpredictability.

Exact: Symbol= [Keyword]. Although your ad will not be shown unless your exact term is searched, Google still has some freedom. This gives you the most control.

Exact match types generate the highest CTR (click-through rate) and CPC. If your budget is super constricted, then the exact match is your best friend. It is also great for keeping your keywords local.

Negative: Symbol= -Keyword. This will exclude these keywords.

-balayage, means no search with balayage in it will trigger your search. You can do an exact match for negatives like     -[balayage]. This won't trigger anything. Negative keywords are preventative.
Create an account irrelevant list. This will consist of negative keywords you NEVER want to show up for.
An example of this could be -free or -at-home dye because you want paying customers, not people who are searching for free services.
Resources for Keyword Research
Here are some keyword research tools you may use when figuring out your ads:
Suggestions (free)

This is simply typing in your keyword into the Google search bar and seeing what is suggested below it.

Related searches (free)

After you searched your keyword in Google, you can scroll to the bottom of the page and look at the related searches.

Google's keyword planner (free)
Ubersuggest (free)
SEMrush (paid)
Ask people (free)
Is keyword research and planning too much for your busy schedule?
Quality Score
A very important part of any Google ads account is its quality score. This can affect you at the account, display network, and keyword level. There are 4 major components to quality scores:
CTR (click-through-rate)
Keyword and ad text relevance
Keyword and the query relevance
Landing page relevance
There is no exact answer to what is a good CTR. It varies from the industry to the keyword on what exactly that number should be. The focus should be on your ad's overall relevance. For keyword-ad text relevance, this does not mean that your keyword should appear several times in your ad. Instead, your ad must be thematically related to your keywords.
As for keyword and query relevance, this means that your ad should answer the search query. In your landing pages, you combine this advice. Do not spam the keywords, keep them thematically related, and make sure it answers the search query.
You can check your quality score for its current status and see how well your keywords are doing. They will be ranked on a 1-10 scale. You should aim for a quality score of 7, but don't be discouraged if your numbers are lower when you first start out. Ensure that your website is readable by Google through the Webmaster tool. If it is not readable, then your scores will be low. If any keyword has a score of 1, get rid of it. If they are at a 2+, then make sure to check that everything is relevant.
You want to make sure that you have a good quality score. The higher the score, the cheaper your cost per click is.
Landing Page
A landing page is where a searcher will end up after clicking on your ad. In all online marketing, it is very important to make sure your landing page, goes back to your ad or corresponds to your ad as much as possible. Reiterate any offer stated in your ad and even use similar language. Let's say your ad is about your Brazilian blowout services along with the keyword "science behind Brazilian blowouts." Your landing page needs to explain exactly how a Brazilian blowout works. You can't have your landing page take a searcher to your services page that mentions Brazilian blowouts.
Relevance is key. Google factors in landing page relevance to ads and keywords when doing their quality scores. Everything must all tie together.
As for the technical aspects of your landing pages, they should load fast. If you have a slow page, people will click out of it and not book an appointment. You can do free speed tests online to check and make sure your page is fine. Finally, you can also use the Google webmaster tool to check if your landing pages are being read properly. Mistakes can be made in the codes sometimes. Your ad can do poorly if Google cannot read your page for relevance.
Here is an example of a design for a landing page for the ad and keyword best salon in Irvine / number one salon in Irvine: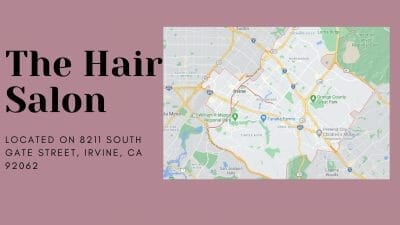 Conversion Tracking
Conversions are any valuable action that a website visitor can take on your website. Purchases, sign-ups for email lists, or even filling out a form for consultation are all conversions. Tracking these are the most important thing when it comes to measuring results. The number of conversions you generate lets you know what keywords and ads are working for you.
To begin setting up conversion tracking for your hair salon ads, you will need to click on tools and settings then conversions.
You should click website, which means you also need a website with the ability to edit the code.
The example here is conversion tracking for appointment bookings, specifically for hair extensions. Currently, with no data from any prior ads, it is best to not put a conversion value. You do not know how much it is worth to you yet. Since this is a booking example, it is also important that one option is clicked in the count section. Any sort of lead tracking where people need to offer their information and it can be done many times belongs in this category. Only the very first interaction is valuable in this case. As for purchases, choosing the every-count option would be best.
The click-through conversion window is another helpful tool. You can set a time period of how long you want Google to wait for to count an impression that turned into a conversion. This means a searcher saw your ad, and did not click on it at the time, but became a conversion later. It would be best to set this to 30 days.
Then you can click save and move on to actually installing the tag on your website. You can install the tag yourself, email it to your webmaster, or attempt to do it through Google tag manager. The last option has step-by-step instructions on how to do this.
The conversion tag must be placed on the individual page that signifies a conversion. This should be an entirely new page from your original landing page. It would be wise to redirect your visitors to a thank you page that will only show up to those who have completed a desired action. This page should contain the conversion tag, so that way you will be tracking the proper data.
Google forwarding numbers are a way to track phone call conversions. This service allows Google to generate a different phone number for every ad for a short amount of time. This is not recommended because Google limits the time you own the number. If a person sees your ad, writes down the number on it, and calls hours later, they will be redirected to a new business that Google lent the phone number.
With this type of tracking it is better to invest in a service like Call tracking metrics or Callrails instead. These services will even record your phone calls so you can monitor them for quality assurance. This will not only allow for a great and easy way to track phone call conversions but also serve as a way to improve your customer service approach.
Finally, we do Google Ads / Adwords management. As well as other types of online marketing and advertising, so feel free to book a free strategy session. You can discuss with an online marketing professional on how our Google ads for hair salons strategy may be helpful to you.