How do I get more patients to come to my private practice? This is one of the main concerns all medical practitioners struggle with when it comes to running a medical practice.
Many doctors are accustomed to the old ways of advertising through commercials and billboards. However, with the world advancing so rapidly with technology, older marketing strategies are now considered outdated and expensive, and medical professionals have started to look for other solutions to market their businesses. One solution that many private practice owners have benefitted from is using digital advertising, such as Google Ads.
In this guide, we will discuss how to create Google Ads for Doctors to promote your services or products, gain more patients as a result, and why Google Ads is the best digital marketing strategy for your medical business.
Why Google Ads?
Google Ads, formally known as Google Adwords, falls under search engine marketing. It is one of the main pay-per-click choices businesses use because Google Ads allows your business to be seen and advertised as "sponsored" at the top of Google's search results, mobile apps, YouTube, and more, by bidding a specific amount per click.
1. Google Ads for Private Medical Practices
Using Google Ads for your medical practice is a great digital marketing strategy to use to increase website traffic, reach specific target audiences, and have better patient engagement since it is a cost-effective advertising solution for your type of business. With Google Ads, you can also increase the likelihood of getting more clicks from your ads, which can potentially translate into high-quality leads.
Want to learn how to start using Google ads?
2. Creating Google Ads for Doctors
Your first step in creating your Google advertising campaign is to go to https://ads.google.com and then click on "Start now" to create an account.
After creating and signing into your Google Ads account, you will be directed to your Google Ads dashboard. Click on "Overview" found on the left side of your screen, then select "+ New Campaign".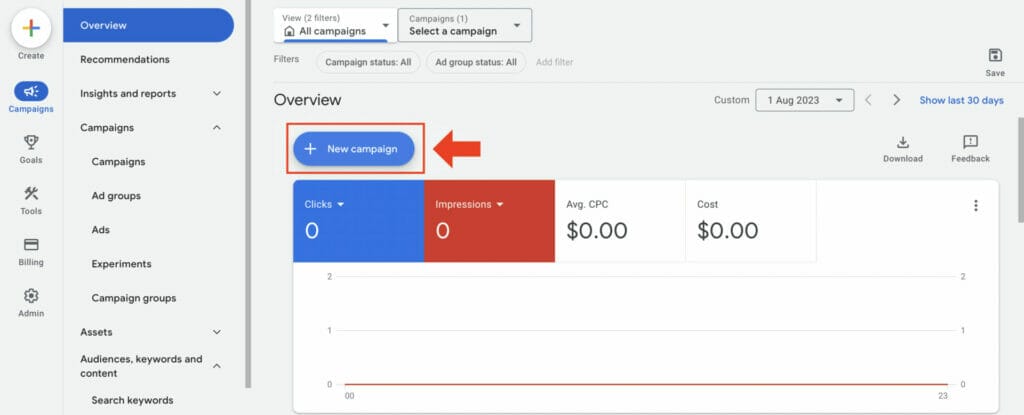 2.1 Choosing your Campaign Objective
You will then be asked to choose your campaign goal from a few options. This should be based on what you want to achieve with your Google Ads campaign:
Sales
Leads
Website Traffic
Product and brand consideration
Brand awareness and reach
App Promotion
Local store visits and promotions
Or you can create a campaign without a goal's guidance
Depending on your business needs, choose the campaign goal that best fits you. As a local business that may provide different medical services depending on the type of doctor you are, choosing leads, local store visits, or website traffic may be the goals you may be considering.
If you are a beginner in Google Ads and you are still unsure what to select, you can always choose the "create a campaign without a goal's guidance" option.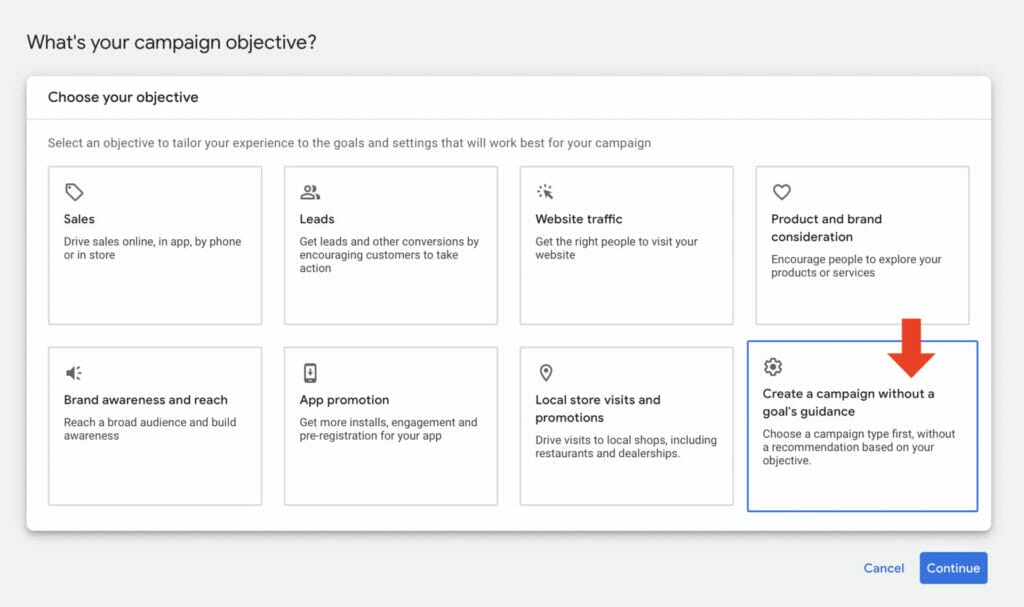 2.2 Selecting your Campaign Type
After choosing your goal, you will next choose the campaign type for your Google Ad. This will determine where your ads will appear. Here are the different types of campaigns you can choose from, where, and how they will appear:
Search: This will be seen on Google search results, Google search partners, and more.
Performance Max: This allows your ad to be seen across all of Google with a single campaign.
Display: Your ads will be shown on Google's search results, and on sites that are part of the Google Display Network (GDN).
Shopping: This will display your products or services on Google whilst shoppers explore what to buy.
Video: Your Ad will be seen on YouTube to reach more viewers and to get conversions.
App: If your target is to drive more downloads on an app and increase engagement, this is the campaign type for you.
Smart: This option allows you to have automated ads that will show up on places like Google and Google Maps (Map Ads)
Discovery: This allows you to advertise on YouTube, Gmail, Discover, and more.
Typically, it is strongly recommended to use "Search" as your ad campaign type when creating one for the first time. If you want to know more about the campaigns available, here is a guide about the different campaign types available for Google Ads.
For now, select "Search" as your campaign type, then click on "Continue".
2.3 Bidding Strategy
The bidding section is where you can set your daily budget for your cost per click or CPC, and your bidding strategy focus.
You also have the option to set a maximum CPC limit if you want more control over your bidding spending.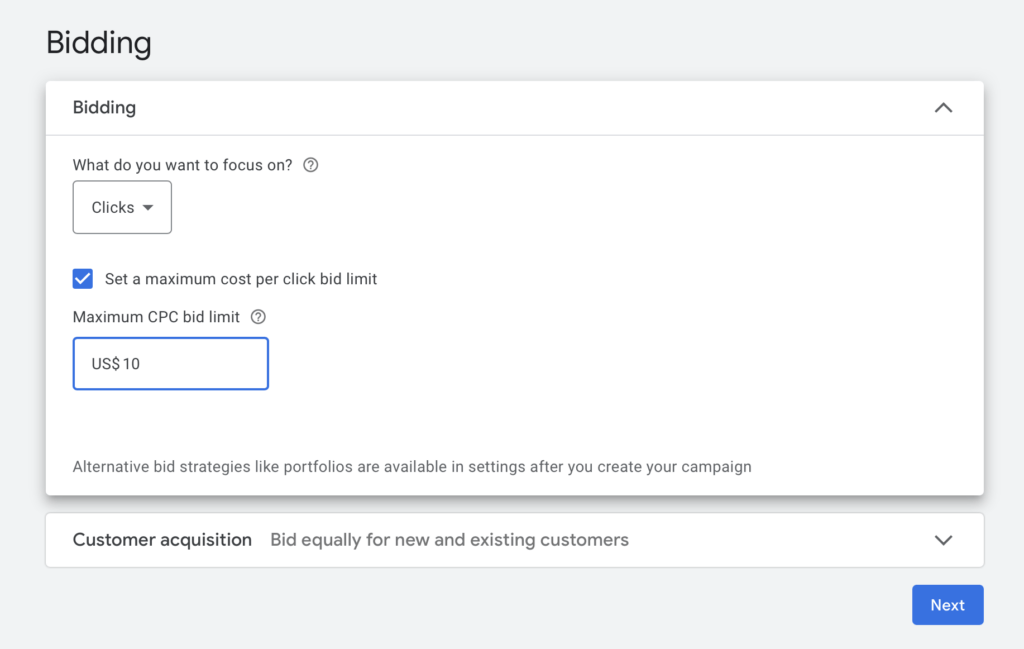 It's important to note that you will not pay more than your daily budget x the average number of days in a month. This is to factor in that there will be days when you spend less and days when you will spend more.
This section can be tricky because there is no "right" budget to set and it can vary depending on your medical practice and other various factors. However, if you are starting with Google Ads for doctors, it is best to set a low budget, so you can get more information on what works. Eventually, you can start increasing your budget.
If you don't want to set a maximum cost-per-click (CPC) bid limit, it will allow Google to maximize your campaign's bidding strategy to get you the most clicks for your budget.
Need help setting up your bidding strategy? Talk to an expert now!
2.4 Campaign Settings
Next up, you will select your Campaign Settings, which will help determine the right people for your campaign.
In your "Networks" settings, make sure you have unchecked the "Include Google search partners" and the "Include Google Display Network".
Having "Include Google search partners" unchecked makes sure your ad's budget will not be wasted on being shown on irrelevant random websites that will not give you conversions.
You want to consider the "Google Display Network" option if you will be running a different campaign that will be image-based with highly defined images.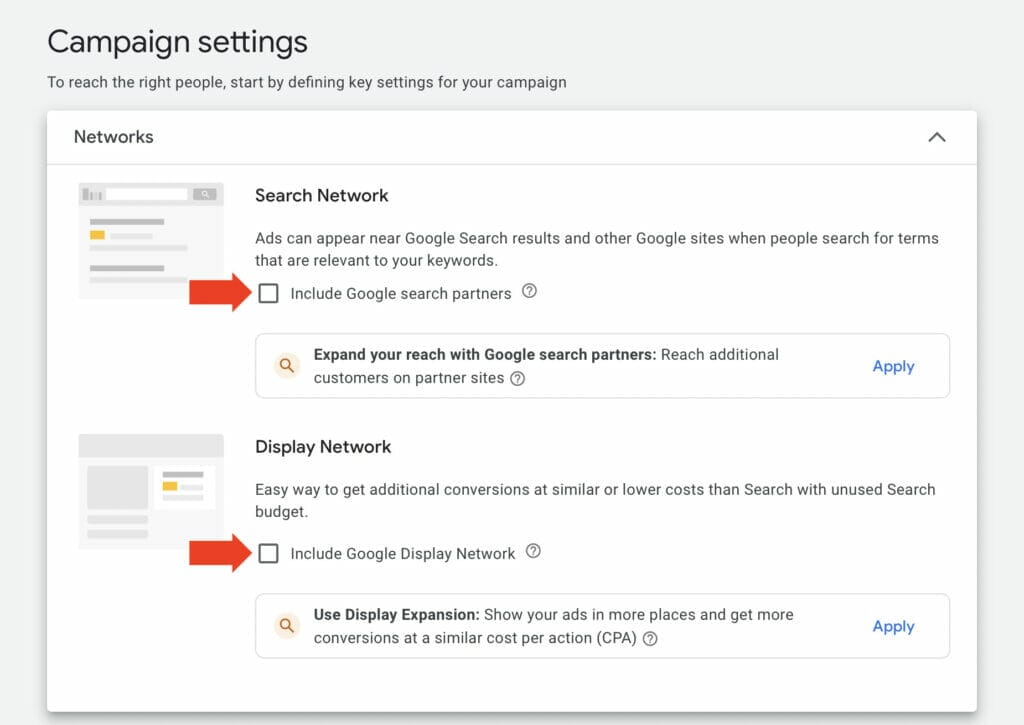 2.5 Setting Location and Language
Once you set up your campaign type, it's time to set your location and language. For most doctors who own local practices, it is highly recommended to utilize this section to get the most out of your Google Ads.
By setting a target location, you can choose to target where your ad will be shown, and exclude specific areas where your business is unable to provide services.

Make sure "Presence: People in or regularly in your targeted locations" is selected. This is to ensure that people who click on your Google Ads are within your target area, and are most likely to become potential customers 
To choose a target location, click on "Advanced Search" and then type the address. By using this advanced feature, you can control where your Google ads will be shown, and this can be set up in kilometers or miles with the "radius" setting.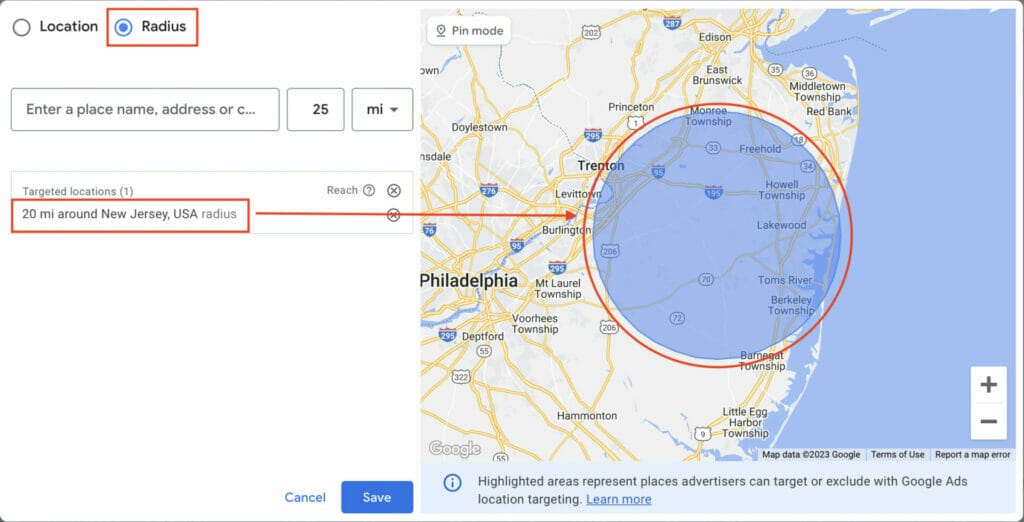 The language section depends on the area and the specific demographics you want to target.
For example, if you also want to target the Hispanic community in your area as part of the audience demographics you want, you can choose both English and Spanish as your targeted language.
2.6 Audience Segments
As you set up your Google Ads campaign for your medical practice, you can skip the audience segment section, but make sure the targeting setting selection for your campaign is "Observation". This setting gives you the option to adjust your bidding strategy based on your selected segments, and it ensures that you don't narrow the reach of your campaign.
3. Creating Ad groups for your Google Ads campaign
Ad Groups are an essential part of your campaign because this is where you can apply and separate your ads based on specific targets and intentions, such as the products or services your business has to offer to your potential customers. As a healthcare professional, you will want to do prior keyword research for your campaign, so that you can target the right keywords used by potential patients when searching for your medical practice.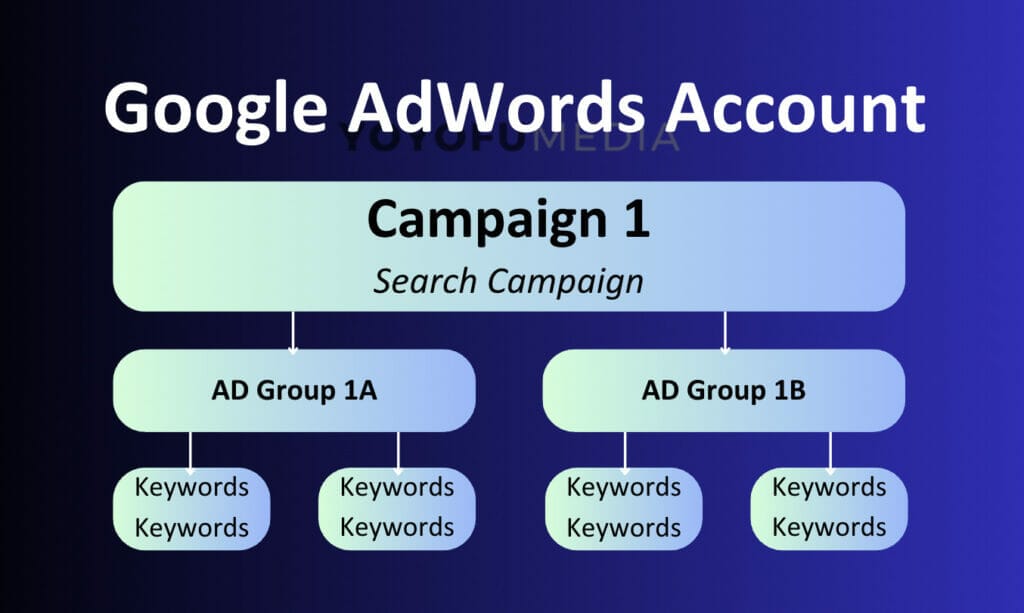 When creating your ad group, first enter your choice of Ad Group Name. Under the "Keywords" section, you want to input any keywords and website URLs from pages you may have recently researched in relation to your business niche, then click "Get Keyword Suggestions".
Depending on the type of medical practice your business is, since medical practices can vary from primary care clinics, specialized clinics, mental health clinics, and more, you want to focus on specific products or services your business offers, so that you can input the right keywords to get you the right leads for your business.
Once you have your keyword suggestions, look through each of them to check that they are about your medical clinic business, and remove any that are irrelevant. You can always add more keywords or phrases to reach even more potential leads through your ad.
Before moving on to the next section of your Google Ads campaign, it is important to understand that keywords have different match types and purposes to help your business bring in more patients to your medical practice.
3.1 Keyword Match Types
After finding your keywords, there are different ways to input them into Google Ads. By using specific modifiers, you can narrow or broaden the keywords to match your campaign goals. 
3.2 Broad match
Broad match is the "broadest" option when inputting your keyword. This option causes your ads to show on every keyword search that includes the keyword, related searches, and any variations like misspellings and similar keywords.
Google Ads will default to this option and allow doctors to have the widest reach when running their ads.
3.3 Phrase Match
The next type is Phrase Match. This type of keyword is great if you want your ads to only show in a specific keyword phrase. By using quotation marks, you can make it so that your ads will prompt only for the keyword or a close variation of the keywords that are within the quotation marks.
3.4 Exact Match
The third keyword type is Exact Match. This causes your ad(s) to only be prompted when it is a very specific keyword. Using this narrows down users to only those who are most likely to turn into leads.
By placing brackets around your keyword, only close variations of your keyword, like misspellings, plurals, and synonyms will trigger your Google Ads.
You can always manually input the match types you want for each keyword by using quotation marks for Phrase Match, and brackets for Exact Match, but one of the easiest and fastest ways to do so is by using a free Keyword Match Type Tool.
Once you have your keywords in your desired match types, copy and paste them to the keywords box in Google ads.
3.5 Final URL and Display path
As you edit the next section of your Ad Group, you will need to input your Final URL and Display path. Your display path terms should be words about your ad campaign.
The Final URL along with the Display Path will be displayed side by side on your Google ads as seen in the preview below.

3.6 Headlines
Next up, we have the headlines section where you will need to input keywords in relation to your ad.
You want to customize your headlines so that people will want to click on your ad to find out more information, therefore driving more traffic toward your business and bringing in potential leads. It is also a good idea (but not mandatory) to have your medical practice's location as a headline, to reassure potential customers that your medical clinic is within the area they are looking for.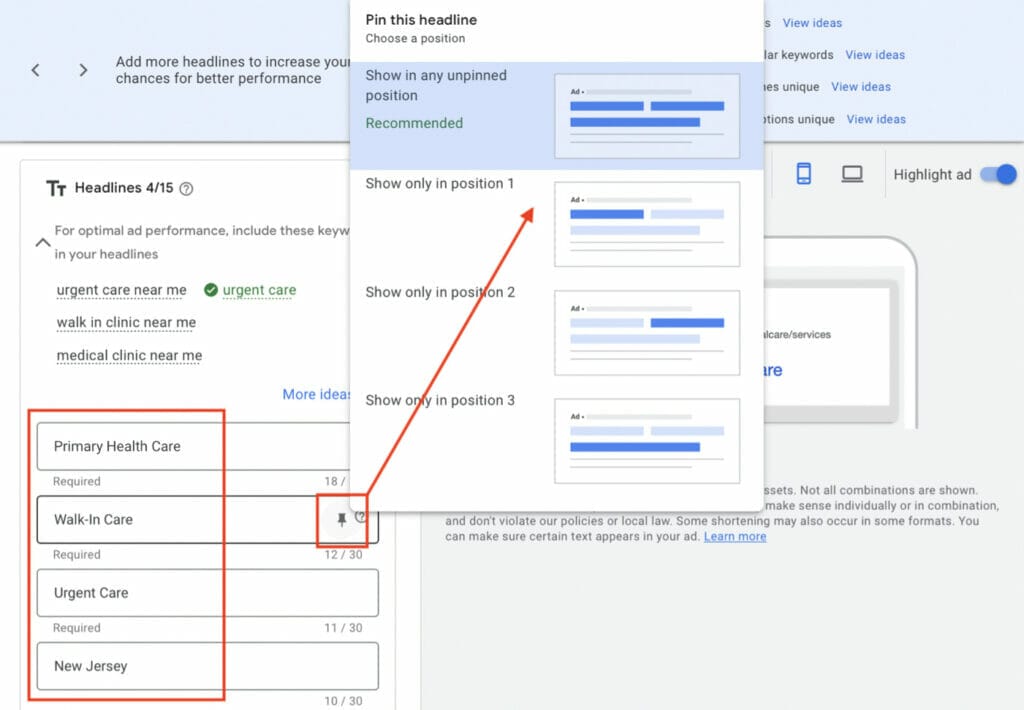 Once you have your typed in your headlines, for more control over how your Google Ad will look to potential patients, you can pin each headline to where you want it to be seen in your ad, such as in position 1, position 2, and position 3.
Under descriptions, to increase your click-through rate, you can describe the different services your medical practice offers. This section allows you to have up to 4 descriptions in your ad, and you can check what your ad will look like in the preview section on the right side of the screen.
4. Ad Assets
The next section you will see when creating your campaign is ad assets. In this section, you will have the option to use different assets that will help with your Google Ads, by increasing your quality score and increasing your clickthrough rate (CTC).
For this part of the campaign, you want to skip the business name and logos section for now and focus on other ad assets available, such as Sitelinks.
4.1 Sitelink Assets
The first asset type is sitelinks. This asset allows you to put hyperlinks on your Google ad that will link to specific pages, increasing engagement, click-through rates, and conversion rates.
Once you click on "+Sitelinks", type in your sitelink text, and add descriptions and the final URL. The final URLs for your sitelinks cannot be the same as the final URL from your Ad Group campaign. This is to make sure people who click on your sitelinks are taken to a landing page, and converted into leads, allowing you to track conversion and check if your campaigns are working efficiently.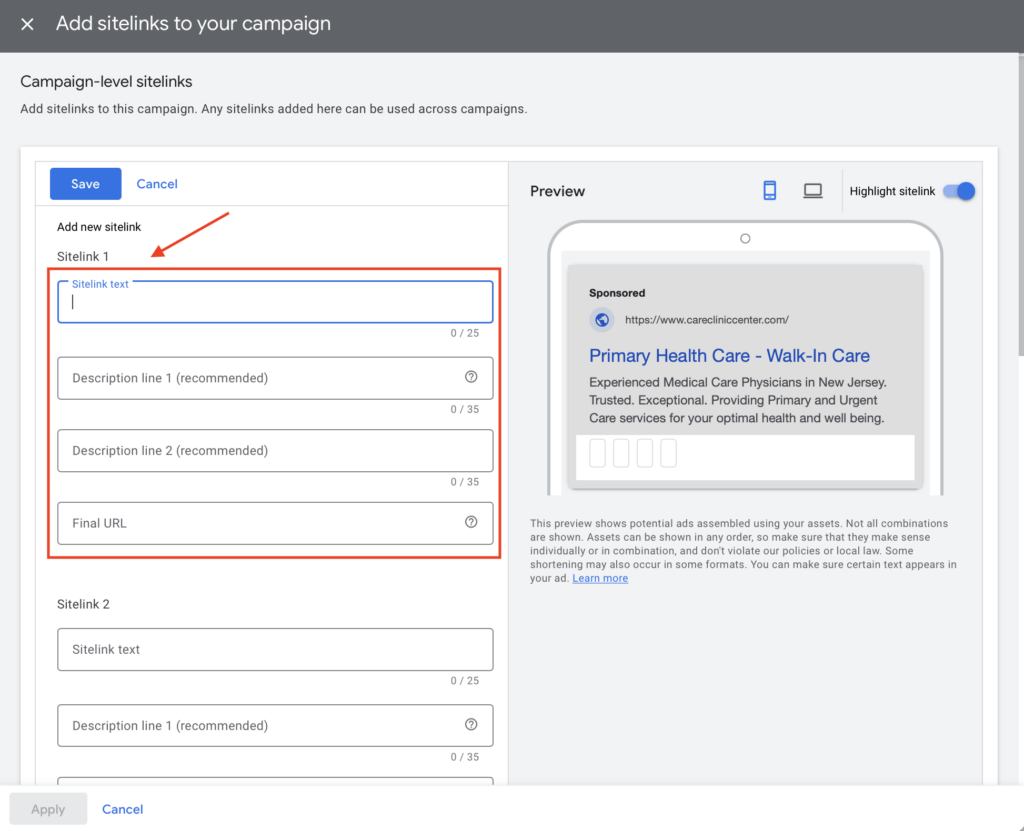 Here is an example of how your sitelinks will look on your Google Ads campaign. Remember that these should be services or products your business offers to your potential patients.
4.2 Callout Assets
The next extension is the callout assets. With this asset, you can add short snippets of text that highlight important information about your practice. Doctors can share promotions, special services, free consultations, and other attributes that are attractive to patients.
4.3 Call Assets
The third asset that is great to use for your local clinic is a call asset. Like the name, this allows users to be able to call your business from the search ad. Using this feature is convenient for most users and it can bring high-quality leads to your practice.
Note: If you are going to implement this feature, it's also good to consider if your clinic has the capabilities to handle more calls.
5. CPC Daily Budgeting
As you create and set up your Google Ads for Doctors online advertising campaign, the next step is the budget section. Google Ads will automatically give you a recommended daily budget amount for your CPC based on the current data they have in relation to your campaign settings. These factors are things like your campaign objective, target client, keywords, and targeted location.
If the proposed amount by Google Ads is within your daily target budget, you can go ahead and select that option.
If you feel like the proposed daily average budget for your campaign is too high, or too low, you can always select "Set custom budget" and observe how your campaign performs before increasing or decreasing your budgeting.
5.1 Billing Information
Configure your billing settings for your campaign, and provide payment information details such as billing country, credit or debit card details, and ZIP Code then click "Submit".
Before finalizing everything, Google Ads will give you the chance to review all the details and information regarding your campaign before publishing.
Once you are happy with it, click "Publish campaign" and you're done!
5.2 Google Ads Dashboard
Once you've published your campaign, Google Ads will take you to your dashboard. If you want to change the settings of your campaign, such as campaign objective or daily budgeting costs, you can always do this by clicking "Overview" on your Google Ads account.
Then select the campaign you want to make changes to and a drop-down box will appear. Change your campaign setting from "Enabled" to "Pause", and that way you can continue making changes to your campaign until it is ready to be published again.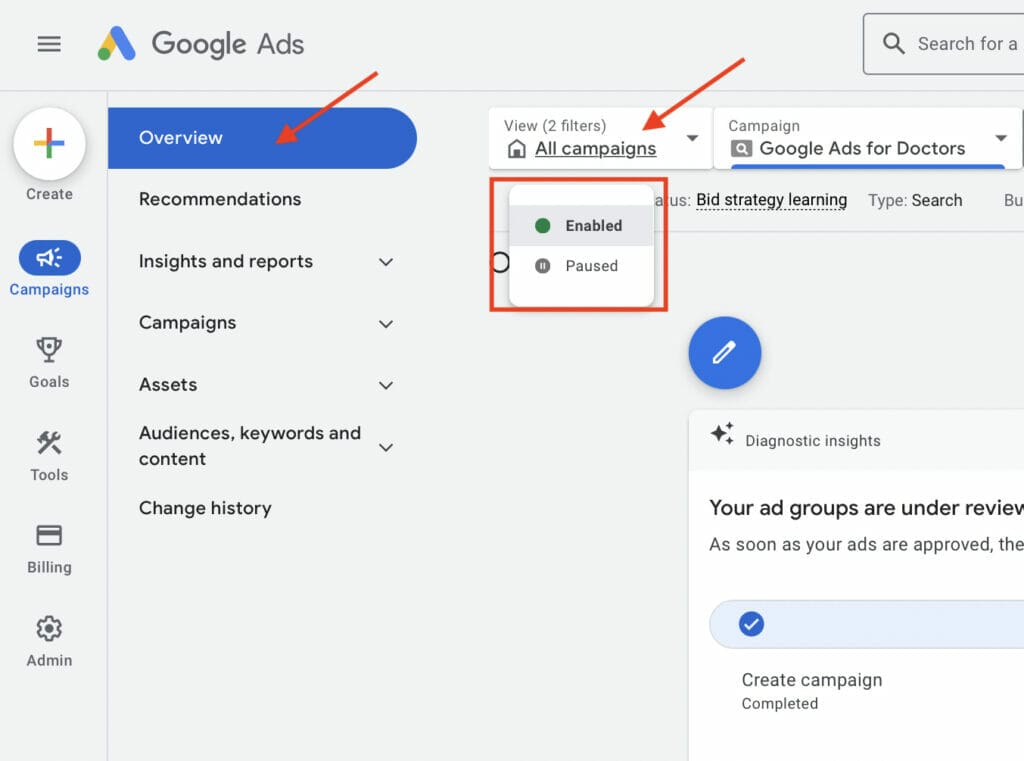 6. Google Keyword Planner
When it comes to finding the right keywords, there are different tools you can use to see what works best for your medical practice. However, one of the best tools for finding the best keywords for your Google ads campaign is Google Keyword Planner. Click on "Discover new keywords" once you're on Google Ads Keyword Planner.
Next, you will want to type in keywords in the search bar which are in relation to the products or services your private practice offers, or input your website URL underneath,  then click "Get Results".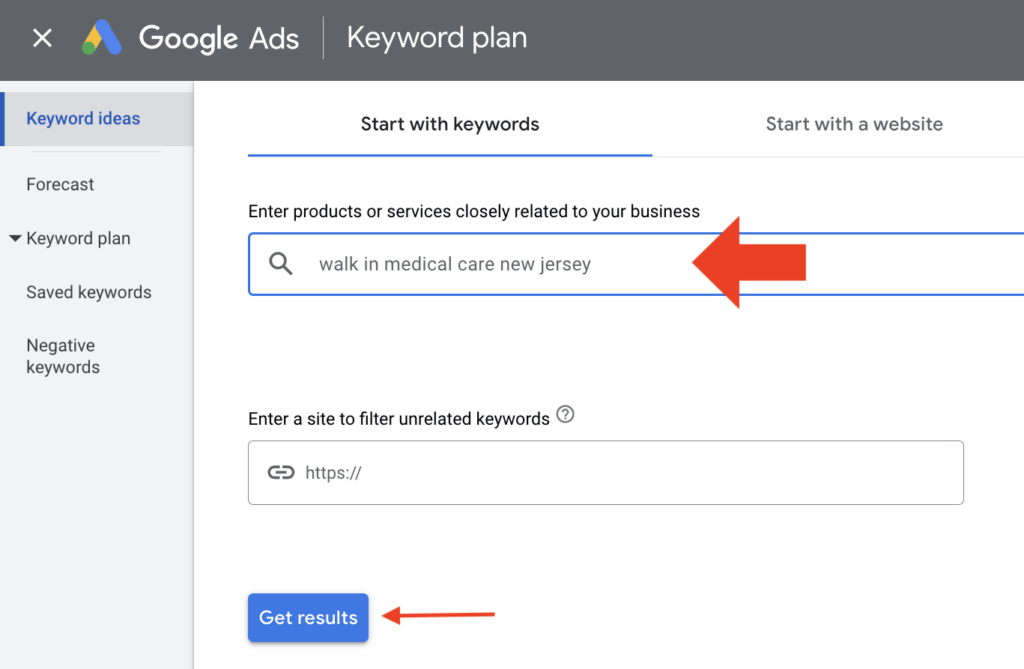 With this tool, you can see valuable information like search volume and the cost per click.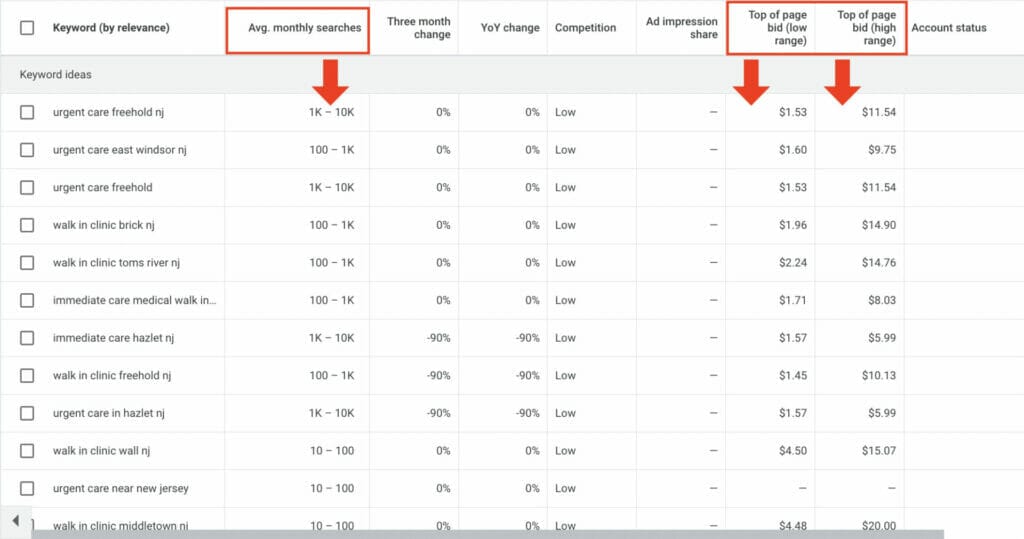 Google Ads Keyword Planner will also provide suggestions for keywords based on previous searches. This can help you determine which keywords will get you the best results, and how much it will cost to bid for them.
In addition, you can refine your keywords and find information based on location.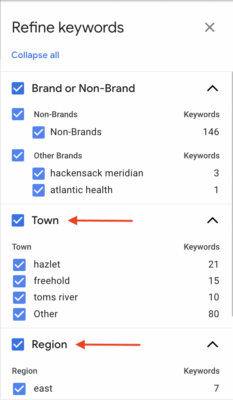 Utilizing this helps you correctly gauge the competition in your respective business location.
Are you trying to find the best keywords? Our Google Ads experts can help you!
7. Create A Landing Page
To simplify, a good landing page is where people will be sent to when they click on your ad.
There are many Google ads for doctors out there that continuously use their homepage website for their ads instead of using landing pages. You want to avoid this because if a potential lead clicks on your ad for a service you offer such as diabetic care, but is sent to your homepage which shows the company's "about us" information and the trusted health partners your business has, it disrupts the conversion path. As a result not all traffic to your website will turn into leads.
This is why it is so important to have a good landing page. A good landing page will help you get people to book appointments or ask about your products or services.
The key components you need in a good landing page are the following:
Keyword in your main headline
Unique Selling Proposition
Key Benefits
Images or Video / Hero Shot
Testimonials
Trust Indicators
Call to Action (CTA)
Short Form
Here are some good examples of a landing page for a medical practice business: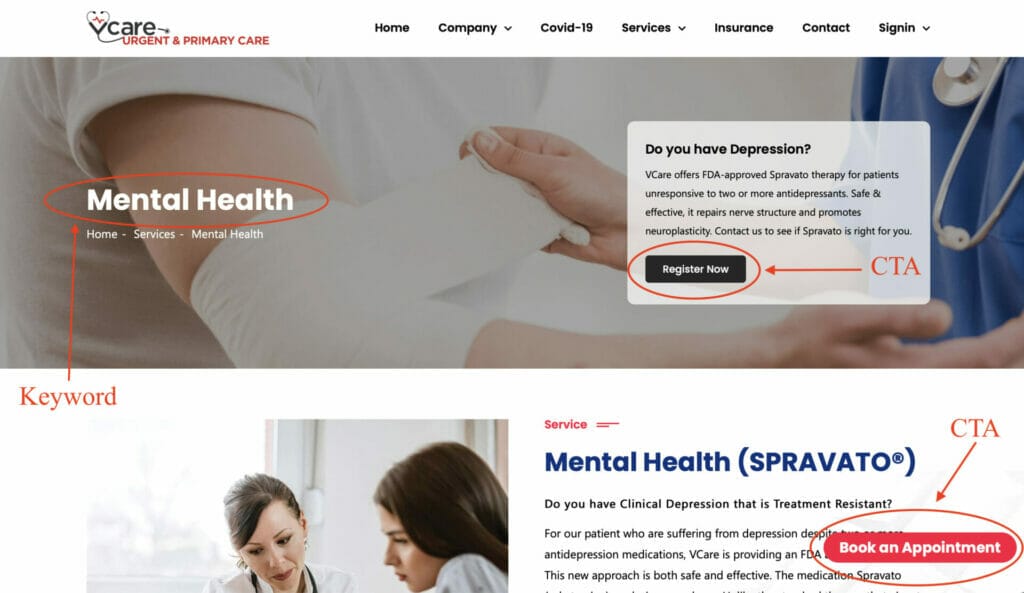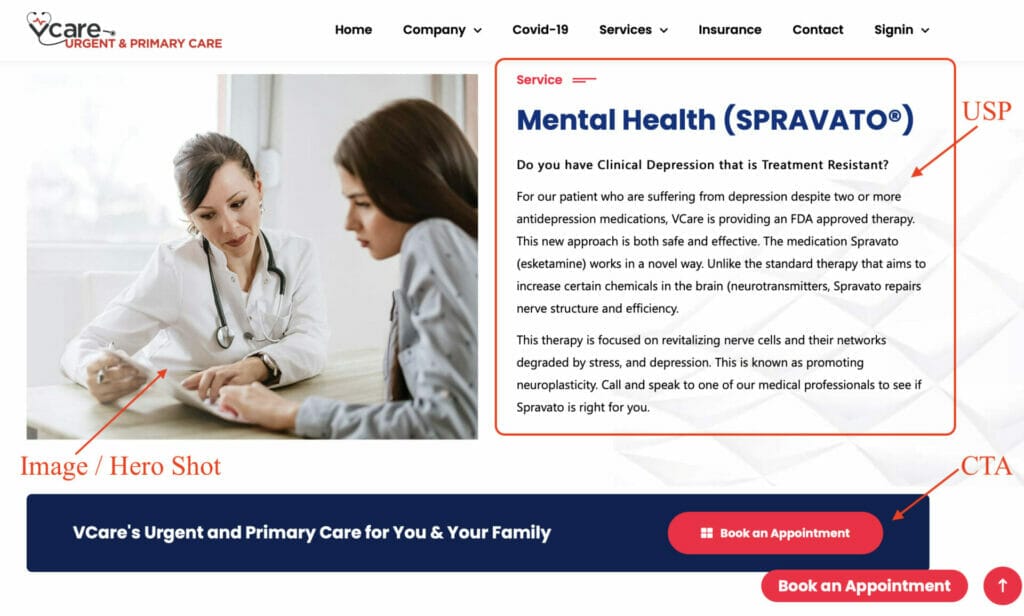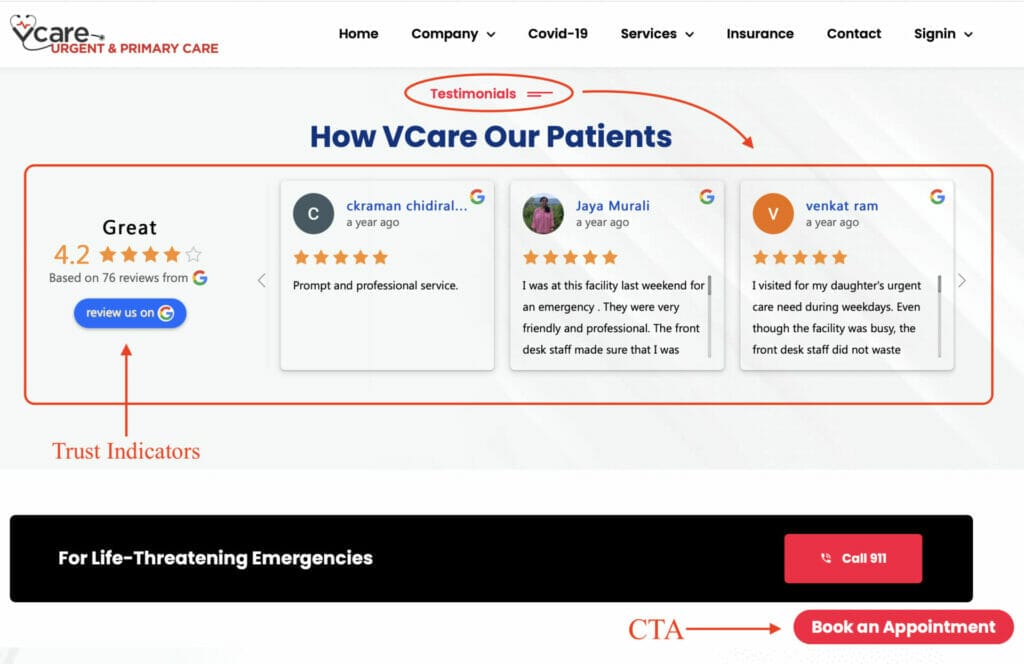 Want a good landing page? We can design one for you!
8. Optimizing Your Google Ads
Once your Google Ads or PPC campaign is up and running, you will start seeing results for your medical clinic after a few weeks. However, this doesn't mean that you are finished with Google Ads.
The key to making sure your Google ads is performing well is to continuously optimize your campaigns. This is because it will result in better leads at a lower cost.
To do this you want to go to your "Dashboard" on your Google Ads account, then go to "Campaigns" and click on "Recommendations".
This will provide you with your optimization score, which will be presented to you as a percentage number from 0 to 100. Google Ads will also suggest different recommendations that can help improve your campaign, such as setting up your conversion tracking and more.
8.1 Negative Keywords
Another way to optimize your Google ads is by using Negative Keywords. Using this will help your ad to be excluded from specific keyword searches that are unrelated to your business or your services. Negative keywords will also optimize your campaign by making sure only people who are interested in your services will click on your ad, therefore increasing the likelihood of clicks that will actually convert.
A great tool for negative keywords that is free and easy to use is Negative Keyword Pro.
You simply type in one of your campaign keywords then click on "Get Suggestions". With this tool, you will get 20 negative keywords using the free version, but you can always opt to use the full version to see all the results from your search.
Select all the keywords that are unrelated or irrelevant to your campaign, then click on "Copy All" to add them to your Google Ads campaign.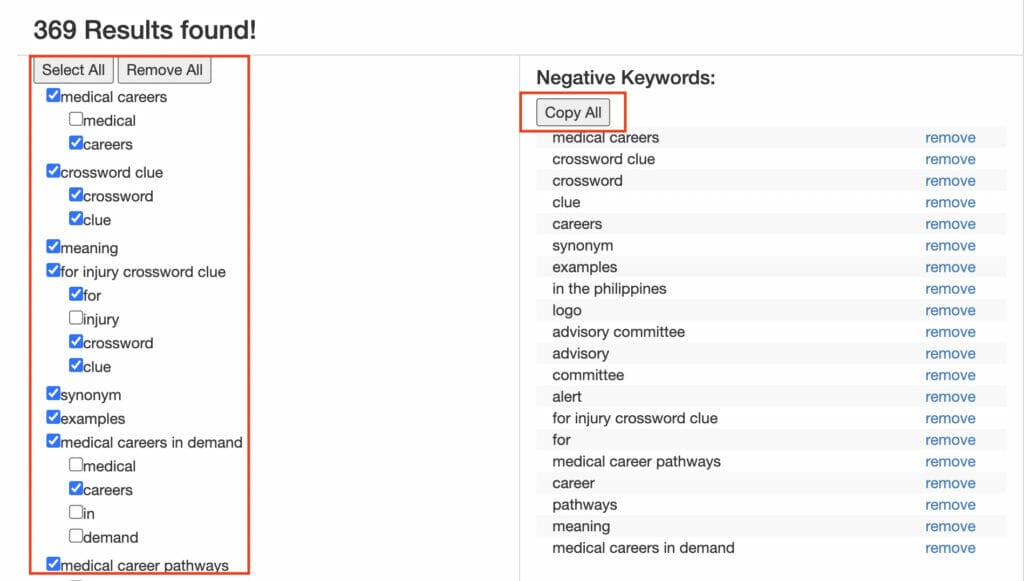 8.2 Negative Keywords on Google Ads
To add negative keywords from Negative Keyword Pro, go to your Google Ads account and click "Search Keywords" under the campaign you want to add them to.
Then click "+Negative keywords" from the "Negative search keywords" tab.
Paste your negative keywords to your campaign or ad group, then "Save", and then it's done!
You can check on Google Ads all the negative keywords added to your campaign and the type of match type they are. You can always use the Keyword Match Type Tool to configure your negative keywords to be Broad match, Phrase match, or Exact match types.
In addition to negative keywords, there will be more opportunities to optimize your Google ads for doctors campaign as you increase your budget. You can increase your bids, change ads, add more ad groups for different services, improve your landing page, and more. Google ads is a continuous process of optimizing to get better results.
Want experts to help you optimize your Google ads?
8.3 Quality Score
Now that we know that optimizing your ads is essential, it's also important to know how this is measured. Google Ads measures your quality score based on your expected clickthrough rate (CTC), ad relevance, and landing page, which all impact your ad rank.
Expected Clickthrough Rate (CTR): This is the estimate of how likely searchers are going to click on your ad. You can improve your expected CTR by rewording your ad copy and adding content that people want to click on.
Ad Relevance: This factors in the relevancy of your ad. You can improve this by adding negative keywords to reduce the likelihood of ads being shown on unrelated searchers. You can even target a specific location if your services are local. In addition, you can increase your ad relevance by adding search terms to your ad copy.
Landing Page: By increasing the landing page experience, you can increase your quality score. So, creating a landing page that is mobile-friendly, fast, trustworthy, and relevant to your audience can contribute to the landing page experience.
By improving your quality score, you can spend less money on your ads but also have a higher chance of having your ad be the first thing people see in their Google search results.
9. Conclusion
Google Ads for doctors can be a great addition to your medical practice's marketing strategy. By correctly following best practices and continually optimizing your Google Adword campaign, you will start seeing results and increase the number of potential patients.
Need help starting your Google ads campaign? Let us help!