SEO for landscapers is essential to driving organic traffic to your website leading to newer clients every month.
Nowadays, homeowners are going to Google first to find the best landscaping companies around them.
Utilizing SEO techniques for your landscaping company will allow your website to rank higher on the search results page compared to your competitors and get in front of these homeowners.
"The first five organic results for 67.60% of all clicks"
Seems like an easy decision to make that SEO for landscaping companies would be a good idea, as the majority of the customers would go to the first five companies.
What is SEO?
SEO stands for Search-Each-Optimization. This is a strategy that marketers use in order to organically gain search engine traffic without having to use pay-per-click (PPC) like Google Ads.
Google will use algorithms to help determine how sites will rank onto the search engines page. The quality of your website will be assessed based on these algorithms to figure out how you will rank.
In this guide, we will share with you the top factors to have a quality website that will help you drive more traffic to your website, and also help increase revenue.
Need Help Starting Out?
On-Page Optimization For Your Landscaping Business
The on-page optimization strategies will be a list of the different techniques you can do to your website to help your business rank higher.
Keywords
Keywords are how new clients will find your business. These are phrases, words, and search terms that they will use in the search query to discover what they are looking for.
Before making any changes to your website, it's important to do keyword research to find exactly what people are searching for within landscaping.
You want your keywords to fit around the different landscaping services your offer or even the location you would like to target.
Google is smart enough to know how keywords are being used on your website. If you are just fitting keywords into areas that don't make sense, this will cause your website to rank lower.
Some tools that you can use to find the best keywords for your landscaping business that we recommend are Google Keyword Planner or Semrush
Google Keyword Planner is a free tool that gives you a list of different keywords similar to what you are looking for. For example, if you type in lawn care for a keyword it gives you "lawn care near me."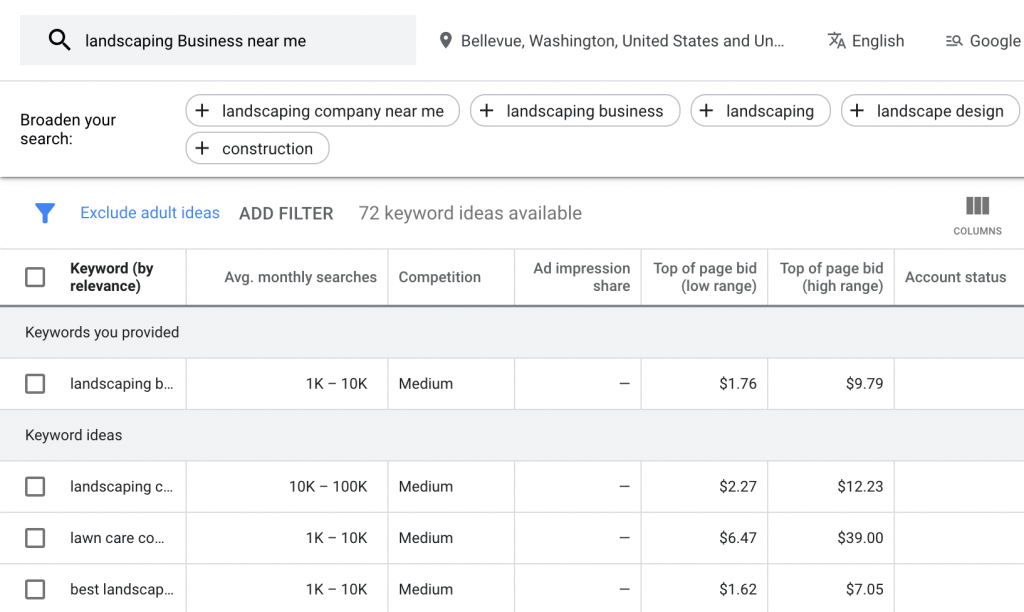 They also tell you how competitive different keywords are, this is helpful because you can target the ones with less competition.
Make sure to change the location next to the search bar to the area you offer services. As different areas will have more competitive keywords than others.
The other tool we recommend is Semrush, which does come at a price starting at $199.95 a month. The insight and information they give are definitely worth more than the price.
Their tool allows you to see what keywords your competitors are using and how they are ranking.
This can allow you to make any adjustments to your SEO strategy, for example including keywords into your website that you didn't know about.
Title Tags
Title tags are the first thing people see under your URL. These words are in big blue letters so it's hard to miss.
That being said, you want these titles to be appealing, concise, and clear to where the searcher wants to click on your website and know what they are clicking on.
An example of a title tag is "Best Lawn Mowing Service in Los Angeles"
Here they know what kind of product or service you are offering and the area you are located in.
Make sure to include a word like "Best" then your keyword in your title tag.
Meta-description
The meta-description is the context under the title tag.
Including a meta description on every page of your landscaping website will help searchers know exactly what you offer, this will help your click rate increase.
Some ideas for your meta description include content about what the page is about, services you offer, or awards that you may have won.
Having targeted keywords in the meta description will also let searchers know if your page will have what exactly they are looking for.
In this example, you can see they include the location in the title tag. For the meta description, they use target keywords like landscape or hardscape company to attract searchers looking for these services.
URL
The URL is a web address that will link to a specific page. As we mentioned earlier on how a quality page will help your page rank higher.
Having a URL that users will know what the page is about will make the user experience much better.
Tips when changing your URL is to include keywords, also making them short and concise. Nobody wants to read a 10 word URL, keep it within 3-5.
Example of a good URL:
https://Landscaping.com/Services/LawnMowing
Example of a bad URL:
https://Landscaping.com/jkhfjkds=edit1
Notice how the top URL is more appealing and more likely to draw the attention of searchers looking for lawn mowing services.
With the bottom URL, searchers won't have a clue what the page will be about.
Your Website Loading Speed
One of the main factors of SEO ranking is how long it takes for your website to load.
Typically when a website takes a long time to load, users will click off of the page. This is called the bounce rate. Having a higher bounce rate vs other sites will cause your site to rank lower.
Research shows that if a website takes 3 seconds or longer to load, 47% of searchers will leave the website.
Here are some ways to make sure that this doesn't happen to you.
The first way is to compress images. Having images is crucial when creating content and websites but sometimes they will cause a longer loading time.
Tools that can help compress images are Tinypng.com or Attrock. Make sure to use some sort of compression tool as this won't affect the quality of the image.
The second way to improve your loading page speed is by choosing where your website is being hosted. Choosing a cheaper option isn't the best as their servers tend to not be able to handle a lot of websites at once.
This can actually end up costing you more money than you think as customers are turning away from your website, this is lost potential earnings.
The third way is to reduce the number of plugins you have on your website and check if your plugin is causing your website to load slower. Different plugin types can affect the loading time.
The final tip is to use a speed tester for your website like GTMetrix. This will analyze your website performance and let you know based on a % how fast your website is.
Under the performance section, they break down different sections you can improve on to optimize your website.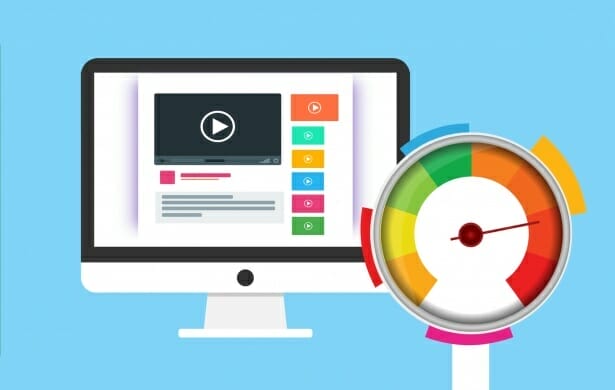 Internal and Outbound Links
Having internal links means that a page on your website will link to other specific pages within your website. Outbound links are where a page on your site includes links from other websites.
Like keywords, you don't want to just throw them around everywhere. You want to include any internal or outbound links where you can create more value to whoever is reading your content.
A good strategy to follow when including links is to follow a central topic. For example, your central topic is lawn maintenance. You can write articles about when to mow your grass or when to pull weeds, then these articles can link to each other.
This creates value between the articles as people will need these services together and you aren't forcing them into your content as well.
Another idea is when including outbound links, reach out to whoever you included. They will definitely appreciate it and perhaps include you into their blog.
Mobile-Friendly Website
In 2020 alone, more than 50% of online traffic came from a mobile device.
With Google switching to mobile-first indexing, this meant that there is more weight on your mobile site than on desktop.
So if users are more likely to stay on your desktop version but are bouncing off of your mobile site quicker then your ranking would decrease.
Here are some tips to make your site mobile friendly
The first tip is to reduce the length of your text to 1-3 sentences together. Having a group of text together can turn users away faster than you can imagine, increasing your bounce rate.
The second tip is to have a friendly navigation design for your website. This means to have images not enlarged to the point it's taking up the whole page.
Searchers should also be able to navigate through your page easily, going from your services to finding the contact page. Also, any call to action buttons is visible.
The third tip may sound like a no-brainer but this will save you time.
Using Google's Mobile-Friendly-Test, this is a free service and will give you feedback on ways to improve your mobile site.
All it takes is just entering the URL of the page into the tool, very simple and quick.
Struggling With On-Page Optimization?
Off-Page Optimization For Your Landscaping Business
The following section will be about off-page optimization. This will cover different strategies you should do outside of on-page optimization to grow your business and ranking on Google search engine results.
Having Quality and Quantity Backlinks
Backlinks are the most important factor in off-page optimization. A 2021 study, it showed that 91% of pages never get any traffic due to not having any backlinks.
What are backlinks?
Backlinks are when a website refers back to your website by linking in an article or post. This is super important as Google will recognize your website to be a valuable landscaping business to include on the top page.
Here are a few tips in order to achieve quality backlinks.
The first tip we have is to create quality content worth sharing. For example, having blogs that are about tips and guides for lawn care will be valuable to those that don't have much knowledge.
Another easy way to create value in your content is to include studies or data information. If you are the one collecting the information then this will show that you are an expert in this industry.
It will also make the information unique and different from others.
The second tip is to do guest posting which is where you write for other sites that have high domain authority. Using tools like Moz extension you will be able to check different websites' domain authority (DA) scores.
Side note, domain authority is a score of 1-100 that shows how likely a website will rank on the search engine's result page. The higher the score the better.
You may think it's odd, why would you write for someone else?
This goes back to the idea that the more people refer to your website, the more likely Google will see your website as a high authority in landscaping.
Once you find a website with a high domain authority score, reach out to them through their email or whatever way that works best for you.
The final tip for backlinks is to go on Google and type in "Best landscaping companies near me"
You will see websites that list off "Best 10 landscaping companies in near your area"
Reaching out to these websites and seeing if they would feature you would only help you as this builds brand awareness and a bigger online presence.
Always try to get more websites backlinking to yours. It's better that you try to diversify as many websites as possible rather than just getting only one website backlinking.
Competitor Analysis
While on the topic of backlinks, a common off-page strategy is to take a look at your competitors' backlinks. The Semrush service we mentioned earlier has this feature.
From here you will be able to see why your competitors are ranking where they are at. For example, if they have more backlinks than you, this means that you will have to try and get more to match them.
Take a look at the different websites they are getting their backlinks from and their domain authority.
This will give you new websites to reach out to for guest posting or backlinking.
Social Media For Landscaping Companies
Having a social media presence is one of the best ways to connect with clients and promote your business.
Platforms like Reddit have forums for every city in the United States, so you can just go to your local forum by typing r/YourCity
Sharing your business along with the different services you offer will bring recognition to your business within your community.
Try not to spam as many posts as possible due to the risk of being banned here.
Other platforms that are good to use are Instagram or Tiktok, these are good to show off images or videos of your work. This can help build trust with new potential customers that are unsure of your business.
Within the different social media platforms, you can reach out to any influencers with a strong social media following to share or comment on your work to help increase traffic.
People buy from people they trust. If an influencer talks about your landscaping company, people will trust them into thinking you're a great company to hire.
Partner Relationships
Relationships in business are key. Perhaps you have a relationship with your local wholesale garden supplier.
A good way to leverage this relationship is to reach out and see if you could be listed on their partner's page, while you do the same for them.
What this will do is build each other credibility within your community and refer new clients to each other.
Optimizing SEO For Landscapers
Just like technology, SEO is always changing and adapting. The changes you make today may not be as effective a couple of months down the road, that is why it's important to stay up to date and track your progress.
A tool we recommend using is Google Search Console. This track measures like site traffic, the number of clicks, impressions, what search queries you show up for, and where you stand on the search engine results page.
Taking the analytics they give you will help make educated decisions into what is needed to be done next in order to keep driving new customers to your business.
Conclusion
SEO is definitely a time commitment but the return on investment it has compared to pay-per-click (PPC) is what makes it worth it. When doing SEO, people expect results instantly.
This is false as it takes time for the Google algorithm to update your SERP rank and for you to make adjustments. If you are willing to have the patience and time investment then SEO will be a great fit for your landscaping company.
Need Help With SEO?