Google Ads for catering companies is one of the best ways to advertise your catering products and services. With the right strategies and approaches, you can get results immediately and increase your return on investment (ROI). In this article, we will teach you how to create a Google Ad campaign step by step.
Want to start Google Ads for catering companies but don't know how?
Google Ads for Caterers
Paid Listing vs Organic
When you search for something on Google, especially if you are looking for catering products and services, this is what the Google search result will look like: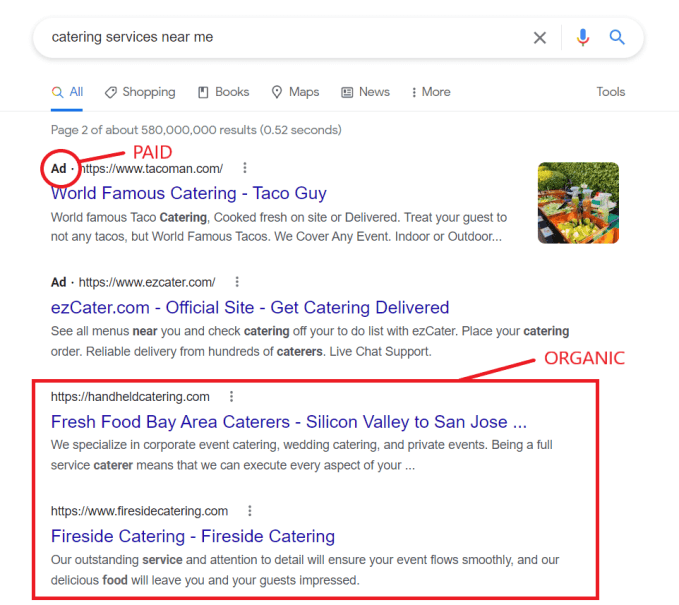 Paid search is created through Google Ads, while organic results are ranked using search engine optimization (SEO) of the website page.
So how do Google Ads exactly work? Google Ads is an advertising tool that you can use to create advertisements for your catering company. If you think that advertisements are expensive, and you are not sure if they will work for your business, then you don't have to worry here. With Google Ads, you only have to pay per click on your ad. This means that you will only be charged for the results. Also, you can freely optimize and improve your ad based on the results you are getting.
Why Google Ads for catering services?
An efficient way to advertise your catering services is through Google Ads for catering companies. People are celebrating every event in their lifetime and catering companies are a huge help to make everything easier.
According to a global market report, the catering industry is expected to increase from $188 Billion to $276 Billion this 2022. This only means that the demand is continuously growing and there are probably more competitors building their catering business on the market.
But you don't have to worry because, with a proper Google Ads campaign, you can easily be on top of them. Most catering companies are already advertising using Google Ads and they hire experts to professionally handle it.
Google Ads account creation
If you are now convinced and ready to advertise your catering services, you can start with creating a Google Ads account. Just go to the Google Ads website and click 'Start Now'. Google will ask you to log in using your existing Gmail account.
After that, click 'Switch to Expert Mode' which can be seen below the page. Expert mode has all the features for Google Ads. This way, you will have complete control over your campaign.
Once you click it, you should be redirected to the campaign creation settings.
Create an ad campaign for your catering services
Campaign goal and type that suits your catering services
Now, you need to select the goal for your catering campaign. We recommend choosing a campaign without a goal's guidance. The reason behind this is that you might want to make changes within your campaign in the future and you don't to be limited by a goal that is suggested by Google.
After that, choose your campaign type. There are lots of campaign types to choose from and each of them has its own purpose depending on the industry of the business. Shopping campaigns are for E-commerce companies, while App campaigns are for app/tech companies, and so on.
For catering companies, we suggest choosing 'Search' campaign. This is suitable for your business type as people usually do their searches on Google to look for catering companies near them.
The next step is to put your website URL and the contact number that you use for your catering company (only applicable if you want to receive calls).
Setting up campaign name and network
Now you need to label the campaign that you are creating. You can name it however you want just make sure that you can recognize it once you see it.
For the network options, make sure to leave them unchecked. This is because you only want your ads to show on the Google search result pages and not on other websites (e.g. Youtube).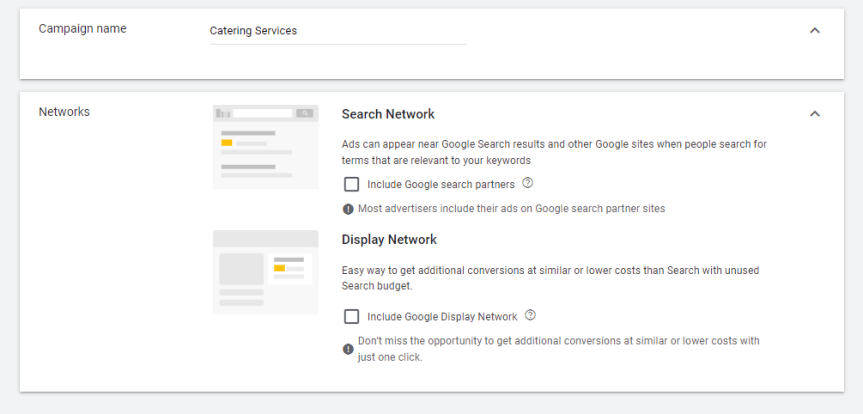 Targeting locations and settings
Now you need to input the location of your target customers. You can either put a state, city, or even use postal codes if you cater to a smaller area. Google will also indicate the volume of people in that location (reach). After that, click on the location options below.
Here, choose 'Presence: People in or regularly in your targeted locations'. This is to prevent your ads from showing up on people who are not actually present in your target location. Then exclude 'Presence: People in your excluded locations'.
Language
Now for the language, make sure that you are only choosing one language. This is because Google won't translate your ads at all and it will make managing your ad a lot complicated since there are multiple languages in your search terms (more about search terms later).

If you want your ads to be shown in another language, just create a separate campaign for that.
Budget and bidding
The next step is to set your budget per day for this campaign. When selecting a budget, we recommend considering these factors:
How much are you comfortable spending
The volume of your target customers
The competitiveness of your industry
Other factors can be answered through intensive research. You can use Google Ad's keyword planner (more on this later) and other advertising tools online.
Then you need to select your bidding strategy. We suggest choosing 'Clicks' as your metrics and you can also set a maximum cost per click bid limit for your campaign.
Your budget and CPC bid limit will affect the maximum number of clicks that you can get per day.  For example, your budget is $50 and your CPC is $0.50, this means that you can get up to 100 clicks per day.
But keep in mind that your CPC value might affect the positioning or ranking of your ads on the search result page. The higher the CPC, the more chances it to be placed on top of the page.
To know more about bidding, check out this article about keyword bidding strategy.
Ad Extensions
Ad extensions are extra texts/information that you can include in your ads. It does not only add more details to your ad but also increases the overall size of your ad which is a good thing when it comes to advertising. Bigger ads are more noticeable compared to smaller ones.

There are currently 8 extensions that you can include to your ad:
Sitelink extensions – adds additional links to your ad
Callout extensions – adds more features to your business
Call extensions – adds your business phone number to your ad
Structured snippet – adds the list of your services
App extension – adds a download link to your app (if you have one)
Lead form extension – adds a link to a form
Promotion extensions – include promos and discounts on your ad
Price extensions – adds a list of prices/rates if you want to put one
Here's one example with Call Extension, Sitelinks, Callouts, Structured snippet, and price extension: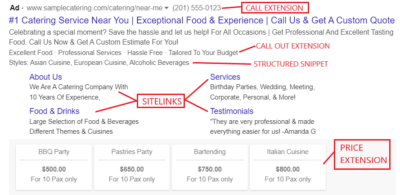 You can use any extensions that fit your catering services ad. But take note that Google will not show all extensions everything at once. So make sure to just use the important ones.
Ad Group Basics For A Catering Services Campaign
Now you need to work on the ad group of your campaign. So what is an ad group exactly?
An ad group contains a set of keywords and ads that relates to a specific service or topic. Its purpose is to have separate ads for separate topics or services of your catering company.
For example, you want to create an ad specifically for wedding catering services. Instead of having a general ad about catering services, you can create an ad group for wedding services, and create ad copies within that ad group topic.
Now we recommend creating separate ad groups for each of your catering services. And to make this easier, you can use a spreadsheet while planning. Here's one example:
Notice how each keyword has notations (brackets and quotation markets) on them? Those are match-type notations and we'll discuss them later in this article.
Create an ad group for wedding catering service
Now let's create an ad group for "wedding catering". Make sure that 'Standard' is selected for the campaign type. Then input the name of the ad group, and in this example let's label it as 'Wedding Catering'.
Then, type in your website service page for wedding catering if you have one, but if you don't, just use your general service page or homepage website. Input the keywords for our ad group topic which is about wedding catering. Then click 'Get Keywords'.
You should get keywords suggestions that people are actually searching on Google:
Remove everything that is not related to wedding catering, and use your spreadsheet to take notes of the keywords that you will be adding to this ad group. Once you have a list, you need to use match types on them.
Match Types
Match types are used to control how your keywords will match search queries. Notations are used to input each keyword depending on the match type.
Broad Match – no notation, will match to anything related to the keyword

wedding catering can match to wedding food service

Phrase Match – uses quotation mark as notation, will only match if a search query contains the keyword inside the quotations

"wedding catering" can match to outside "wedding catering" service near me

Exact Match – uses brackets as notation, will only match to a search query that contains exact keyword no more no less

[wedding catering] will only match to wedding catering
All match types are important and each has a different purpose depending on the goal of the campaign. If you are just starting and want to get insights on what people are searching for that is related to your keyword, you can just use broad match. But if you want to target people with intention of hiring your service, you can just use exact match and phrase match keywords (just like how we use it on the spreadsheet).
Now before we add the keywords to our ad group, let's discuss techniques how to research keywords for your campaign.
Keyword Research techniques for Google Ads for catering services
It is important to have an intensive keyword list for your campaign. This is to prevent unnecessary traffic and costs to your campaign. You can do this by following these recommended keyword research techniques:
Need help with your keyword research?
Utilize Google autocomplete suggestion
The most basic tool you can use for keyword research is the Google search box. Just type in the keyword and Google will give you keyword suggestions. These keywords are what most people are usually searching on Google right now.
So take note of the keywords that you can use for your campaign (add it to the spreadsheet), and also the keywords that are irrelevant to your campaign since you can use that info later.
Use Google Ads' keyword planner
Google Ads has its own keyword tool called 'Keyword Planner'. You can find it on 'Tools & Settings' under 'Planning' category. Click on the keyword planner, then choose 'Discover new keywords'.
After that, input your main keywords, set your target location, input your website service page, then click 'Get results'.
The result should look like this:
You can see here the result and it is directly from Google's data. You will get insight on how many people are searching for those keywords, how competitive it is, and what is the average CPC bid limit you can set for your campaign.
Use free keyword tool online
There are lots of keyword tool online that is free or at least free trial. Here are some you can use for your research:
There are still lots of tools out there and you can just search on Google "free keyword research tool".
Input keywords and complete your first ad group
Now that you have your keywords ready, you can now copy them from your spreadsheet and paste them on the ad group keyword box. Make sure that you are using match types.
To create another ad group for a different catering service, just click 'New Ad Group'. Once you're done, click 'Save and Continue'.
Blocking keywords for Google Ads for Catering Companies
Remember how we keep saying to take notes of irrelevant keywords to your campaign? This is because you can compile them and put them in the negative keywords list.
Negative keywords lists are another feature of Google Ads where you can set keywords that will be blocked and will not trigger your ads from showing up. This is useful to prevent your ad from showing up on search queries that are irrelevant or has no intent to get your services.
To use this, just go to 'Tools & Settings', and click 'Negative keyword lists' under 'Shared Library' category.
Creating Ads For Your Catering Services
After you create your ad groups, you can now proceed with writing headlines and descriptions for your ads. But first, input the final URL and display path of your ad.
The final URL is where your ad will be redirected once someone clicks on it. It is important to match your URL to what is written on the ad. For example, if your ad is about wedding catering, then your final URL should be your website page about wedding catering or catering services.
The display path is just additional text you can add at the end of your URL. This will not affect the final link.
Writing headlines
Since this ad is under the 'wedding catering' ad group, we will write headlines related to wedding catering.
You can write up to 15 headlines and Google will create different combinations of your headlines. You can fix the placement of each headline by clicking on the pin icon on the right side of the text. Here are some examples we used for a wedding catering ad:

When writing a headline, we recommend using these techniques that will surely catch the attention of your viewers.
Use numbers and symbols

Starts @ 299
#1
Food & Service
$49 Off
40% Discount

Use call to actions

Call Now
Schedule Now
Book Today
Save Your Spot

Use geo-keywords

Near Me
Near You
Nearby
Washington
Los Angeles (LA)

Use power words

Best
Top-Rated
High-Rated
Top-Notch
These techniques are useful and the headlines are the first thing they will see when they look at your ad.
Writing descriptions
Descriptions are the second thing that they will read in an ad. Make sure that the description is related to the headline, or at least supporting details about it. You can also use the techniques that we give for headlines. But in addition, you can use testimonials on your description which is a really good technique when writing an ad.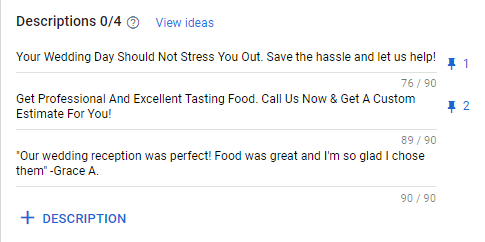 Again, you can fix the placement of your ad by clicking on the pin symbol on the right side of the text.
Finalize your ad
Now that you have written your ad, you can see a preview on the right side of your screen. You can switch from mobile view to desktop view.
Once you are satisfied, just click 'Save and continue'. Google will review your overall ad campaign and will suggest some parts to be fixed. Some are optional, but some are required to be fixed before you can publish the campaign. If everything is ready to go, you can now click 'Publish' and now your campaign should be active.
Want in-depth Google Ads for your catering services?
Grow Your Business Today With Google Ads For Catering Companies
Managing a business is not easy as you need to think about every aspect of it. But with Google Ads for catering companies, you don't need to worry about getting leads and clients. You can easily grow your business through advertising online with the right strategies and knowledge.
If you need help in creating Google Ads for your catering services, schedule a free consultation with our experts today!