Want to know how to prevent someone spam clicking Google Ads? In this article, we'll talk about Fraud Blocker's Google Ads integration.
Pay-per-click (PPC) advertising is one of the best ways to increase your ROI and grow your business. Google Ads, one of the most popular online advertising platforms, offers a lot of business growth opportunities by getting leads and sales from online ads. However, with the popularity of online advertising, there's also an increase in fraudulent activities, such as fraud clicks or click bots. To prevent these clickings from eating up ad budgets, businesses need solutions like the Fraud Blocker software.
Need help with Google Ads?
How Does Fraud Clicks Work
Fraudulent clicks, often referred to as "click fraud," usually occur in online advertising, particularly pay-per-click (PPC) advertising campaigns such as Google AdWords. Click fraud involves actual people or automated scripts, clicking on online ads to inflate ad engagement metrics or eat up an advertiser's budget, without any genuine interest in the advertised product or service.
According to data statistics, the overall cost of fraud in advertising is $81 billion in 2022, it is predicted to increase to $100 billion by 2023. Click farms and fraud bots are real, and they can be driven by various motivations. One is rival businesses engaging in click fraud to exhaust their competitors' ad budget which will result in ads not showing. There are actual click farms or bot networks that employ people to click on ads systematically – which will generate income for the operators.
Click fraud perpetrators often attempt to hide their activities by using tactics that make the fraudulent clicks appear legitimate. They use IP rotation where they use a large number of IP addresses to avoid being detected by tracking the source of clicks. Another possible tactic is instead of clicking on ads in a predictable pattern, fraudsters may randomize the timing of clicks to mimic human behavior. Also, they can do "geolocation spoofing" or use proxies or VPNs to make it seem like their clicks are coming from various geographic locations.
How To Prevent Someone Spam Clicking Google Ads
These fraud clicks can affect businesses negatively as they can result in financial loss, reduced ROI, and a change in their ad performance. Businesses will end up paying for clicks that are not genuine and will not lead to real customer engagement or conversions, wasting their advertising budgets. Also, the overall return on investment (ROI) for online advertising campaigns is reduced because they are paying for fraudulent clicks instead of actual high-quality leads. It can also affect the overall performance of Google Ads campaigns because it will be hard to interpret and analyze data with all those fake clicks.
To combat click fraud, advertisers can do daily click monitoring and manually block suspicious IP addresses. But an easy way to do this is to use software that will do all of these fraud preventions and detections automatically. Fraud Blocker is a great software that businesses can invest in to prevent these kinds of fraudulent activities on their ads.
What Is Fraud Blocker Software?
Fraud Blocker is a cutting-edge solution designed to address click and ad fraud effectively. It is the leading click-fraud protection software – It blocks fraud clicks, blocks suspicious IP addresses, and helps you save money on your ads. It blocks traffic from fraudulent click farms, bots, and other malicious activities that can potentially target your ads.
Here are some core features of Fraud Blocker software:
IP Monitoring
VPN Detection
Device Fingerprinting
Geolocation Tracking
Blacklists
Click Frequency
Invalid Clicks
See here Fraud Blocker's monthly pricing: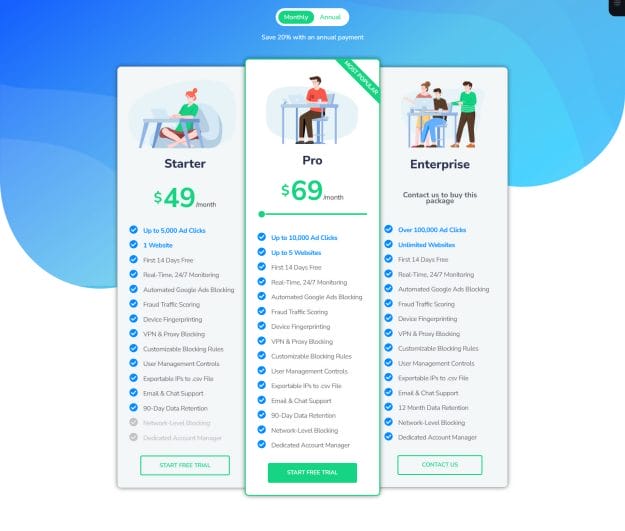 Need digital marketing help?
Fraud Blocker's Google Ads Integration
Fraud Blocker's integration with Google Ads is a game-changer for advertisers. Here's how it works:
Real-Time Monitoring: Fraud Blocker continuously monitors your Google Ads campaigns in real-time, analyzing data to identify suspicious activity. This real-time monitoring is crucial for quickly identifying and stopping fraudulent clicks and impressions.
Automated Blocking: When fraudulent activity is detected, Fraud Blocker takes immediate action to block the source of the fraud. This prevents further fraudulent clicks or impressions from impacting your campaign.
Detailed Reporting: Advertisers receive comprehensive reports that provide insights into the extent of fraud detected and actions taken. These reports help advertisers make informed decisions and refine their ad campaigns.
Here's how to integrate Google Ads on Fraud Blocker:
Step 1: Login and add your website URL
Log in to Fraud Blocker using your account. Then, on the left dashboard, click "Add Website".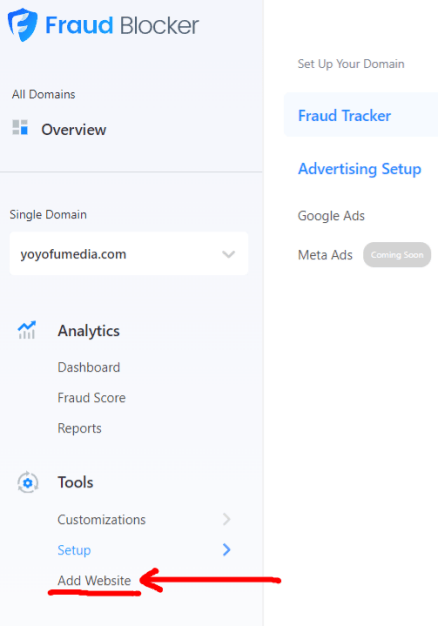 Then, input the website URL, then click "Add Website"
Now, make sure that the website URL you want to set up is selected under "Single Domain". Then click, "Setup" under tools and click "Copy Code"
Step 2: Install tracker code to your website
Go to your website domain site and install the code provided on Fraud Blocker.
Step 3: Connect to Google Ads
Under fraud tracker code instruction, you should see a button that says "Connect Google Ads", click it (make sure that you are logged in to the said Google Ads account)
Then proceed to "Sign In with Google"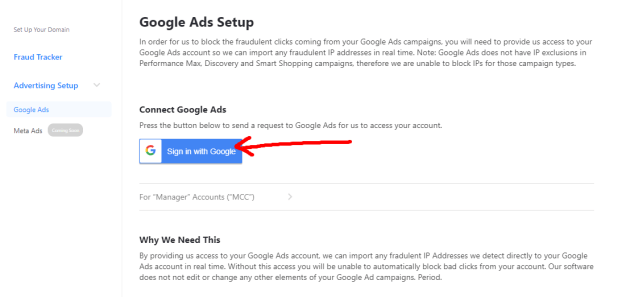 Click the account that you want to connect to Fraud Blocker
Click "Continue"
Then select the Google Ads account that you want to connect to. This is how it should look like once it is connected.
Now that the website and Google Ads are connected, you should see data on the dashboard within the next few days.
Don't know where to start? 
Conclusion
Everyone does online marketing for their businesses and preventing ad spend loss due to fraud clicks must be looked into. Fraud Blocker's Google Ads Integration offers a powerful solution to combat these threats beforehand. By combining real-time monitoring, customizable rules, and automated blocking, Fraud Blocker helps businesses protect their budgets, improve ROI, and maintain a positive online reputation. Integrating Fraud Blocker into your Google Ads campaigns is a proactive step towards enhancing online security and ensuring the effectiveness of your advertising efforts in an increasingly competitive digital world.
If you need help with Google Ads, contact our experts and get a free consultation!