As a dentist, are you looking to improve your social media presence? This complete guide will provide you with dental social media ideas and much more.
In this information age, social media has exploded. In fact, there are over 3.5 billion people that use social media! This is a great opportunity for you to showcase your dental practice to millions of people.
Engaging and interacting with your followers is an effective way to build trust and develop quality relationships. However, it can get difficult to come up with new social media ideas for dentists so often.
If you have this same problem, this guide will offer you social media ideas and tips to take your dental practice to the next level.
If you are busy, let our experts manage your social media accounts.
Benefits of Dental Social Media Ideas
Social media is an essential and powerful platform that allows businesses to grow.
Reach a Wider Audience
In the past two decades, internet usage has raised by over 1,000%. As more people rely on the internet as their primary source of information, your dental practice has the potential to gain more visibility and traffic.
For most businesses, social media enables the possibility of getting their product or service in front of thousands of people. It opens the door for greater reach and success.
Build Meaningful Relationships
When going to the dentist, patients want to know that they are in good hands. Not only can social media extend your reach, but it can also help you build long-lasting relationships through trust. Especially in the healthcare industry, establishing trust is a top priority.
Trust allows you to develop and maintain relationships with clients. Social media is a great way to gain trust because you are constantly engaging with your followers. The more interactions you have with them, the deeper your relationship can be.
Dental Social Media Ideas
Now that you understand the importance of social media, let's brainstorm some dental social media ideas.
Patient Appreciation
The first post idea is to show appreciation to your most loyal patients. These patients have been coming back every year for their dental visits, and you have built a personal relationship with them. Simply take a picture with them and post it on social media.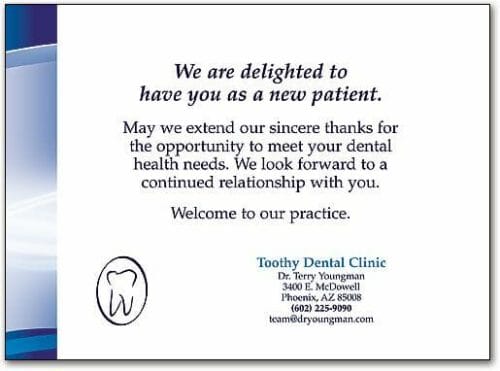 This is a great way to show your gratitude for their loyalty and support throughout the years. It also shows that each client is important to your dental practice and without their support, you would not be here. Additionally, expressing customer gratitude strengthens the relationship you have built with them.
Some examples of captions to write under your pictures are:
"This is [patient name]. [Patient name] has been a loyal client for the past 7 years. We are extremely grateful to have met such a wonderful person."
"Thank you [patient name] for your constant support. We here at [company name] are so thankful for the pleasure of serving you."
"Thank you for your support and your trust. It is our pleasure to work with you."
Customer Testimonials
Another social media idea is to post patient reviews. As mentioned earlier, for dentists, gaining trust is an essential step. A customer testimonial is perfect for this because it represents social proof that your dental practice is trustworthy and credible.
When potential customers see positive online reviews on your social media profiles, they are more likely to trust your dental practice. They are less hesitant to become a patient because previous customers approve the quality of your dental office.
This shows that your dental practice prioritizes the needs and wants of its customers. Prospective customers will feel that your establishment genuinely cares for them.
This is also a great way to generate more reviews for your practice because it'll remind your patients who follow you on social media who haven't reviewed to make a positive review.
Educational Content
To establish your authority and knowledge in dentistry, you can post and share educational content. Followers will see you as a reputable figure in the dental industry.
Some post examples are:
8 Best Practices for Healthy Teeth
The Basics of an Oral Hygiene Routine
Explanation of Common Dental Procedures
Tips for a Smooth Dental Visit
Community Events
Building a successful business takes more than just marketing efforts. To differentiate yourself from the competition, you need to also focus on connecting with your local community. As a local business owner, the community can serve a critical role in your success.
While a strong marketing presence can drive traffic and sales, getting involved in the community also brings more happiness to your team members and patients. Serving your community is a chance to form new connections, add value to your dental office, and create a lasting positive impact.
Some community involvement ideas are:
Sponsor or promote an event like a local fair
Offer scholarships for students studying dentistry
Work with local school programs
Host a food or clothing charity drive
Create workshops to teach about dentistry and proper oral health
Organize volunteer events with your team members
As you can see, there are countless ideas you can help your local community in a way that also benefits your dental practice.
Are you still struggling with coming up with more dental social media ideas?
Staff Spotlights
Another social media idea is to express how grateful you are for your staff members. They are part of the reason why your dental office can provide quality services.
After taking a picture with them, post it online and highlight their specific contributions to the company. Emphasize how their skills and experience helped the team accomplish their goals. Mention how they contributed to the success of your dental practice.
You can also add positive interactions customers had with them. This is the place to be personal and sincere. Appreciation posts will show the human and community side of your dental office. As a result, people will feel more connected to your business.
Additionally, when team members know that their work does not go unrecognized, they will work harder to deliver better results.
An example appreciation caption is:
"This is [team member name.] [Team member name] is a kind and diligent dentist that cares for their patients. [Team member name] has been with us for the past three years and has positively impacted our work environment. We are thankful for his service and constant drive to improve. #mvp #grateful"
Celebrate Achievements
Building a business is no small task. It takes countless blood, sweat, and tears. Therefore, it is important to recognize how far you and your company have gone.
Take the time to find a team picture that precisely conveys the feeling of accomplishment and share it on social media.
Some other examples are:
"Today is a special day because we reached over two million followers. We could have not done it without your constant support. Thank you for being a part of the journey!"
"We now serve over 500 patients! Thank you for your support and loyalty!"
"Our company is now five years old. We appreciate your support and hope to continue growing."
Promotions and Discounts
Who doesn't like a good deal?
For promotions, your goal is to incentivize people to act quickly before it's too late. By stressing the limited offer, you are creating a sense of urgency.
In your post, make sure to include how long the offer is available and what it applies to. You can also add emojis and hashtags to show your excitement.
Deals like this can easily go viral and attract more clients to your dental office. They may even follow your social media pages to see the latest offer and discounts.
A description under your post can be:
"With the holidays approaching, we are offering a free dental cleaning to the first 100 customers. Act now before the offer is gone!"
Giveaways
Running a social media giveaway is a simple and effective way to get conversations about your practice going. It can generate buzz and lead to conversions. An advantage of this is that you can promote your dental brand without being overly promotional.
An idea is to post a giveaway where every time someone shares your page, they automatically get an entry into a raffle drawing. The more shares mean the higher chance of them winning. The prize could be a dental care basket.
Another contest idea is to ask followers to post a picture of their smiles and tag your dental office in the captions. They will be entered to win a $100 Amazon gift card.
There is nothing that excites people more than winning a prize. Giveaways are a great opportunity for your dental brand to stay ahead of the competition and generate user engagement.
To maximize the success rate of your next giveaway, let us help you in a call.
Social Media for Dentists – Tips
Now that you have a few ideas on what you can post on Facebook and Instagram, it's time to cover the best practices and tips when posting on there.
Be Interactive
As you build an online community, it is crucial to interact with your audience. You don't want them to lose interest or leave your business. You can respond to comments under your posts and stay on top of current trends.
Polls are also a great and easy way to engage with your audience. It shows that the conversation goes both ways and that you value their opinions.
Remain Consistent
Consistency is key in any social media marketing campaign. With how fast the world and social media move, people often can forget about your dental brand. You must be consistent with your posts and comments to retain their attention and increase audience engagement.
A helpful tip is to use a social media calendar. A social media calendar helps you organize and plan your social media posts ahead of time. It ensures that you post and share on a consistent basis while not running out of content ideas.
For example, on your calendar, you can designate Tuesdays for giveaways and Fridays for team member spotlights. It is very flexible based on your priorities and resources.
Remember that being inactive can negatively impact your dental brand. Therefore, it is important to remain active to boost engagement.
Be Personal
The last thing you want to do is to spam your social media pages with promotional content. If your pages mainly consist of advertisements, people will ignore your posts and want to unfollow you. Your aim is to balance that with content that shows the human side of your dental practice.
A way to do this is to share posts and photos of real people. This can be your staff members or loyal customers. You want to be authentic with your followers.
By putting a face to your practice, people know that you are being real and sincere. The main takeaway is to maintain a balance between professional and personal content.
Have Fun
At the end of the day, social media is about the interactions and connections between people. It is not super serious nor is it a joke. Think about the last time you were scrolling through Facebook or Instagram. Some posts immediately caught your attention, some made you smile, and some you simply scroll right past.
Have fun while experimenting with what type of social media content you want to put out. Think about what makes you smile or laugh and try to replicate that in your next post.
Recap of Dental Social Media Ideas
With how fast social media is growing, it is advisable that you take this opportunity to build a digital presence for your dental practice. Social media has proven to help small businesses gain traction and differentiate themselves from the competition.
As you start incorporating social media into your dental brand, you may find it hard to come up with original ideas to post and share. Since you made it to the end of the article, hopefully, there are some content ideas that you would like to use.
Not only does social media allow you to expand your business, but it also gives you the opportunity to build an online community. It is a win-win situation for you and your patients.
Do you want advice or input on how you can improve your social media strategy?
Suggested Articles about Dentistry: