Are you a house painter that is seeking new and innovative ways to promote your painting services? You're in luck because this article is made for you. We've found that Google Ads for House Painters is an extremely effective way to increase the sales and revenue of your business!
This article will guide you through the process of creating a Google AdWords account for your painting business
Also, we will teach you some of the ways on how to be on top of the painting industry when someone looks for your service in the Google Search engine.
1. What are Google Ads?
Google Ads is a digital platform that helps you create marketing campaigns for your House painting services. Google Ads for House Painters lets you have complete control over how much money you are willing to spend on digital marketing, you can also easily manage and reach out to interested individuals in hiring painting contractors.
And most importantly, it is possible to monitor your accounts by seeing which ads generate clicks and which ones don't.
Below are some of the ads that may show up when you search for "House painters."
1.1 Why Google Ads for Your Painting Company?
Google Ads is the best choice if you want to instantly create and track the performance of your ad. Here, you can easily monitor which ads work well for your business and which are not. Aside from that, it lets you target people who are looking for what your company has to offer.
This means you may keep narrowing your searches so that only people interested in booking your House painting services will be directed to your website. Increasing the chances of your ad being seen by people living in your target location.
Google Ads is a good choice for your painting company as it can also help you lower your cost per click while increasing conversions through the number of phone calls, text messages, or form fills you receive. Your painting firm may use Google Ads to dominate search results while having the option of having your ad appear at the very top of the page.
Too busy running ads on your own?
2. Steps in creating Google Ads for House Painters
2.1 Create Google Ads for your House Painters Campaign
Logging into your Google account is the first step in creating a Google Ads account for your House Painters Campaign.
Then go to www.ad.google.com and click the "Get started" button.

You'll be prompted about the main advertising goal. Choose one of the three options accessible to you. If you wish to get more calls, select the first option.

Then select "Expert Mode" located at the lower portion of the page.
Expert Mode gives advertisers access to Google Ads' most complex features. It entails having more control over bidding methods and selecting from a variety of campaign kinds.
After switching to Expert Mode, you'll be prompted to choose an objective that you believe will help you succeed with your wedding photography campaign.
Click "Create a campaign without a goal's guidance."
After that, you'll be asked to choose a campaign type.
Select "Search," This will help you show your advertisements to those who are actively looking for your House Painter Services. It's a great option for those who wanted to generate sales, leads, and traffic to your website.
Another question will appear, prompting you to select the outcomes you desire from your Wedding Photographer campaign. Let's assume that you want to increase the number of visitors to your website.
Select "Website visits" among the three options.

Leave "Search network" enabled and uncheck "Display network" in the network section.
Reasons why you should enable Search Network:
this will let your House Painter Services ad appear on a range of search-related websites, including Maps, Shopping, and other Google search partners.
when someone searches for terms related to any of your keywords, this will give your House painter ad some visibility
it can be beneficial in expanding the scope of your House Painter services
What is a Display Network, exactly?
It connects your House Painter ad to videos, websites, and blog articles that customers are looking at right now.
Reasons why you should disable Display Network
Other people find it irritating since it interferes with their internet browsing
It has a lower click-through rate (CTR) than Search Network.
It will have a lower conversion rate because it has a lower CTR.
After doing the previous steps, you have to decide the location where to show your ads.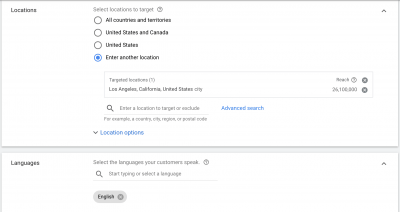 Select "Location options" to specifically choose who you want to reach and not to reach out to.
Click "People who visit or regularly visit your target area" while excluding "People who visit or regularly visit your excluded locations."
Following these steps will ensure that your ad is seen by folks who are looking for House Painting services.

Then, select your desired language.
Select "English."
After that, "select additional settings."
Enter the start and end dates to determine how long your ad will be shown.

You can also choose which days your House Painter Ad will appear.
Click "Ad Schedule" to make changes.
One of the most important components of Google Ads to consider is ad scheduling. It allows you to specify a timetable for when you want it to be presented to potential clients on various days of the week and hours of the day.
In Google Ads, you have full control over whenever you want your Google Ad for House Painters will appear and when you don't want to.
Need help deciding on the dates to show your House Painter ad?
2.2 Create an Ad group for your campaign
In this phase, you will now give your Ad Group a name.
What is an Ad Group, exactly?
An Ad group is a set of advertising that is aimed at the same audience. You can use this section to set a bid that will be used when the keywords in an ad group can cause an ad to appear.
Ad groups are in charge of the bids, target audience, placement, and delivery choices used to capture the audience.
When creating an ad group, you must first come up with a name for it.
Let's say you are offering "House painter services."
When you press "enter," a list of similar keywords to your House Painter Services will appear.
2.3. Types of Keyword Match
Exact match
An exact match is a type of Keyword Match that
It shows your House Painter ad to clients who are searching for the same words and phrases that you have. You must include the exact word within the brackets [] to get the exact results that you are looking for.
For example:
when someone searches [House painter services] it will give that person results of [House painters in your area].
Phrase match
Phrase match is another type of keyword match that displays your House Painter ad to people who are likely searching for a House painter. To get phrase match results, you must put the word within the quotation marks " "
For example:
"House painter services" "House painters near me" "Affordable House painters"
Broad match
Broad match allows your House painter services to appear in searches that are relevant to your keywords.
To get broad match results all you have to do is simply type in the word or phrase that you are looking for.
For example:
House painters, House painting services
Negative Keywords
Negative Keywords' purpose is to ensure that your House Painter Ad does not appear next to terms or phrases that are unlikely to convert.
For example:
Since you are offering House Painting Services, you don't want your ad to show up when someone searches for "Painting classes." By that, you might want to ad "painting classes" to your negative keywords.
Why is it important to add negative keywords in your ad campaign?
You pay for each time your advertisements appear on Google, and appearing for unrelated searches can quickly deplete your advertising budget.
Including negative keywords helps boost your PPC results
How to add negative keywords to your Home Painters ad?
Click "Keywords" on the left side of your Google Ads page.
There will be a drop-down menu. Click "Negative Keywords."
Then add your negative keywords by clicking the plus "+" symbol.
Click "Save and Continue" after you're finished.
The next part is filling up details for your final URL, Display path, Headlines, and Description of your House Painting Services.
2.4 Create the structure of your Google Text Ads
In creating the structure of your Google Text ads, you have to fill in the final URL, Display path, Headlines, and Description
This is what the structure of a Google Text Ad looks like:

Final URL
This is the official website of your House Painting Services.
Display Path
This is a section of the official website URL of your House Painting Services.
Headlines
This is the first line of your House Painter Services Ad that people usually notice. This part must include the keywords that you are working on. You only have 15 characters to write with, so use them wisely to get people's attention.
Descriptions
This part which appears below your title, allows you to differentiate your ad from your competitors. Here, you'll have to persuade clients to hire you as their House Painter. Make sure to include your research goal because it is only limited to only 90 characters.
After this step, you will see the desktop and mobile preview of your House Painter Ad:
Here is how it will look like:
Desktop view:
Mobile view:
3. Ad extensions
The additional information that you wish to appear beneath your House Painter Ad is called Ad extensions. At some points, it can increase your House Painter ad's clickthrough rate.
Why are Ad extensions important?
they boost interaction
have an impact on ad quality
users are more likely to make informed judgments and take action when relevant ad extensions are available
can generate more engagement
Types of Ad extensions
Here is an example of how site link and call extension may look like in desktop view:
Sitelink extensions
This kind of extension links your ad to other pages on the same website that appear in search results. Sitelink extensions are used to encourage people to choose where they specifically want to go on your website. Adding this extension can help users get where they want to go on your website fast and effortlessly.
Callout extension
This kind of extension allows you to highlight the deals your House painter ad has to offer.  You can use it to define the types of things you sell, highlight a current special offer, or identify your specific target market.
Call extension
This kind of extension includes your business' contact details. If the service you offer places a high value on phone calls, this will result in the correct kind of conversion. It's one of the must-have ad extensions for any company that provides customer service or sales over the phone.
Location extension
This kind of extension indicates your business address. Adding this kind of extension isn't a must but if you want to gain the trust of potential customers, you might want to consider adding this to your ad extensions.
App extension
This extension is suitable for businesses that also have apps to access the services that you are offering. Adding this extension makes it more convenient for mobile users to navigate your website.
Promotion extension
This extension is used to highlight the best deals that your company offers.
Price extension
This extension is used to highlight the price range of the services that you offer. You can add up to eight price extensions per ad.
Affiliate location extension
This is used to assist customers in locating establishments that sell the products you sell.
This article talks about the other types of ad extensions and how to use them.
Can't decide which type of ad extension to use?
 4. Budget and Bidding
You must set the daily budget (average daily budget) as well as the maximum amount (bid) that you are willing to spend per click on your House Painter Ad in this section.
Because each campaign's budget defines a daily spending restriction, it must be an average amount you'd be willing to spend every day.
The highest price you're willing to pay for a click on your ad is called a bid.
Once you're done, click "save."
Congratulations! You've finished the process of creating a Google Ads Account for your House Painting Services. You can now see and track the status of your ad campaign.
Is creating a Google Ads account hard for you?
Schedule a Free Strategy Session with us!
5. Conversion
The action that a person takes in response to your advertisement is called a conversion. It can be done by clicking, viewing a video, signing up for a newsletter, purchasing a product, or booking an appointment.
Conversion rate
It is the percentage of visitors who completed a task after visiting your website.
How do you figure out the conversion rate?
Divide the number of interactions you receive by the number of people that performed a task on your website to determine your House Painter Ad's conversion rate.
Conversion rate = the number of interactions ÷ by the number of people that completed a task on your website.
6. Landing Page
A landing page is where visitors will be redirected once they click on an ad that comes from any website. Its purpose is to target a specific audience, to have significantly higher conversion rates.
Below are some of the things that a good landing page must contain:
must have a striking headline that persuades the visitors
must contain the benefits that come along with the house painting service you provide
call-to-action button
testimonials or good reviews from previous customers
Know the difference between these three terms: 
Facebook ads are online advertisements that are generated and published on social media platforms called Facebook. This kind of advertisement is only visible to Facebook users who have been targeted using the platform's targeting capabilities.
Here are 7 Awesome Facebook Ad Examples (And Why They Work)
Search Engine Optimization or SEO
It is known as the process of improving a website for search engines. It's the process of increasing the quality and number of website visits as well as brand exposure by employing non-paid or organic search engine results.
Want to learn more about SEO? Here's a beginner's guide.
Search Engine Optimization vs Search Engine Marketing
The primary difference between the two is that Search Engine Optimization (SEO) focuses on optimizing a website for organic search results. Search Engine Marketing (SEM), on the other hand, aims to increase traffic and visibility through both organic and sponsored search.
Conclusion
Things to remember when creating Google Ads for House Painters:
Customize your account to meet your needs.
Decide on your target audience and location
Don't forget to add negative keywords
Decide on the amount  you want to spend on your ad
Decide on what keywords to use
Make effective landing pages and don't forget to link them together
Do you find this article helpful? Tell us what you think by leaving a comment below.