The biggest thing to rank high on Yelp is to get a lot of reviews.
But have you noticed how some listings on yelp rank higher than others even though they have fewer reviews? That's called optimizing Yelp SEO.
This is one of my clients. Notice how he has fewer reviews than everyone, yet my client ranks above them.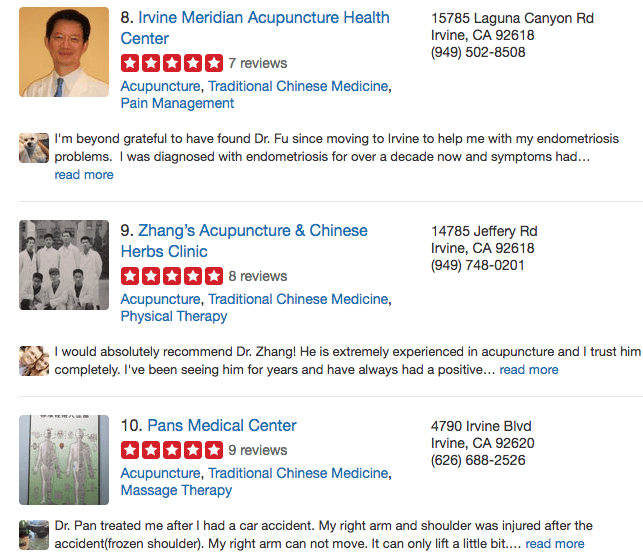 My client even got an email and a call from yelp congratulating him on how he boosted up the yelp rankings so fast and got so many views so fast.
Yes, Yelp likes it when you optimize your listing's SEO, because when you optimize your SEO, you are optimizing Yelp's SEO indirectly and making Yelp rank higher as well.
I'm going to teach you how to rank higher on Yelp even if you have fewer reviews:
Find your keywords + locations

Put together a list of service keywords and locations that customers use to look up your type of service

. For example,

if you're an acupuncturist in Irvine

, you'll want to come up for things like

"acupuncture for back pain"

when people are searching in Irvine, Tustin, etc

Find what keywords yelp and google searchers use. Use search suggestions to find out.

Add Specialty/Services

Add 

all of your specific services & products

! List every service

and product you provide here. The ones that are most important to you should be listed first.

Add keywords to Business Description

Sprinkle in your keywords and variations of your keywords in your business description.

Following the example above, we would add phrases like "for acupuncture services provided … Irvine, CA

", etc, etc.

Find your 

competitor's descriptions

who are already ranking highly even though they don't have many reviews, and see what they write in their description that worked. Emulate, but don't copy word for word. Change it to fit your competitive specialty.

Fill out both Business Description and Meet The Business Owner section.

Upload more pics with keywords. Consistently

Update your yelp account regularly with photos of your service and location.

Set a weekly event on your calendar "ADD 1 NEW PHOTO" every week.

Make sure the photo files have a

keyword in the name, rather than IMG_008.jpg.

I.e: 

"acupuncturist-service-irvine.png"

which

 targets both the service and the area

again.

Also,

add a short photo caption

to every photo.

Add all the cities you service

Most business owners don't know that if they are a moving company, or plumbing company, or that kind of mobile business where have a wide range of areas they cover, they can add more than one location option in your Yelp settings. Add the nearby cities where most of your customers are from.
Fill out profile completely

Fill it out COMPLETELY. Social directories like Yelp, LinkedIn, and Angelist strongly favors a complete profile in their ranking. Fill out every field Yelp asks.

Social directories favor completed profiles because they'll rather show their customers profiles that have all the information completed than a profile that is missing a phone number here or a about section there. Think about it, what would you as a Yelp searcher prefer? If you are looking for a restaurant would you want the first result to show a result that has pictures, phone number, website, hours of operation, or one that doesn't even have a profile picture?

Engagement, review responses are a great way to add keywords

 to your Yelp listing!

Respond to reviews with keywords in your responses

. For example "Thank you for the praise Brandon, we really appreciated being able to help you with your tooth-ache at our dental clinic!". This is one of those things where I can't do it for you, you have to respond to your reviews yourself.
Unlock Filtered Reviews

Yelp is infamous for its fake reviews filter that filter out a lot of real reviews as well and piss off business owners. Here's what Yelp's filter looks for: if the reviewer's profile is complete or not, if the reviewer has friends on Yelp, and if the reviewer has reviews on yelp before.





Here's what you should do: reach out to that reviewer on Yelp, thank the customer for the positive review, and then ask the person to complete the Profile section so the review will be visible to the whole world.
Check All Business Info:

If you accept any of these, make sure you say so on yelp! One of my clients, a dentist, didn't have accepts insurance on yelp until I came on and added it. People search and filter their search by "accepts insurance". If they see that you don't have it, they leave and go to the next listing on yelp. Imagine how many patients he had lost over the years because of it!


 

Promotions: if possible add a promotion as well, such as an easy one as "1 Free Consultation When You Mention Yelp" or "$2 Off" that they client already does. Promotions

stand out

on serp and on profiles.

Use The Yelp Dashboard Metrics.

Yelp's dashboard shows you metrics on the number of many leads you are getting and how many page views you are getting, and what demographic is viewing your pages. For Free! Use it!

This enables you to

track the traffic

to your yelp profile,

how often it has showed up in search results

on the app, and tells you what "User Actions" have been taken, so you know how people engage with your business.

This information is accurate down to not just the day, but the time of day

. It will help inform your decisions on other actions within your business, helping you decide

when business needs a boost from a happy hour or specials menu

.
Want to know more about SEO? Read about How I Got 1000 Views A Day On A Blog. At 12 Yrs Old. A Story Of SEO, Youth, And Content Marketing.