When coming up with your sports marketing strategy on social media for your gym apparel businesses, it's important to know how to distinguish your marketing posts for different platforms. What most marketers fail to do when creating their sports marketing strategy is knowing how to create content specialized for specific social media channels.
Facebook, Instagram, Twitter, and Youtube have unique digital environments. In order to maximize growth for your small athletic apparel business, you need to know how to organize your content marketing strategy and who you are marketing to when using a specific channel.
In this blog, we'll be discussing the different methods of optimizing your sports marketing strategy on social media for maximum results.
What Goes Through People's Minds When They Open Different Social Media Platforms?
First and foremost, we need to understand why there are different social media platforms and why that matters. Think of all the different social media platforms that exist. What makes them so different from one another?
Let's take a look at Instagram versus Twitter from the user's perspective. When people open up Instagram, we can expect them to seek content that is captured through Instagram stories or Instagram pictures. On the other hand, when people open up Twitter we can expect them to seek quick content that refreshes every time they update their newsfeed.
Understanding what your users are looking for when they browse different social media is crucial for content posting and creation. By catering our content to appeal to what our web visitors are looking for, we increase the chance that they stay engaged with your material.
Let's break down the top 5 most popular social media marketing platforms:
Facebook
Out of all the social media marketing platforms, Facebook is the best place to start. It's essentially a well-balanced middle ground of all the social media platforms combined – this platform supports long videos, frequent posts, and story sharing. It's an ideal starting point for social media marketing to begin.
Facebook is sort of the "engine" of social media marketing. It supports all forms of marketing posts, making it a universal marketing channel that every business needs to have. What's nice about Facebook marketing is that it allows you to add action items such as generating an email list, advertising, and posting links.
Let's look at Alphalete, a popular fitness apparel eCommerce store, and their sports marketing strategy on Facebook:
What does this marketing post style look like?
Alphalete features two images of a model wearing their latest gym apparel with a quick caption to promote their "Atlas Hoodie." The content style they are using for their sports marketing strategy resonates with Instagram's style of newsfeed content.
Let's take one more look at an example of a "hybrid" posting:
Pay attention: what social media interface does this look like?
If you look at their YouTube channel, you can see how seamlessly integrated Facebook's hybrid marketing platforms allow for user engagement. Take a look at Alphalete's YouTube page and see if you can spot the differences:
Through proper techniques on social media, Alphalete's marketing strategies transformed it into one of the fastest-growing companies in the U.K. that continues to expand. By using Facebook and YouTube, we can see how Alphalete has grown its company and identify what its values are simply by looking at its content on these social media platforms.
Facebook and YouTube's video page interface both optimize for the highest user engagement, and we can tell just by looking at how similar the pages are. YouTube constantly applies the A/B Testing Strategy to find what layouts attract the most engagement, and Facebook conveniently follows that layout.
Although Facebook is a good tool for sports marketing strategy holistically, it doesn't support a platform that provides a "great" marketing post for optimization. It's an extremely powerful tool in the sense that it serves as a basepoint for all your content needs, but other platforms yield better results when it comes to specializing for what you're trying to achieve.
YouTube
Time to test your marketing intuition. Think from your customer's perspective: when you log onto YouTube, what type of content do you expect to see?
If you've ever used YouTube before, you would know that YouTube is a video streaming platform. The content on YouTube typically lasts about 5 minutes in video form. It's also important to know that 81% of people ages 15-25 use YouTube, so consider what type of content you are trying to advertise.
As obvious as it may seem, you should aim to create videos that convey longer messages. When creating a sports marketing strategy, your YouTube posts should capitalize on the type of content you are able to post to match the platform's environment.
Now, when doing social media marketing for your athletic apparel company, there are multiple goals you can aim for. In the case of Youtube, your goal is to establish a Brand Story. Let's look at an example of Nike, one of the largest athletic clothing companies in the world:
On their page, we can clearly see how Nike establishes its brand. Their featured video is recent news on what their company is doing and how it reflects on their company culture.
Through Youtube, Nike is promoting its recent athletic marketing campaign on "Athlete's Cookbook," which focuses on nutrition and healthy eating. Also, we can see on the right side that Nike has multiple pages with different niches (like NikeSnowboarding, NikeRunning, NikeWomen, and Nike Better World) to expand on their brand story and image.
What Nike is doing right on Youtube for its sports marketing strategy is establishing a brand story covering all bases of fitness and active lifestyles. Their Youtube page constantly updates their audience with new material about healthy living, and their content optimizes for quality produced videos. Nike uses Youtube as an opportunity to tell longer stories and convey stronger messages that establish the company's brand.
Long-Form Marketing
For your business, you should think of Youtube as a form of Long-Form Marketing. This means the content you post on Youtube appeals to people looking for longer stories and videos (compared to Instagram and Facebook content). Your aim for your sports marketing strategy when posting on YouTube is to create videos that last. These videos will represent your company for the image you are trying to sculpt for your business.
Youtube is one of the best social media marketing platforms designed purely to tell stories. Companies use Youtube when they want to capture content that goes beyond an Instagram post – which we'll be covering next.
Instagram
When looking at Instagram, there are two main aspects to consider for your marketing channels: Instagram newsfeed and stories.
Think of Instagram as a way to showcase your company's highlights. You want to show your audience the best moments in your business and how they could benefit from working with you. Let's first break down newsfeed:
Newsfeed Marketing Post
Let's quickly pause on sports marketing strategy and take a second to look at real estate marketing. When you look at listings when purchasing a home, why do you think you only see the best pictures of the house?
If you're thinking that real estate companies want to show the best highlights of what they are selling, you're absolutely correct.
In order to market properly, you want your visitors to see an ideal image of what they would be purchasing. When practicing your sports marketing strategy, your goal is to give customers a sample of your best work. Instagram is the best place to capture highlights of your athletic clothing company's product/service that is being offered. When people post on Instagram, you won't ever see them posting a bad image. That's just how social media works.
Let's look at a post from @underarmor and look at what type of Instagram post they use to capture user attention: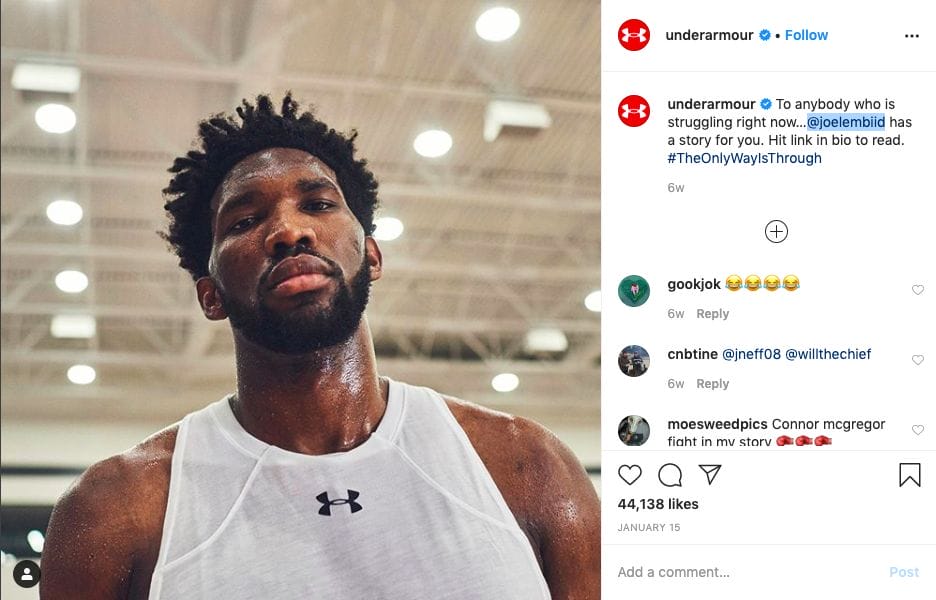 Under Armour is one of the world's largest athletic clothing companies known for featuring athletes and models to promote their clothing. Under Armour's Instagram post is an amazing marketing strategy post. In their example, Under Armour provided their audience with an image of NBA star Joel Embiid (@joelembiid) wearing their Under Armour tank top after practice. This is a great way of capturing a highlight of their business and shows that their clothing is popular among the top athletes in the world.
Under Armour is a company that capitalizes on its sports marketing strategy, and we should follow by example.
In fact, Under Armour isn't the only company that establishes their brand through sponsoring athletes. Take Nike for example, who sponsored Kobe Bryant, LeBron James, and Michael Jordon to promote their brand. Nike's sponsored athletes expand beyond basketball, including Tiget Woods in golf, Peyton Manning in football, and Christiano Ronaldo in soccer. These were definitely the best decisions Nike made to leverage their brand.
Another thing to consider is how often you should be posting. With Instagram, the most popular time to post is from 9 am – 2 pm on weekdays, with the highest rate of engagement on Wednesday from 8 am – 2 pm. With Instagram's newsfeed, you should aim to post at least once or twice per week for optimal results. You don't want to go over this number because you'll overwhelm your followers' newsfeeds, and nobody likes that.
Now let's look at how to optimize Instagram stories:
Story Marketing Post
The story feature is an element of social media that came from Snapchat, so it's important to know the differences between these platforms.
Think of Instagram stories as Snapchat for older people. On average, younger people tend to use Snapchat because it wasn't around as long as Instagram has. Instagram adopted the stories feature, so it's integrated into the Instagram user demographic. The demographics of Instagram itself, however, have not shifted into Snapchat's market. As a result, we're able to use the stories feature to target a different audience group compared to Snapchat.
Now that we understand how Instagram stories work and who we're marketing to, we can craft our story posts for this target audience. When creating an Instagram story post, keep in mind that stories last for 24 hours. You should aim for videos that capture unique moments happening in your company that cannot be covered with an image from a newsfeed post. More people are willing to view Instagram stories than watch continuous videos posted on their newsfeeds in most cases.
Unlike newsfeed posts, since stories last 24 hours, you can post practically every day and as frequently as you need to on your Instagram stories. Always remember who you are marketing to. In this case, post content that appeals to an older age group.
Twitter
Let's take a look at a popular athletic apparel Twitter page and analyze why it's so successful.
Why do you think PUMA's Twitter is so popular?
PUMA's Twitter page is iconic on social media and recognized across the world. It undoubtedly contributes to their company's popularity despite posting athletic marketing material that doesn't directly guide their followers toward sales.
This is another example of an excellent sports marketing strategy.
Many people follow them on Twitter because of Twitter's digital environment and the way PUMA posts. When looking at Twitter, we can see that the environment is a fast-paced newsfeed style of social media. Because of this, Twitter should be viewed as a "loud" environment where you could update interesting things about your business on a daily basis. In this case, PUMA posts updates on their company and all things related to their company culture.
PUMA posts almost 8 times per day on its Twitter account and usually gains high levels of engagement.
Twitter is known as a "loud" platform, you can post as frequently as you want – and people won't mind one bit.
Twitter users are okay with spam simply because the style of newsfeed aligns with their content expectations when opening the app. They expect to see fast-paced content that updates them almost as effectively as live material.
What's So Good About a "Loud" Platform?
What's great about Twitter being a "loud" social media marketing channel is that there are a lot of different strategies you can take if you want to take advantage of the platform. It's almost impossible to post "too much" on Twitter, which enables us to use this platform as a caveat to leverage posts on other social media platforms.
Because Twitter is such a fast-paced environment, we don't need to focus on making every athletic marketing post as perfect as we can. In fact, most companies use Twitter as a "testing ground" for their content.
For example, you could post as many times as you want throughout the day and see which marketing post has the most likes and retweets. From that point, you can better understand what material gains the most engagement when communicating with your target audience. This helps you understand what material communicates better, enabling you to create better athletic marketing posts on other social media platforms.
One thing to note is that Twitter isn't the best monetization platform, meaning that linking customers to your landing page isn't optimal. Social media marketing for small businesses on Twitter is essentially a catalyst that drives brand reputation, which leads to sales on other platforms.
For example, let's look at Patagonia's Twitter feed and see what material they are posting: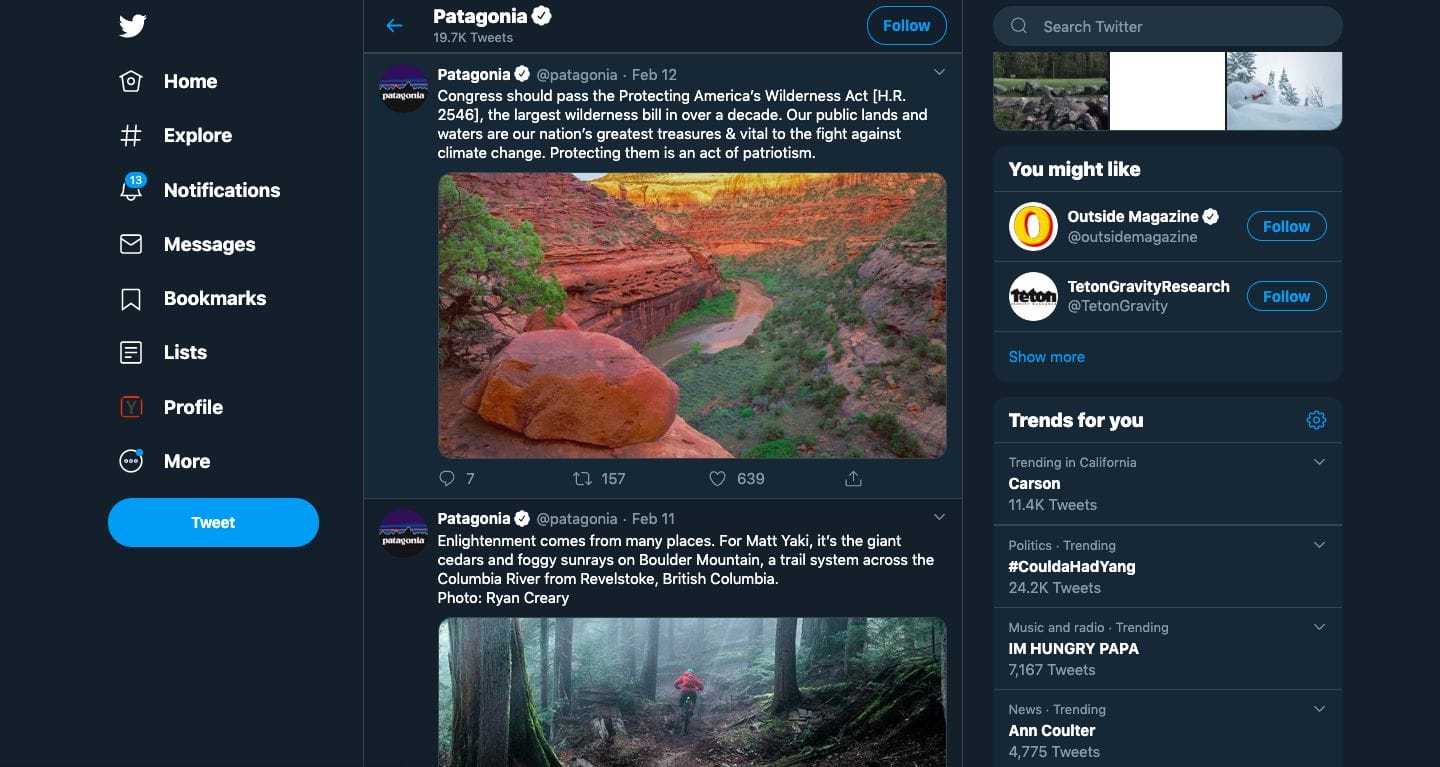 You'll notice that Patagonia's Twitter focuses less on promoting their sales. Instead, they use Twitter as a platform to leverage their brand reputation and establish what their company stands for. Although this is a snapshot of only 2 of their posts, if you explore most companies' Twitter accounts, you'll notice how they don't post many links back to their own websites (at least, if they are doing Twitter marketing properly).
Another notable point is that Twitter ranks well among Google's pages, meaning there is a market of Twitter users who will look at your page to see what your company represents. If your company updates its Twitter regularly, your customers will see that your company is alive and constantly providing value for its customers. This increases your reputation as a company knowing you are active at the forefront, boosting reputation, credibility, and trust which all drive sales.
Establishing Trust for Increasing Sales
In another one of our blog posts at YoYoFuMedia, we went more in-depth about why building trust among your customers is important for stimulating sales. We further discuss the importance of maintaining your digital web space and more specifically how they increase sales for eCommerce businesses. Keep in mind that your presence on social media is primarily about establishing trust among your customers – not squeezing out every sale you can make.
Establishing trust should be your main focus, not selling them your product. Even if you sell them your product, what keeps customers coming back is trust and your dedication as a brand to suit your consumer's needs.
Since new media is constantly being updated on Twitter, users wouldn't like being spammed with advertising from your company. Instead, use Twitter to leverage your company's reputation and display your values. Only then will your business grow a loyal customer base for your brand.
LinkedIn
Last but not least, LinkedIn is the centerpiece of anything related to online marketing. In this space, you'd tend to attract people who are curious about your business and its operations. As a result, we need to tailor our content to who our audience is on LinkedIn.
Based on 2022 statistics, 92% of companies use LinkedIn to distribute their content. In fact, LinkedIn also makes up more than 50% of all social traffic from B2B websites and blogs.
Knowing this information, you want to establish content so that prospective customers can find more information about your athletic apparel company, the people who work there, and any information relevant to their case. You want to build your LinkedIn page so that your company page provides information about your company's beliefs and what you can do for your customers.
This is a great opportunity to distinguish your brand and talk about the sports your company invests in. Go into detail about your company mission and your love for your focus group and their athletic interests. Whether it be sports or weightlifting, LinkedIn is a great professional outlet to bring your company's purpose into the light.
After establishing your page, the next best thing to do when marketing is to create engaging content for your target audience. Similar to Twitter, you don't want to try and sell people things on LinkedIn. Instead, focus on how you can create valuable content for your users. Most people who log onto LinkedIn are searching for productivity, so try and create content that boosts their productivity. You can also post inspirational accomplishments in your business relating to athletic performance to promote or better market yourself as a company that goes above and beyond.
On your business's end, you can link your target audience to your website to gain traffic on things like your blog, website, or even a book you might have written. Instead of selling products and services, use your marketing post on LinkedIn as an opportunity for your customers to sign up for anything that might benefit them.
Bonus: Strategic Sports Marketing with Email
Although email isn't really considered social media, it's one of the best ways to keep in touch with your customers.
When marketing your brand on Facebook, Instagram, Twitter, LinkedIn, and YouTube, you're bound to gain a significant increase in customer traffic on your website. Traffic wouldn't matter unless you got something out of it, and having an email list is one of the best marketing channels to have with your customers.
After your business posts enough valuable content, your target audience is bound to check out your website if they feel inclined to do so. In that case, you could grow your email list by implementing newsletters, discounts, or even giveaways in exchange for their email. Chances are, if customers are on your website because of your hones marketing efforts and positive brand image, they would want to invest their time getting to know your company.
It's a win-win situation for creating your sports marketing strategy because you can send athletic marketing material to your customers directly through email. Those who signed up for your email already are interested in your business and would be more than happy to receive discounts, promotions, e-books, and sales notifications. This is how you build customer loyalty. Not only have you secured your social media platforms to build your company's reputation, but you now have a sales pipe to guide customers into being excited about your brand.
Summary: Sports Marketing on Social Media
Now that we've covered the 5 main social media platforms and how to direct customers into profitable sales, let's recap the key takeaways for each content style you should be posting on each social media platform.
Facebook:
"Hybrid" social media marketing platform. You want your Facebook marketing to be a conglomerate of all your social media posts from Instagram, Twitter, YouTube, and even LinkedIn. Try and post general information updating your customers on what's going on in your business with pictures, statuses, and videos. Remember that Facebook specializes in Smart Targeting Ads, allowing your business to target people who are most likely going to be interested in your services and products.
YouTube:
Long-Form Marketing platform. When creating a marketing post for YouTube, you want to convey longer messages in the form of video campaigns. Focus on establishing your brand story and why your company is different. Post things like testimonials, guides, lifestyle – anything that shows your target audience what your brand is all about and how you go above and beyond. Implement storytelling and differentiate your brand.
Instagram:
Newsfeed and Stories. For newsfeed, you want to try posting highlights of your business. Whether it is product promotion, business tips, or providing services, you want to capture your user's attention when they scroll to your post. Include a quick caption and know that your target audience is within the millennial age. For stories, you can post whenever you like. Stories only last 24 hours and don't spam your audiences' newsfeeds. Try and capture experiences and demonstrations. Treat it as a live stream.
Twitter:
"Loud" social media marketing platform. Here, treat it like a testing ground to find out what content speaks with your audience the most. Since the digital environment is loud, aim to post whenever you feel like it. Don't try and post links to sell products – this won't work and will tarnish your brand name with spam advertisements.
LinkedIn:
Professional B2B social media marketing platform. Update your company profile so it is as appealing and attractive to the public. Make sure you portray your company well and post content that provides your audience with value and productivity tips. You can also post accomplishments to boost your company's reputation.
Email:
Execution. Once you market your business, generate an email list so you can keep customers up to date with what's relevant in your business. Have them sign up for newsletters, free e-books, and discounts in exchange for their email. Then, send out marketing material like discounts and promotions.
Did we miss anything? If so, leave a comment down below!