What is TikTok and How is it beneficial to smaller businesses? Today I will give you details on how to make your Shopify Store go Viral on TikTok.
First, let's start with the basic facts about TikTok. TikTok is easy to use and you can spend hours scrolling through challenges, skits, lifestyle, fashion and beauty videos. So, the best way to build a large brand awareness on TikTok is to make content related to trending posts. By doing this, you are able to place ads or partner with TikTok content creators.
Why Your Brand Needs TikTok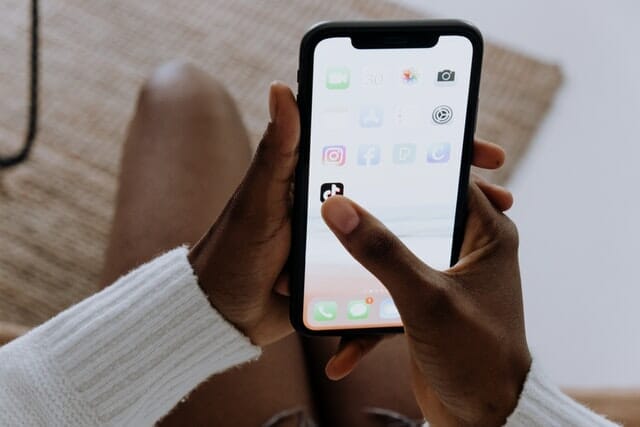 The average TikTok user spends around 52 minutes of their day on the app. This is the time for your brand to engage with your target audience. Using TikTok as a tool, you are able to reach a new audience at a low-cost by producing videos that will bring in customers.
Or if you don't have the video capabilities, you can have influencers make the video themselves (and then later, you can download the video and run it as an ad on Facebook, TikTok, or Instagram). It's two birds one stone.
TikTok has endless editing features that will push you beyond your creative boundaries. This will give you many ideas on how your content is shown to users. Many users are interested in the production of the videos.
How To Post Your Shopify Store On TikTok
TikTok let's you get creative with your advertising strategies. TikTok is moving towards where brands can pay to have their ads shown to users. Whether it's Brand Takeovers, Sponsored HashTag Challenges, or In-feed Native Content. When you are posting an ad on a platform like TikTok it's important to get creative. Don't stick to the traditional advertising techniques but show users why your brand is important.
Brand Takeovers
Have you ever opened up TikTok and an ad is presented right away? Well those are Brand Takeover ads.
So, what exactly are brand takeovers? Brand Takeovers are ads that appear in the user's feed before other content. These are linked to the brand's landing page and are exclusive to specific categories. Based on the categories only one ad can show in that category per day. Depending on the brand, these takeovers usually are advertised by an influencer. TikTok charges around $50,000 per day with 5 million impressions guaranteed.
Here is an examples of a Brand Takeover based on my TikTok App.
Apple
Apple is promoting a film called "The Stunt Double". This was shot on the iPhone 11 pro and is directed by Damien Chazelle.
Sponsored HashTag Challenges
Challenges are an essential part of the TikTok community. Creators on TikTok love uploading challenge videos and using the "# name" of the given challenge. This makes it easier for them to pop up on the "For You Page" and to find when searching for challenges.
A popular challenge that is happening on TikTok is by Mac Cosmetics and is called the "Mood Flip". They are promoting a new powder kiss liquid lipstick. The strategy of this challenge is to come up with different moods based on the lip colors you are choosing to wear.
Mac Cosmetics
Mac Cosmetics #moodflip Challenge by the "Wilking sisters" promotes different looks people can create using Mac's new product.
The Wilking sisters have over 2.8 million followers and 50.1 million likes on TikTok.
Aldo Shoes                                                             
Here is another example of a sponsored challenge created by "ItsJakeClark", an influencer on TikTok. This dance challenge is called "StepIntoLove" to promote Aldo Shoes on instagram and TikTok. Entering this challenge enters you to win a $5,000 Aldo gift card.
It's Jake Clark has over 672.7k followers and 8.7 million likes on TikTok.
In-Feed Native Content
In-Feed ads are native ads. These are placed at the bottom of a TikTok video or in the feed as part of the video queue based on the type of product. You can think of it as an ad similar to a Snapchat or an Instagram story that supports multiple features like website clicks or app downloads. In-Feed ads only appear on the For You Page.
You might be thinking what's the difference between Brand Takeovers and In-Feed native ads. Well Brand Takeovers happen to be place right when you open the app and take over the whole screen. Whereas, In-feed ads appear when scrolling through videos on TikTok.
TikTok offers targeting based on age, gender, and geo-location. So, marketers can create a customer audience when using In-Feed ads.
Example
Here is a Little Caesars In-Feed native ad presented by David Dobrik who is known for his YouTube Channel. He has over 21.1 million followers on TikTok.
Video Content
TikTok isn't just lip-syncing videos anymore. Brands have been able to grow on this platform and are able to make creative ad based content.  They are utilizing the platform to launch campaigns in the hopes of going viral. Here we will take a look at content popular brands are producing on TikTok. This will give you a list of ideas that will help launch your brand on TikTok.
It takes time to figure out what is the best way to drive engagement on a new platform. Your brand has to be fast and creative when it comes to launching on a platform like TikTok. This will give you an idea of what type of content the same demographic likes on this platform. Furthermore, let's look into some brand that are being creative and fast on these new trends.
Gymshark
Gymshark is a brand that sells online athletic gear for men and women. Gymshark built a content strategy around posting consistently and gym challenges. They are currently standing at 1.9 million followers and 29.5 million likes on TikTok.
Gymshark content is engaging and motivational to their followers. They are consistent in posting daily and participating in trending challenges to stay popular. On TikTok, they have their influencers post daily workouts, clothing try-ons, challenges, meal prep ideas, and more.
To learn more about GymShark's Marketing Strategy check out our article.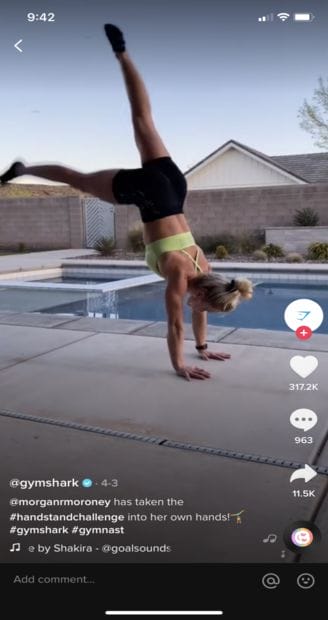 Here is a recent challenge they have participated in. This is a #HandStandChallenge done by Morgan R Monroney on TikTok.
Pretty Little Thing
Pretty Little Thing is a women's clothing store that sells solely on an online platform. On TikTok, they are at 940.5k followers and 13.7 million likes. They post try-on hauls, giveaways, dance challenges with influencers, and more.
A creative way they are currently interacting with their followers is giving away $50 vouchers for three weeks to 3 followers. You enter this giveaway by following and commenting "#win" on their TikTok posts.
Anastasia Beverly Hills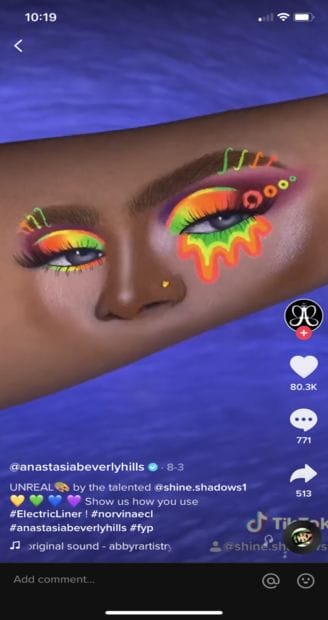 Anastasia Beverly Hills sells makeup products both online and in-store. The brand is currently at 9,910 followers and 160.4k likes on TikTok. Although they have a smaller platform, we should get familiar with their strategy to reach their target audience.
Currently creators are posting how-to use Anastasia Beverly Hills product. Creators participating in the "#electricliner" campaign can get a chance to be featured on their TikTok platform.
Reach out to TikTok Creators to partner with your Business
Expand your TikTok platform by creating with TikTok Influencers!
Things to consider when looking for creators
First, you need to know your target audience. This will determine which influencer would be best for you brand. An important fact to consider is a TikTok Creator with a lot of followers may not be the most impactful towards your campaign. So, research and ask how their engagement is towards your specific target audience
Research creators
Spend time exploring the TikTok app to find creators that match your brand. For example, if you're a fitness clothing brand, search on TikTok "Fitness". To do a deeper search use google search and type in "Fitness TikTok creators".
Analyze Sponsored Content on TikTok
As you know, TikTok has sponsored content on the "For You Page". This is the time to analyze this content to see which creators are collaborating with certain brands. The brands might be in the same market as you and would not be a wise idea to connect with a creator sponsoring another brand.
More ways to find TikTok Creators
How to Work With TikTok Creators
After you have identified the right creators for your marketing campaign, now it's time to reach out to them. Things to consider when collaborating with TikTok creators:
Sponsored Content has to be authentic
TikTok creators should have their creative freedom when it comes to sponsored content on their platform. Sponsored content will not resonate with their audience if it's not authentic. Therefore, brands should take into consideration that producing scripts or controlling their process of a 1 minute video might not be the perfect outcome for this platform.
Clear Contract
Create a clear contract for both parties. In the beginning of the campaign, brands should state they intend to reuse the creators content for marketing purposes. In this contract, include a duration of content ownership
Brand Message
Inform creators of the campaign's main goal and the message you want them to talk about. This reduces the back-and-forth of captions that are disorganized with no clear objectives and missing the mark with the brand's message.
Clear Deadlines
Set deadlines! This will ensure the campaign will run smoothly and as planned. Included the duration of the campaign, creator deadlines for brand approval and dates the creator must post the sponsored content.
How much do creators cost?
Creators create content to reach a bigger audience and want recognition by brands. So, we all wonder how much do creators cost? They really never say an exact amount due to liabilities so, let's first talk about how to get deals.
As I watched "How much money can you make on TikTok?", I gained a new insight on how the younger creators were getting low balled by companies. They had no guidance or a manager to manage their deals during their early careers. One creator stated that she had over 80,000 followers and was promoting posts for $50 each.
Small Creators
Smaller creators usually promote a product for free. This helps them expand their networks with different brands. When working with small creators it's important to understand their audience. They have a smaller platform and they engage more with their followers. So, smaller creators' voices matter to their followers when selling a product to an audience.
They have nothing to lose when they are expressing their opinion, good or bad. Their audience knows their opinion is authentic.
Doe Lashes is a good example of having an effective strategy for reaching out to small creators.
Doe Lashes' Strategy for reaching out to small creators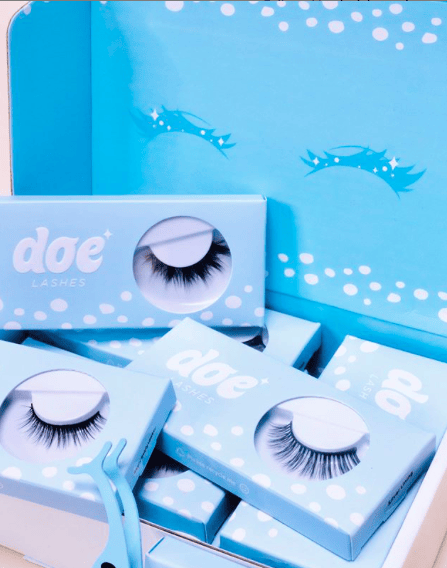 Here is a smaller Shopify store called Doe Lashes that used their influencer strategy to grow to a sizable brand and profit. Doe lashes is a company that sells Korean Silk hair lashes. Today, I want to talk about a strategy they use to reach out to creators through social media. The owner reached out to people who did not know of the brand and asked if they wanted to receive a free product. But in this strategy they did not ask people to commit to anything during the exchange.
A common mistake brands make when working with influencers is they exchange a product and now the influencers has to promote their brand. Something along the lines of asking the influencer "Hey, I'm going to send you a free product, but you have to post about us." So most influencers choose not to accept.
Doe Lashes approached influencers by sending their product as a gift and if the influencers liked it enough, they can post about them. In this process, Doe Lashes didn't make the influencer commit to anything, just to accept the product in hopes of them liking it. Implementing this strategy, they were able to get the response rate they wanted. Overall, you want to make sure you're sending a good product with no commitment and you might be able to work with them in the future.
To read more details about Doe Lashes marketing strategy with TikTok and Twitter here 
Medium and Large size creators charge $X
Bigger creators will charge a price for promoted videos. They rarely do anything for free.
Each creator charges differently. There is no one size fits all for every creator. However, here's the average of what people charge:
Brands who are sponsoring videos on TikTok charge around $10-$20 CPM. CPM = cost per 1000 impressions (views). So that goes to about $0.01 to $0.02 for each view. Depending on the selected category on TikTok.
In comparison to the other major video platform YouTube, brands typically pay $0.03 to $0.08 per view. This ranges to $20 CPM to $80 CPM depending on the selected category. Whereas, on TikTok influencers charge less for sponsored posts because the content is easier to create on the app.
TikTok Creator MarketPlace
The TikTok Creator MarketPlace is where brands and creators can collaborate. This platform taps into TikTok growth trends, audience demos, and best-performing videos. Utilize this platform by browsing top creators who match your brands image. Here you can find TikTok creators to partner up with. You will first need to apply to be approved by TikTok to get access to this.
Campaign Management
Here in the activity tab, you are able to manage your campaigns. As you can see, yellow is pending, green is active, blue is completed, and grey is canceled. This allows you to see what tasks need to be done.
Campaign Reporting
In the "My Activity Tab", you are able to manage your campaign reporting. Enter your campaign name and it will list your reports. As you can see, I have no data displayed but when you start launching captions this area will be filled.
Creator Search
In the creator search tab, lists different creators that are looking for brands to collaborate with. Here you are able to adjust your search by picking the country, gender, age, and device based on finding the perfect creator for you.
How to go Viral on TikTok
We've talked about what is TikTok? How to post your store on TikTok? and how to work with creators? Now, let's take a look at how to go viral on TikTok.
Post Consistently
Post videos consistently. It's hard to predict which videos will go viral, so you have to be consistent on posting. The videos can be short or long just make sure your posting daily to reach the target audience.
Be Quick on the Trends
Pay attention to the trends that are being created on the platform. Watch the trending videos to get inspiration from them. The more you're on the app, you'll gain inspiration for your own videos.
A trend that is happening right now on TikTok is 30 days of Outfits.
If you're a clothing store, it will be ethical to take part in this trend. This will allow you to collaborate with creators. User's will see this collaboration as authentic based on the creators platform. For example, the creator displayed above "ItsRhe" is a fashion blogger that produces fashion related content on TikTok. A fashion brand can take this opportunity to collaborate with her during the 30 Days of Fashion Challenge to be quick on this trend.
Use Hashtags
Hashtags are important for any social media platform. Using Hashtags will help your content become visible to users. Jump on the latest trending hashtags to get views. When posting a video that you want to go viral use Hashtags to get onto the "For You Page". To get on the "For you Page" use the hashtag #fyp, #for you, and #foryoupage.
See what Hashtags are trending on TikTok and make it a video idea. To find what hashtags that are trending go to the discover tab on the bottom of the screen.
Find a Hashtag strategy. Some goals to take into consideration:
Who are you trying to reach with this video?
What should they do when they see it?
You should know the answers to these questions when producing content for TikTok. This will help you understand what Hashtags will be most effective towards your audience. Using popular Hashtags for a broader audience and niche tags are for a specific audience that will engage in your content.
How to Boost your Content on TikTok
Include these into your strategy. Use relevant Hashtags, mix popular tags with less competitive ones, Branded Hashtags, ad Hashtag challenges.
Do not limit yourself to a couple of Hashtags. Using a lot of Hashtags exposes your content to a different audience. Use as many Hashtags that TikTok allows in your caption.
Build a community
Start engaging with your audience and creators. Follow creators that your audience will engage with and like. Start strategizing how you can work with these creators to build a bigger platform. This can range from doing trending challenges, giveaways, or reposting videos. Share on Social media. Twitter is a good outlet to go viral reposting TikTok videos.
Anyone can go viral
In my downtime, I use TikTok to watch funny videos. One day I decided to post a video of my French Bulldog reacting to a song. Within a few days, I had reached over 27.9k views and 2,801 likes by just having 3 followers.
As you can see, I only included 3 Hashtags that were related to my video. This goes to show that anyone can post content on TikTok and reach a substantial amount of people.