So, you are wondering how to use Nextdoor for business? Nextdoor is a simple form of social media where you can showcase your business to specific neighborhoods. All people on Nextdoor are real, (no bots) because the app screens those who join. Anyone who would like to join the app must verify their address in one of 3 ways. You can verify by phone, through a mailed invitation, or by being invited by a verified neighbor.
This verification process allows the app to be saturated by real people in the surrounding areas of your local business. It makes using Nextdoor for your local business super easy since you are not in competition with the whole world, but rather your neighborhood.
How to Use Nextdoor for Business
People make purchases based on word of mouth, research, and advertising. They will typically buy products that they are familiar with. Whether it is based on advice from friends, a video on Youtube, or a Yelp review. Nextdoor is an even greater source for word of mouth type of reviews and recommendations. Instead of consumers looking at reviews on Google or Yelp from complete strangers who may not be local to the business they are reviewing, they can read reviews from their own neighbors.
The weight that a recommendation or reply from a neighbor carries, is significantly more than a random person on another social media platform. Nextdoor serves as a resource for communities to share local information. Any reviews and recommendations are more heavily trusted compared to a site like Yelp.
To tap into this for your business, you need to start by using an account you already have or by creating a Nextdoor account.
Don't want to spend time away from your business? 
Starting your Nextdoor for Business Account
If you already have an account for Nextdoor,  click on "more" if you are on the app, or your profile photo to claim your business from there. This works best for those who are registering as a "neighbor for hire." This usually means odd jobs where you don't need a physical workspace. For example:
Babysitting
Tutoring
Handyman
Snow shoveling
Once you have chosen a service you will be asked if your contact information is up to date, and whether you would like your Nextdoor profile to be public for anyone on the web to find it, or only shown on Nextdoor. Then you may create your page.
If you do not already have a Nextdoor account you need to make one.
As mentioned earlier, you can register as a neighbor for hire or as a professional business. Once you click on your business type, you must input your first and last name, email address, and create a password. If you are planning on sharing this account with your business team make sure to not use any personal passwords.
You will be asked to type in your business's name and address to find and claim it. You will be asked to click on your business and verify that it is yours through a text or phone call. If your business does not show up, you may create a new business page.
You can then add in your email, phone number, and website for neighbors to reach you at. After that, you will be asked to pick a business category. Nextdoor pretty much covers all business types:
Bakeries
Taxidermy
Web designer
Acupuncturist
Orthodontist
Real estate agent
Basically, everything is on there, but if you don't see a category where your business fits there is an "other" option. Once you select this, your account will be created and you are ready to customize your account.
Nextdoor Business Page Setup and Use
Now that your account is ready to use, you need to set up your Nextdoor business page.
Upload a profile picture
Add more categories to your business
Add in your business hours
Fill out the "Our Story" spot
In this example, The Americana at Brand is an outdoor mall. They decided to add the movie theater, restaurant, and car wash categories to their Nextdoor business page since they have these types of businesses at their mall. You can do the same for registering a gym or park and including the classes and services offered as categories. There are so many categories on Nextdoor that you should be able to find a couple for your business.
Get Recommendations from Customers
Unfortunately, for newly registered businesses on Nextdoor, you will not appear in searches until you have at least 3 recommendations. Nextdoor highly values neighbor input, so once your account is set up you should ask your customers to recommend your products/services if they enjoyed them.
To make this simple for you and your customers, you can go to the "your reputation" part of your account. From here you may email, share to Facebook, share to Twitter, or copy the link provided to ask for recommendations.
It is super important for you to post this link on all other social media platforms and on your website. More recommendations mean the community values your products/services. It also shows to those who have not patronized your business yet, that you can be trusted. You can ask for neighbors to follow these guidelines to give your recommendations.
This allows your organic reach on the newsfeed to be great. The more recommendations you have, the more your profile will be shown to neighbors on the app. With just one recommendation you will only be seen by that neighbor and the neighborhood they are part of. However, it isn't a guarantee that everyone in that neighborhood will see your business. This is why recommendations are key to increasing your organic reach.
It is equally important to reply to any recommendations of your business and comments on your business page. If you reply, you show the neighborhood that feedback is appreciated.
How to Use Nextdoor
There are many sections on Nextdoor:
Newsfeed
Map
Digest
Businesses
Local deals
Events, and more
As a business page, you are able to post on the newsfeed twice a month for free. This will allow you to gain some community engagement by having neighbors comment or like your posts. All posts will be marked at the top, "This post is from a local business."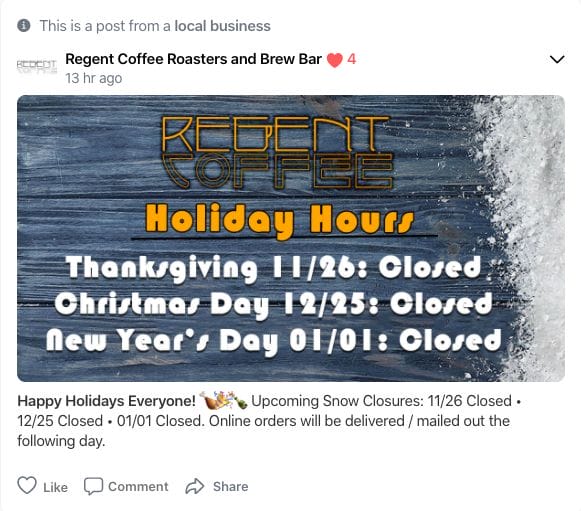 This coffee shop used one of their posts to update neighbors on holiday hours. You can do the same by providing updates on your business whether it is new business hours, live music nights, etc. There are guidelines you must follow to your posts though, such as posting spam.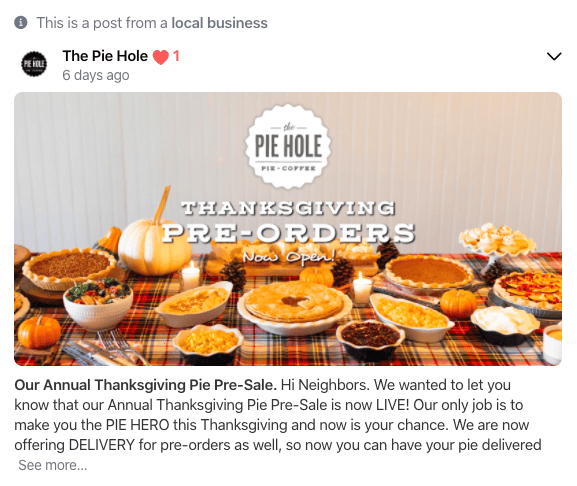 The Pie Hole used one of their posts to write about their pre-sale for Thanksgiving. Any restaurant business can do the same by posting about their pre-orders, take-out, or updates on other aspects.
Since this is Nextdoor, it is a great idea to use pictures of the actual employees at your business. Davtyan Law used a photo of their lawyers to showcase the real people working on real cases in the LA area. A post like this is great for visibility and letting your neighborhood know that you exist.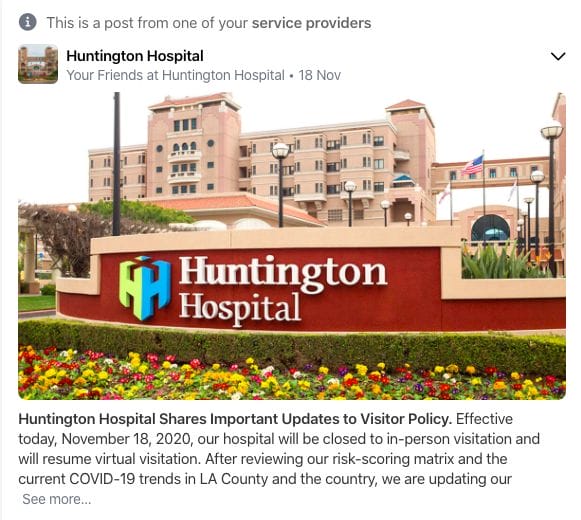 Even hospitals and medical clinics can post on Nextdoor. It is very important during these times to use your posts to update families of patients about your COVID-19 policies.
With all your posts, you must reply to every neighbor who comments. Whether it is to answer a question or to acknowledge and thank them for their comment. Neighbors will notice and appreciate that you reply to them.
Local Deal for Businesses
If you feel that organic reach isn't enough for your business, you can try advertising through local deals. These are promotions/discounts on your products/services only for those on Nextdoor. It will put your promotion in the local deals section which is available to those near your business. If a neighbor saves your deal, they will be emailed to remind them of your deal when it is close to expiring.
Local deals are typically inexpensive and can cost as low as $3, depending on how much Nextdoor prices the neighborhood you would like to target. A guide on how to create a local deal and other ads on Nextdoor can be found here.
Need help setting up local deals that will bring in more money for your business?
Recap on How to Use Nextdoor for Business
You have now learned:
How to change a personal Nextdoor account into a business one
How to create a new Nextdoor business page from scratch
Recommendations are key to organic reach
Reply to every comment and review
Local deals can help if you feel that organic reach may not be enough
Nextdoor can be a very important tool for local businesses. It is paramount to start today to make your business a popularly recommended community establishment.