Google Ads for Lawyers is a great marketing strategy for generating new clients every month with a high return on investment.
From Google's Economic Impact report, states that on average businesses using Google Ads make an average of $2 for every $1 they spend on Google Ads.
To put it in perspective that's a 100% return on investment.
Why Google Ads For Lawyers? 
When potential clients need a lawyer, generally they will go to Google first and find the best one in the area.
Typically they will type in "Lawyer near me" or "Best Attorney near me" into the search query. Google Ads will be able to target these keywords and have your ad trigger when searchers use them.
That is what is great about Google Ads, they can help target buyers' intent. This means that consumers are in the process of making a purchase for a good or service. In this case, it would be your lawyer's services.
Take a look at other marketing services like Facebook Ads. Their strategies don't give as much conversion and a high return on investment like Google Ads does.
How Facebook marketing campaigns work is by showing your ad to everybody in the area even if they don't need your services. This tends to cost more to run and drives fewer conversions.
Google Ads works on a pay-per-click model, so you only pay when someone clicks on your ad.
Not Enough Time On Your Hands?
Google Ads Campaign Structure 
Here's how setting up Google Ads work.
The campaign is the foundation of your ads. Under the campaign, you will choose the goal of your ad, if you want them to target the search results page, displays, or more.
For this guide, we will be doing a search goal.
Ad groups are how you organize your keywords into a common theme. For example, an ad group can be focused on targeting the area around your office.
Keywords under the ad group would look like "lawyer near me" or "lawyer in Anaheim, California."
The keywords you choose are what triggers your ad, these can be words or phrases like the example above.
Quality Score 
The quality score of your ad will measure how relevant your ad and landing page are to the keywords you chose.
How Google measures your ad is by ranking 1-10, 10 being the best score you can get. With having a high-quality score your cost per click will be cheaper and your ads will rank higher to competitors.
Here is what affects your quality score.
One component is the expected click-through rate. This measures the number of people clicking onto your in comparison to the number of people that sees it.
The second component is ad relevance. Are the searchers able to find what they are looking for with the information on your ad.
The third component is the landing page experience. Can searchers that click on your ad find relevant information with the landing page you have.
To check for your quality score it will be under your Google Ads Account.
Setting Up Your Campaign 
To start your campaigns, you will only need a Gmail account.
When you click to get started on the front page of Google Ads, there will be three different advertising goals you can select.
You will want to ignore them and click on "Switch to expert mode" at the bottom of the page.
Not following Google's guide through and choosing to be in expert mode will allow you to have more control over your ads.
The next page will be similar to the previous one and ask you about the goal of your campaign.
Don't worry about the different options. You want to click on "Create a goal without guidance"
Here they will ask about the campaign type.
As we mentioned before we will be doing a search-type campaign.
The majority of new clients will come from search results, so it's important to focus on that first.
The next page is about the general settings of your campaign like the name and the type of networks you want.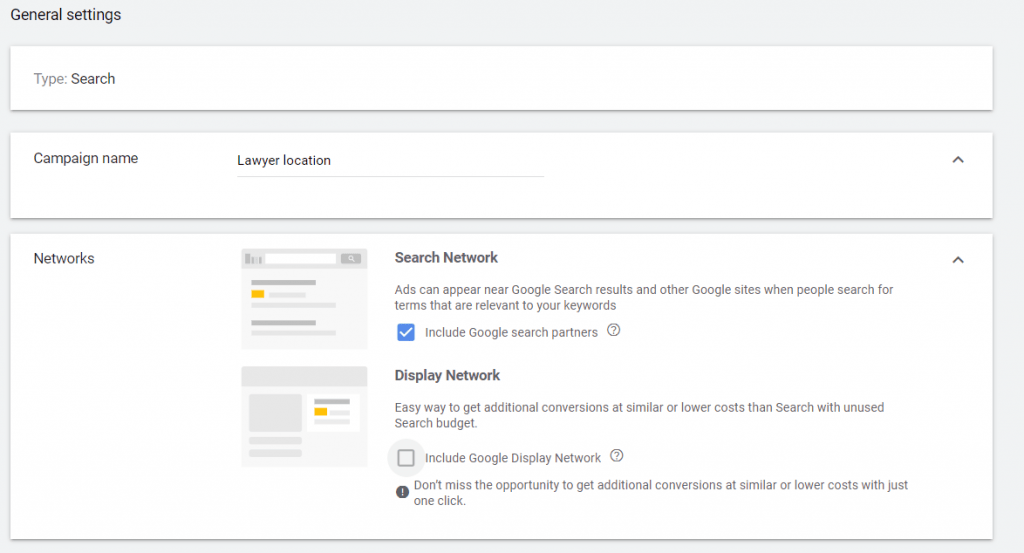 Have your campaign name unique to what exactly you want to target with them. This makes it easier to stay organized while having different campaigns.
An example here for the name is Lawyer Location.
For the networks section, you want to keep the search network selected and unselect the display network.
The display network is similar to Facebook Ads and just blasts your ad to everybody. This method doesn't drive much conversion as not everybody is looking for a lawyer.
Search network will allow your ad to be triggered on Google's search partners. These partners include sites like The Guardian or New York Times.
This method works like if it was on Google and will have your ad show for the keywords you choose.
Location, Language, And Audience 
Right under the campaign settings, you will have the targeting and audience. This is where you can choose the areas or audience you want to target.
As a local lawyer, the best thing to do is enter another location and enter the area you are located.
This will help generate new clients in your area looking for a lawyer. Here you will be able to even change the radius of the area you want to target or exclude different areas.
For languages, if you are bilingual or the majority of people in the area speak another language you can add that here.
The audience section has your ad target for any specific demographic such as a family lawyer, you can set the marital status to married.
Budgeting And Bidding 
On the same page, right under targeting and audience will be Budgeting and Bidding.
Here is where you will be able to set the amount you would like to spend each day on your ads. Later on, if you feel like you are overspending or underspending you will be able to change your budget.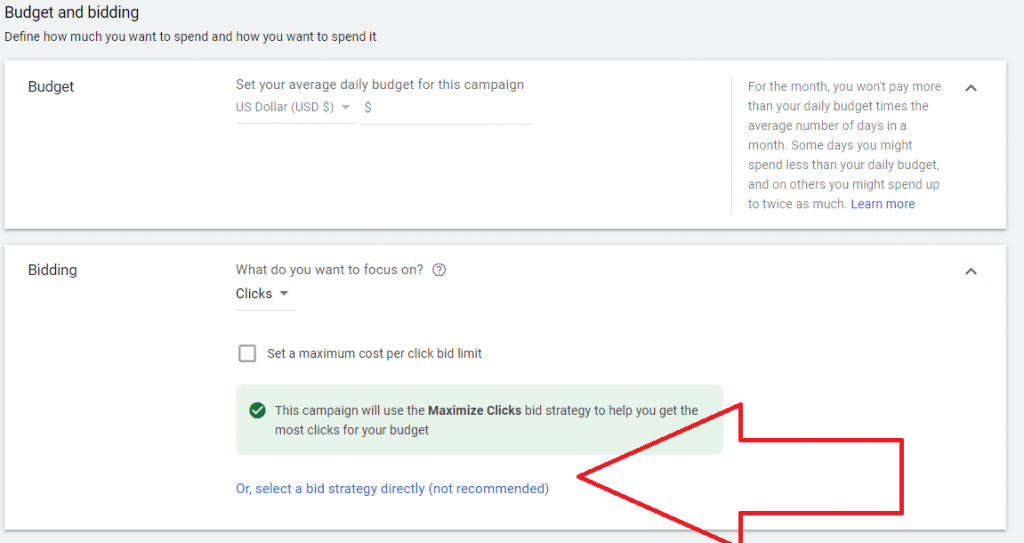 Typically your ads will sometimes spend a little or over your budget but Google will make sure it averages out to the amount you set.
As lawyers, it's recommended that you set your budget to about $100-$120. You want a healthy budget to be able to know if your ads are working or not.
Low budgets make it hard for ads to collect data. With the information, you can tell if the keywords you selected are worth keeping or you should make changes to them.
The budget can also vary depending on location, some areas are more competitive so may cost more for bidding.
For the bidding section, ignore Google's guidance and click on select a bid strategy directly. Then you will be asked to select a bid strategy, again ignore Google's automated biddings and select Manual CPC.
Manual CPC (Cost-Per-Click) gives you more control over your bidding for a keyword ensuring a higher return on investment.
Google's automated bidding systems are:
Target CPA (Cost-Per-Action)
Target ROAS
Maximize Clicks
Maximize Conversion Value
Target Impression Share
Again, it's best to avoid the automated bidding strategies as they really only help Google out rather than you.
Still Unsure How To Budget? 
Ad Extensions 
Ad Extensions are little additional information that you can include in your ad. They help you out by taking up more space on the search results page without costing a penny.
Having your ad bigger can make it appealing for a client to click on. This will greatly increase your conversion rate and Click-through rate.
These are the 6 different types of Ad Extensions that are available
Promotion Extension: Any deals or promotions will be displayed on the ad, perhaps if you have a referral deal going on.
Call Extension: Phone number directly on the ad, mobile users can click on it and call right away.
Location Extension: Displays the business location if you would like to.
Callout Extension: Provides information about your services.
Structured Snippet: Gives specific information about services like what kind of cases you work with.
Sitelink Extension: Right under your title tag, you will be able to provide links to specific pages on your website. For example, you can direct them to a page about your services. This is something to not skip on as this generally gives a higher click-through rate.
Here is an example of what ad extensions look like.

As you can see they have their call extension right next to the URL. Under the Title, there is the callout extension giving information about their business and two site links extensions linking to their pages about them.
Creating Your Ad Group 
Once you get your extension and campaign settings all done, the next step is to create ad groups for your campaigns.
You can have multiple ad groups but remember to try to keep them together with a common theme to each other.
Here is what it can look like.
This ad group focuses on targeting searchers that are looking for a lawyer in the area, so they use keywords like "near me" and "Anaheim" as these are what searchers would use.
Other ad group ideas you can use can be the services you offer. Examples of keywords for services is "Divorce Attorney" or "Family Lawyer"
Keyword Match Types
How you enter the keywords into the ad groups will also matter. Based on the way you enter them they may cause your ad to trigger for different search results.
From the ad group example, above you see how different keywords have quotes or brackets around them, this is called keyword match types.
These are the three different match types.
Broad match
Broad match has your ads target keywords that are similar variations of the keyword you have chosen.
An example from the ad group for a broad match was Attorney Anaheim California. Your ad can trigger for people looking at law school in anaheim.
Try to avoid using broad matches as your ad will more often than not show for searchers not needing your services resulting in fewer conversions.
Phrase match
Phrase match will have your ad target search queries that at least contain your keyword phrase but additional words can come before or after the phrase.
In order to use phrase match, you want to make sure you include quotes "" around the keyword phrase.
An example from the ad group for phrase match was "Lawyer Anaheim." Someone searching Best "Lawyer Anaheim" can trigger your ad.
Exact match
An exact match will only trigger your ads if the exact keywords you have, are entered in the search query.
To use an exact match, you must have brackets [ ] around the keyword or phrase.
An example from the ad group for the exact match was [Lawyer near me], searchers would have to use these exact keywords for your ad to trigger.
Exact matches often give higher conversion rates as they meet the exact intentions of what the searcher is looking for but this also means a higher cost per click.
Creating Your Ad 
After creating ad groups and entering in keywords. The following step is to create your actual ad.
This section will allow you to customize how your ad will look like on the search results page.
Here is an example of how your ad can look like.
The final URL will be the link to your website and display path to exactly where you want them directly to go after clicking on the ad.
For display paths, you will want them direct to a landing page, which we will cover later on.
The headlines and descriptions should include any testimonials, services, location, or anything that is relevant to your business.
Make them eye-catching as this is what searchers see first, you want them to click on your ad.
Keyword Research 
As we talked about in the campaign structure, keywords are what triggers your ad.
If you don't have the keywords your clients are using then your ad will be no good and will not drive any revenue.
For instance, if the only keyword you put is lawyer then your ad will be triggered by people looking for how to become a good lawyer. Keywords like "Divorce lawyer near me" will drive more traffic to your ads.
The best way to find keywords is by spending time doing keyword research.
Tools like Google Keyword Planner, Semrush, Ahrefs, and more are able to make the process easier.
Since Google Keyword Planner already comes with your Google Ad account, we will show you how it works.
After entering a keyword, Google keyword Planner will give you a page like this.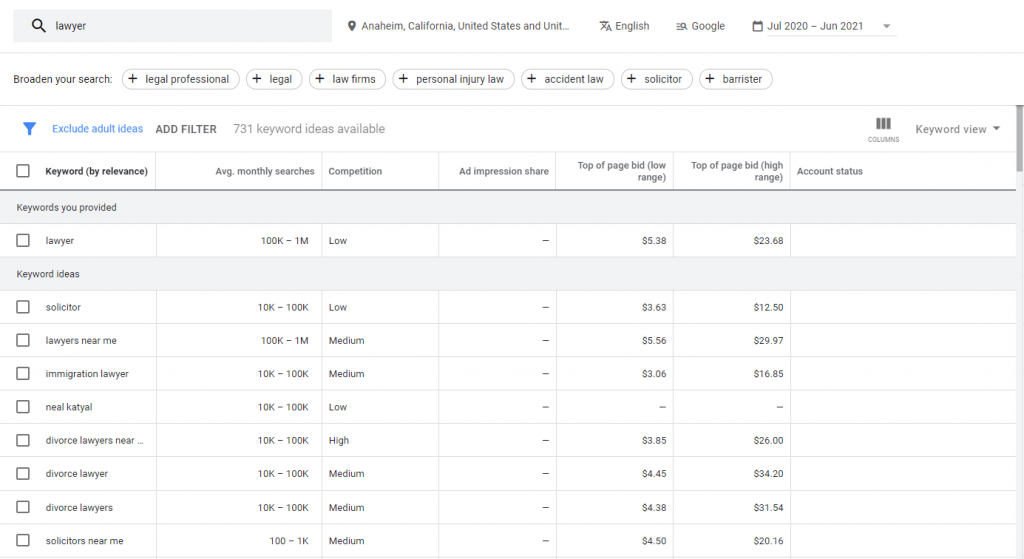 The first thing you want to do is make sure to change the location to your area. This is located next to the search bar, it will give you more accurate information.
On the page, they will give you different keywords ideas that are similar to the ones you provided. For each keyword, the competition, volume search, and an estimated bidding price will be given.
From here, you can choose what keywords that you think will best fit your business.
You want to try and target keywords that have a good amount of volume, keywords that have a couple of hundred searches can be hard to get clients.
Search Term Report and Negative Keywords
Common mistake a lot of businesses make when running Google Ads is forgetting to check on their ad or checking it too often.
When checking your ad often, it doesn't give it enough time to collect data on how your ad is performing. Forgetting to check your ad leads to not making any proper changes to improve them.
A good time frame to check up on your ad is every 2-3 weeks.
The best way to do so is by the search term report. This report can be found under your campaign.
It will give you information on what keywords are driving to your ad and the performance of each one like the number of clicks they get you.
Based on this information you can either add them into the negative keyword list or keep the keyword. Negative keywords are keywords you want your ad to avoid.
For example, if you see your ad is showing for Dui Attorney but you only work as a divorce lawyer then this is something that you could add to the negative keyword list.
Utilizing negative keywords will help target the customers that need your services, increasing your return on investment.
Landing Page
A landing page is where potential clients are directed to after clicking on your ad.
The purpose of a landing page is to have the potential client take some sort of action within the page such as giving you a call or filling out a contact forum.
Keep the information you provided on the ad and landing page the same, if they are different this can stray away the client.
These are other tips to include for a landing page
Including call to action, could be "Call for a free consultation"
Services you offer
Testimonials or reviews from any clients
Location of business
Phone number and email address
Name of business
Quality image of the attorney
Here is an example of a landing page for a lawyer

As you can see they include images of themself to let clients know who they're working with, testimonials below that to build trust, services they offer, and a call to action at the bottom.
This landing page is perfect as it gives all the information that a potential client would need to know before making a decision.
Need Help With Landing Page? 
Divorce Lawyers – Free of Charge Creative Commons Legal Engraved image (thebluediamondgallery.com)