In this guide, we will teach you how to find YouTube Influencers for Shopify store. We will show the exact email template we use to reach out to influencers and get them to rave about products.
What is the purpose of Influencer marketing and outreach?
It's to boost your company's sales and leads. YouTube influencers can build up your e-commerce store with just a video. A video keeps the audience engaged more than a regular picture or blog post.
According to a poll on the Tomson Blog, about 59% of marketers are increasing their Influencer marketing budget over the next year.

The poll showed that Influencer marketing is the fastest growing customer acquisition channel. If strategized right it can be one of the cheapest.
So how do you find YouTube Influencers for your Shopify store? Today, we will talk about how to pick the top YouTubers, email outreach, pitches, sending free products, and paying Influencers.
Picking the Top YouTubers
The best way to find YouTubers is by performing a YouTuber search. Search for content that is related to your product. For example, if you are a business that sells beauty products, you could search for Influencers who talk about makeup, skincare, or hair products.
Once you have done this search make an excel sheet that has your top picks. Include their video views, subscriber count, and social media platforms. And then you weigh out your options. You can make a selection on who makes the best content and fits your brands image. Don't just focus on the number of followers. Rather focus on their engagement rates such as views, likes, and comments.
Influencers can have over a million followers but only average around 5,000 likes per post. This can mean many things but they probably won't reach the audience you want them to. So, focus on the influencers that have the best engagement and more viewers.
What if you're an Influencer and want to look at your own video engagement? You can do this by signing into YouTube Studio
YouTube Studio is the home for creators. The platform allows you to manage your channel and stay updated with new insights. It gives more insight into how to grow with YouTube and make money through channel monetization.
Once you sign in to your creator studio account you will be able to see the following features.
As you can see, it shows your current subscriber count, a summary of views, and watch time hours.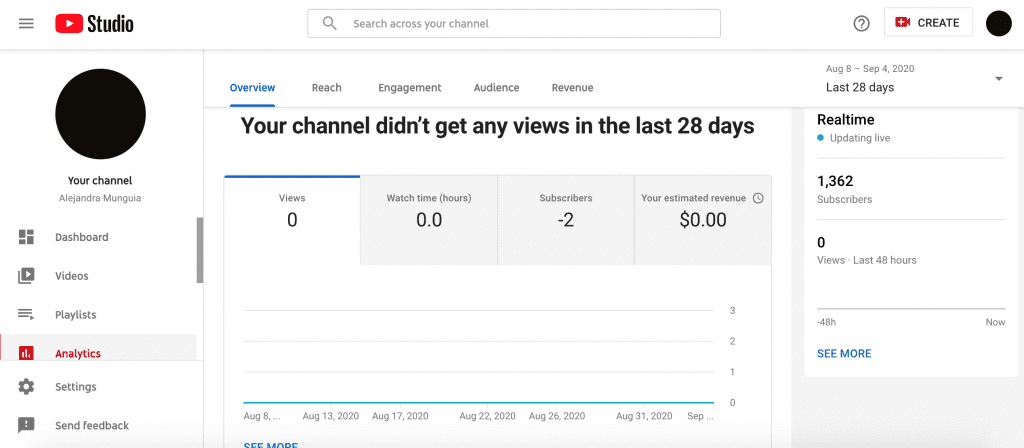 Here you are able to track your reach, engagement, audience, and revenue.
This is a great tool to track how many people are viewing your account in realtime and estimate your monthly revenue. As a YouTube partner, you can earn money from your videos. To do so you will need a channel that has over 4,000 public watch hours within the last 12 months and 1,000 subscribers. After this process, your channel will get reviewed to make sure it follows the guidelines of YouTube monetization.
If you are a sponsor you can ask for the influencer to send you screenshots of their video metrics, however, most influencers will not send it unless you offer a substantial sum of money. It is important to note that influencers' main work is to produce youtube videos, not filter through sponsor deals, so they will be too lazy to reply.
So what most sponsors do, is give an affiliate link to the influencers and have the influencers tell their audience to use code "influencer's_name". This way they can track engagement and see how effective it is. And if it's effective, they sponsor the influencer again.
Death of Famebit
Famebit offered an online marketing platform so brands could post offers to advertise products on social media platforms. Creators were able to log into the platform to negotiate their prices and browse offers. However, FameBit ended.
Famebit Replacements
Another way to find influencers is to use an Influencer search on Heepsy. Heepsy is a shop for your next Influencer marketing campaign. Using Heepsy, you can search for influencers based on industry and location. Once you have found your potential influencers, Heepsy compiles your results into a press list with their stats and metrics. Next, you can reach out and sell your brand.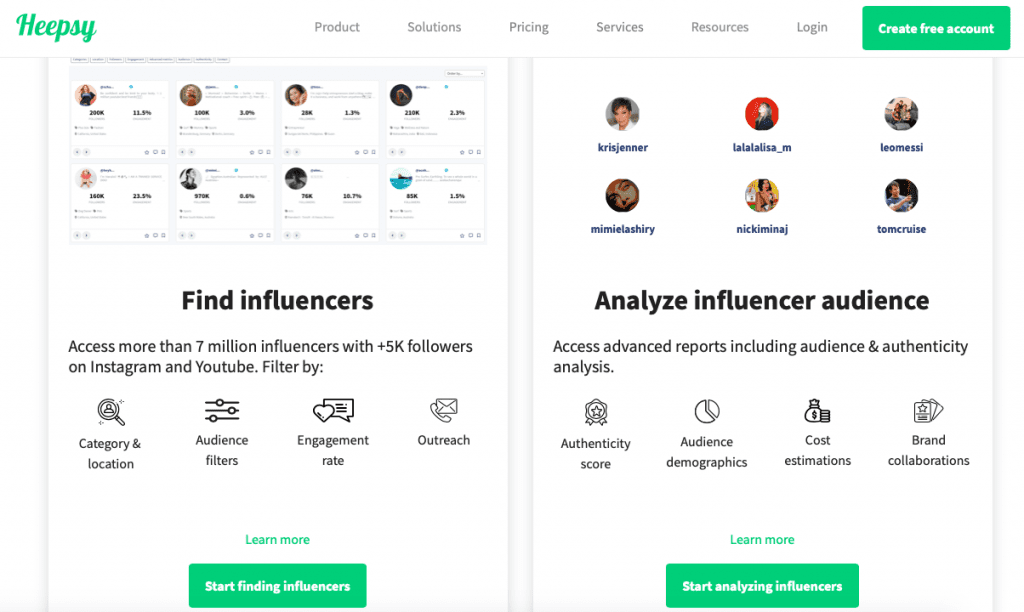 Track down more than 7 million Instagram and YouTube Influencers in seconds. You are able to get access to advance reports including audience demographics and authenticity analysis.
This includes discovering if an influencer has a fake audience or not. Heepsy helps you build long-term relationships within the industry.
Email Outreach
You weighed out your options and now want to move forward on contacting your top choices. Let's start with finding their contact data. Influencers usually list their contact information on their channel profile or in their videos description bar. This process is long and time-consuming but it will be all worth it to collaborate with an Influencer that will represent your brand well. You can also hire a virtual assistant to do it for you for cheap.
You find their contact data, what's next? Let's start drafting an email to reach out to the influencer in terms of collaboration. You will need to include who you are, what is your brand, and what product you are selling. The key to send out the right outreach email is to know your Influencer's target audience will engage in this product and your Influencer will sell them on your idea.
Here is an example of how you can draft an outreach email
Hi Andrea,
I am Alejandra the E-Commerce Sales Coordinator for PYT which sells salon-quality hair styling tools.
We've recently opened an online store to sell styling tools and hair care products. PYT creates salon-quality professional styling tools and includes new technology that hairstyling has to offer.
I would love to send you some samples and if you love the tools as much as I do, perhaps you'll consider sharing with your audience. This can be a post on Instagram or a review on YouTube. If interested, I would like to schedule a giveaway for your followers.
Please let me know if you're interested.
(Include your contact information here)
Be clear and concise when sending outreach emails. Influencers do not want to read a long email and have it go on about your company's philosophy or any extra information. So stay short and simple to get to the point.
The easier you make it for your influencer to help your business, the more likely you are able to get them to work with you. Include sample content that they can refer to.
Lastly, do not be a burden to them.
Email Do's and Don'ts
Influencers are very busy and constantly receive a lot of spam emails in their inboxes. so as a business, you need to show them how committed you are to getting their attention.
Many of your emails will end up in the spam folder of any influencer you're reaching out to.
How do you make sure your emails don't end up in the spam folder or trash? Look out for these 3 main errors when contacting influencers.
One mistake is sending too many emails. This will automatically end up in the spam folder or trash. Keep the emails to a maximum of 20 a day per email account. If you want to send more, create more email accounts.
A common mistake is not sending a follow up email. You haven't received a response back from the influencer it is important to follow up with one more email. This shows that you're really motivated to work with them.
No clear goal. You send an outreach email but set no clear goal working with the influencer. Do not do this. Please have a set goal on what you want to create with the influencer.
There is still hope to not land in the influencer's spam folder. Change the way you send and format your emails. Build a relationship instead of treating this like networking. No response? Find out why so you can improve your angle for the next email outreach.
Sending Free Products
When working with small creators they usually promote a product for free. It's important to understand their audience because they engage with their followers more. So, smaller creators' voices matter to their followers when selling a product to an audience.
A smaller Shopify store that utilized this strategy is Doe Lashes. They used their influencer strategy to grow to a sizable brand and profit. Doe lashes is a company that sells Korean Silk hair lashes.
Doe Lashes approached influencers by sending their product as a gift and if the influencers liked it enough, they could post about them. In this process, Doe Lashes didn't make the influencer commit to anything, just to accept the product in hopes of them liking it.
A common mistake brands make when emailing an influencer is they ask "Hey, I'm going to send you a free product, but you have to post about us." Just like we discussed earlier, this email will end up in the trash because of the way they approached the influencer.
Implement a strategy that will get you the response you want back. So, you send a good product with no commitment and you might be able to work with them in the future.
Here is an example of an influencer on YouTube reviewing the brand Doe Lashes eyelash products. She provided a step-by-step tutorial on how to apply the lashes as well as a before and after. The Influencer explained how natural eyelashes feel and look. She went on to explain how easy the process of putting Doe lashes on was. The YouTube video time frame was about 9 minutes. She implemented a good strategy because the video was straight to the product review. This shows how influencers can provide more insight rather than a longer review from a YouTuber with a bigger platform.
Interested in Doe Lashes? Read more here.
Paying Influencers
Whether it's a smaller or bigger influencer on YouTube, they typically charge a price for sponsored content. According to Influencer marketing hub, Google pays out 68% of their AdSense revenue. This averages out to every $100 an advertiser pays, Google pays $68 to the publisher.
Advertisers pay around $0.10 to $0.30 per view but averages to be $0.18 per view. A YouTube channel can receive $18 per 1,000 ad views. This averages around $3-$5 per 1000 video views. The more subscribers an influencer has the more people will click on your ads.
Here is an overview about How Much YouTubers make to review products.
This video goes into detail about how brands are now willing to pay smaller channels on YouTube. Channels that have a subscriber account from 1,000 to 3,000 followers are getting paid because content quality trumps your following size.
YouTube is about building a community and spreading your voice. Never promote products that won't represent your brand well this goes for both influencers and Shopify stores.
I hope this article helped you out with the current strategies brands are taking to find YouTube Influencers. If you enjoyed this post leave a comment and share on your social media platforms for more content marketing.