Google Ads for law firm marketing is a quick and effective way to advertise and grow your law firm. Google's pay-per-click ads can help your law firm land one of the top spots on Google search listing pages. Google Ads' strong targeting capabilities allow you to reach clients in need of the legal services that offer. This will help your firm generate more clicks and create high intent leads. This article will walk you through the steps of creating your Google Ads account, customizing the settings of your campaign, and creating and writing your Google Ads. With the help of this guide, you create highly effective and profitable ads for your law firm.
What Are Google Ads?
Google Ads is Google's online advertising platform. Google Ads appear at the top spots of Google search result pages. Businesses pay Google to have their business' ads displayed to users who are in need of the services their business offers. Google ads are quick to reach users the moment they search for products or services like yours.
One strong targeting capability of Google Ads is the keywords your business targets. Businesses bid on relevant keywords in order for the ads to appear in Google search results. Your ads will only show up for users when they search keywords or similar keywords that your ads target. Since your ads will be highlighting your law firm practice, you should target keywords that include the different types of cases you specialize in.
A key component of Google Ads is that businesses only pay for their ads when users click on them, call their business, or visit their website. This is why the keywords you target are important, you only want your ads to bring in high-intent clicks and leads for your business. You also get to set your average daily and monthly budget.
Below are examples of Google Ads that show up when you search "law firm for divorce":
Why Google Ads for Law Firm Marketing?
Google Ads is a highly effective way to reach clients that are in need of the legal guidance and services you offer. You can grow your law firm business by bringing in new litigants and generating high-intent leads for your business using Google Ads marketing.
Using relevant keywords will push your ads to be displayed in front of users looking for legal advice and services like yours, the moment they search for them. If your law firm has lawyers that specialize in specific cases you can target keywords related to those cases. For example, if you specialize in divorce cases you should target keywords like "specialty law firms for divorces," "law firms divorce attorney," or "family law divorce lawyers." When you target relevant and high-intent keywords your ads are sure to bring in new clients to your practice and generate more clicks and leads.
If you are a lawyer that specializes in personal injury cases, then check out our Google Ads for Personal Injury Lawyers guide. Or check out out our Google Ads for Criminal Lawyers guide if you are a prosecuting attorney or defense lawyer.
Do Google Ads for law firms sound like a great marketing idea, but you don't have the time?
How To Create A Google Ads Account
You will first need to be signed in to a Google Account or create a new one in order to start your Google Ads for Law Firm Marketing campaign. If you need to create a Google Account you can do so at ads.google.com.
Then select the Start Now button in blue.
Next, Google Ads will prompt you to choose your main advertising goal. Instead of choosing from the options that Google gives you, select Switch to Expert Mode. Switch to Expert Mode is at the bottom of the page in blue font. Switching to expert mode will give you more control over the settings of your ad campaign.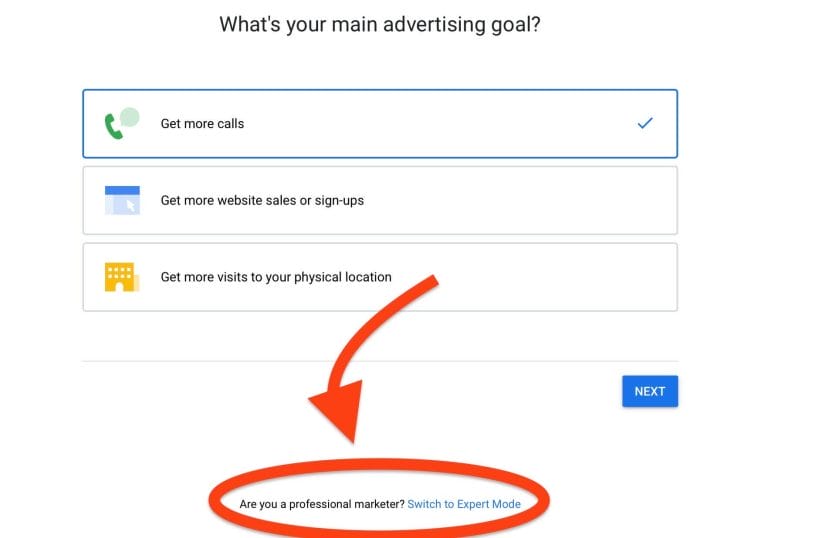 Google Ads will then ask you to choose a goal that would make your ad campaign a success. Do not choose any of the options that Google shows. Instead, select create an account without a campaign in blue.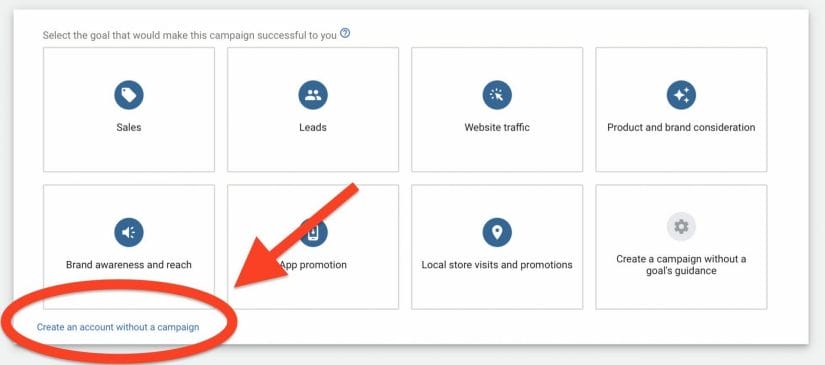 Ton finish creating your account, you will need to fill out your law practice's business information. After filling out the information you can finalize the creation of your account.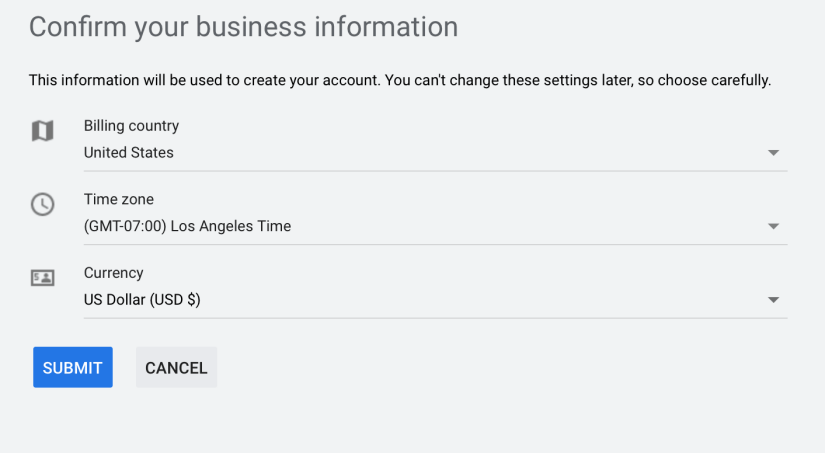 Law Firm Landing Pages
The landing page is the webpage where your clicks will be directed once they click on your ads. The landing pages in your ads should be about a specific topic or for your firm, lawsuits.
Your ad groups should have different landing pages so that each landing page is created and customized for a certain topic. When you have different landing pages for each ad group, you are able to provide your potential litigant with the most relevant information. The more relevant information you can provide in your ads and landing pages, the more likely they will turn into leads and clients for your firm.
For example, if a user is searching for a law firm that can help with family law then your landing page should contain information about popular cases like divorce, child custody, or domestic violence cases. You should also include a call to action on your landing page. This gives you an opportunity to turn your landing page visitors into leads for your firm. You can offer new clients a free consultation with a lawyer in exchange for their contact information.
A landing page is a great place to start building a connection with potential clients. It can help create high intent leads for your law firm.
Starting Your Law Practice Ad Campaign
Select, New Campaign, in Google Ads to start your law firm campaign.
From the options Google Ads has given you, select Create a campaign without a goal's guidance.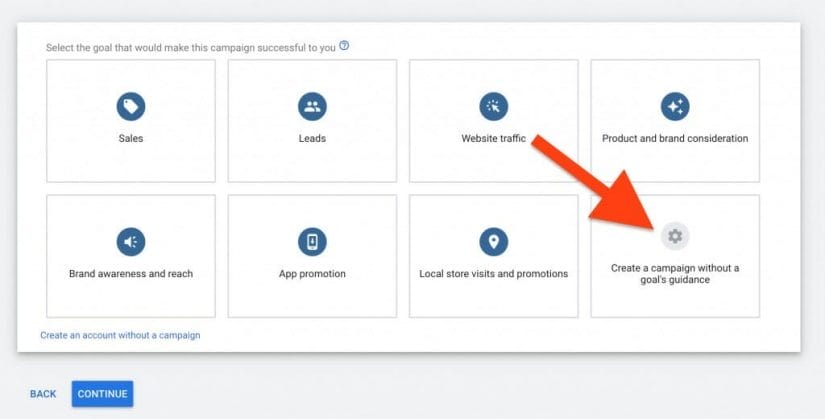 Campaign Type
Next, choose Search as your ad campaign type.
Results
Next, select the results you hope to gain from this campaign from the three options provided. As a law firm looking to increase your client base and grow your firm, phone calls and website visits.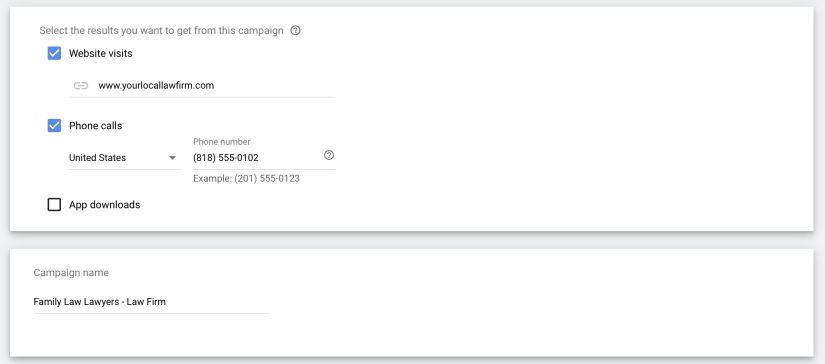 Law Firm Marketing Budget & Bidding
In the next step of customizing the settings for your ad campaign, you will need to set your average daily and monthly budget. You will also need to choose the bid strategy for your campaign.
Keep in my mind if you have a smaller budget for your campaign, you will need to target more specific and granular keywords. This is to ensure that your ads reach relevant individuals who are actually in need of your legal advice and services. If you have a bigger budget for your campaign you can target much broader keywords in your ad groups.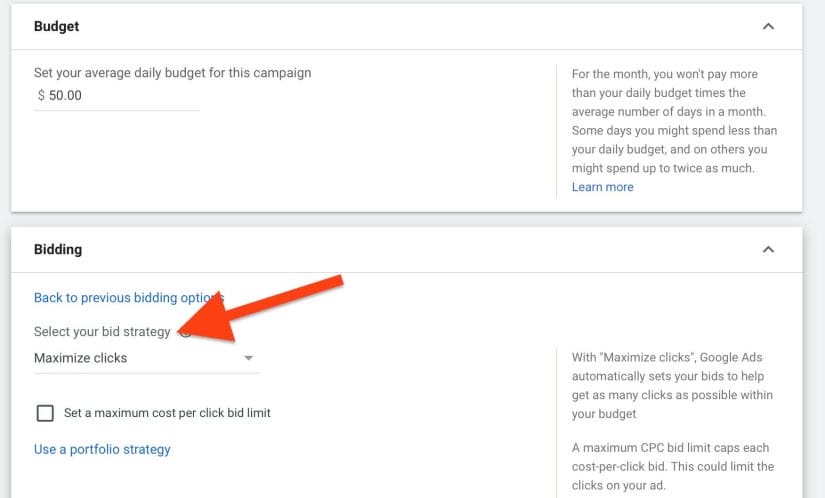 Ad Rotation & Conversion Tracking
Click on the More Settings list under the budget and budding section to customize more settings of your ad campaign.
In the ad rotation section the "Optimize. Prefer best performing ads," will be selected. Instead, switch your setting to "Do not optimize. Rotate ads indefinitely." Rotating ads indefinitely will make Google push out all your ads equally.
In the next section, you can set up conversion tracking. Conversion Tracking can help identify which ads and keywords are performing better and more successfully for your business.
Ad Networks
In the Networks section, both Search and Display Network will be selected. ONLY have Search Network selected.
Location & Languages of Litigants
Next, enter and set the location and language for your ads.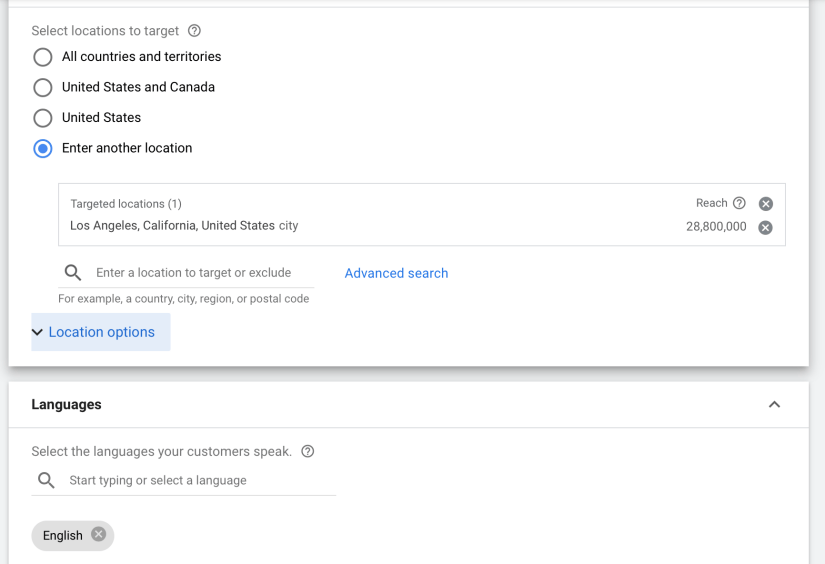 Do not change the settings in the Audience Section.
Click on the More Settings menu in blue font under the Audience Section.
Ad Dates & Ad Schedule For Your Law Practice Campaign
Next, you can set a start and end date for your Google Ads for law firm marketing campaign. Keep in mind, your ads will run until you enter an end date for your campaign. In the same menu, you can create an ad schedule for your campaign. These are the times you want your ads to run.
As a Law Firm, you may want your ads to run the same hours your firm is open. Only running your ads at the same time as your office hours will give you time to nurture any leads your ads generate during your business hours. This will avoid you missing out on any leads your ads may collect after your firm is closed. If you take too long to nurture any leads, you may miss out on potential clients for your firm.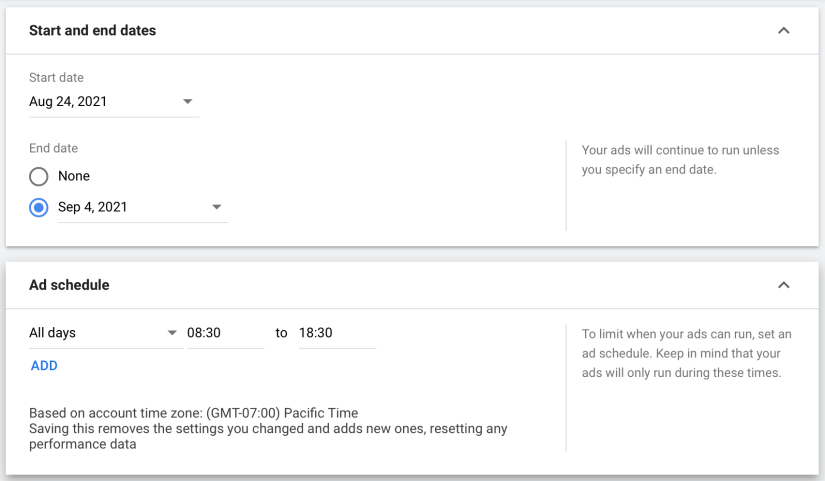 To be confident that the ad schedule you created is helping your ads produce positive results, you can test different ad schedules. After you have enough data from your different ad schedules, you can choose which ad schedule works best.
Do not change the settings in the Campaign URL Options and Dynamics Search Ads settings.
Ad Group Name & Keywords for Lawyers
Next, you will need to come up with a name for your ad group and include the keywords you want to target in that ad group. You can enter your ad group name by clicking on the pencil icon on the top left. Both your ad group name and keywords should be about one aspect of your business. Keeping your ad group name and keywords consistent with each other will help your campaign provide users with the most relevant information to what they need.
The keywords in your ad groups should be popular keywords that users search when looking for services like yours. Also, the keywords you target are the keywords that will cause your ads to display on the search result pages.
For instance, if your ad group name is Law Firm – Family Law, then you should enter keywords like, "child custody lawyer," "law firm for divorce," or "family law law firm cases." The keyword you decide to include in your ad group should be keywords that users may search when search for a family law lawyer.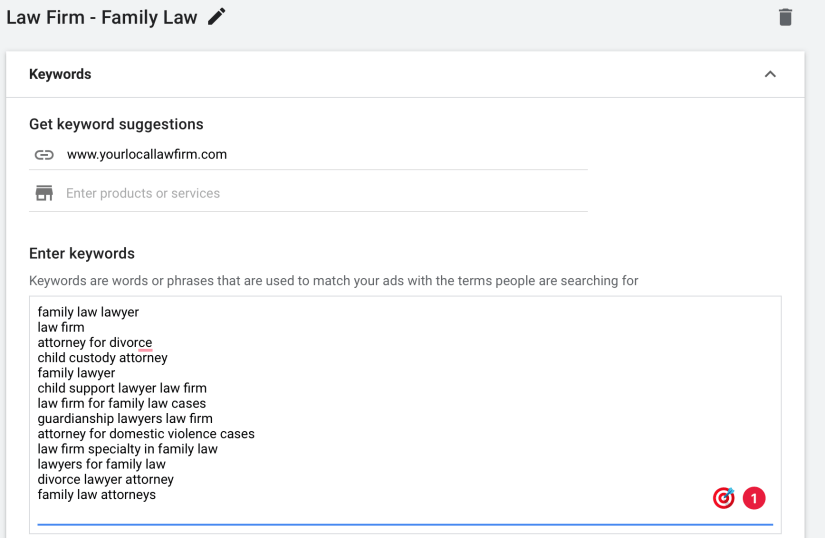 Accessing & Using The keyword Planner Tool
If you would like more help choosing the best keywords for your ad group, you can use Google Ads' Keyword Planner tool. The keywords planner tool will show you the most popular keywords that users use when searching for the services or products you offer. It will also give you helpful insights about each keyword, like the number of searches the keyword receives monthly.
In Google Ads, select, Tools and Settings to access and use the keyword planner tool.

Choose "Keyword Planner" under Planning.
Now, click on the "Discover New Keywords" box.
In the next step, enter the keywords that you want to target, your location, and your website domain. Try not to be too specific when entering these keywords. Lastly, click "Get Results."
Google will then show you a list of popular keywords that users are also searching for when they are looking for the kind of legal services your firm offers.
Still not sure which keywords you should be including in your ad group?
Creating Your Google Ads for Law Firm Marketing
Since you are done modifying and tailoring your ads, you will start working on your actual Google Ads. You will set your final URL, which should lead users to a landing page about a specific topic when they click on your ad. You will also create your display path, write your ad headlines and ad descriptions.
Before, you begin writing read our article How To Create A Successful Google Ads Text Ad, for more information and secrets to creating a successful Google text ad.
Final URL & Display Path
The final URL is the landing page your visitors will be directed to when they click on your ads. This landing page should be about the specific legal help your potential clent is in need of. If you direct your clicks to a page not related to their search, they may click off your ad and seek legal help from your competitors.
The purpose of the Display Path is to give visitors an idea of the information they will see when they click on your ad. Like in the example below the user can assume that the if they click on your ad they will be directed to a page about family law, but more specifically divorce cases.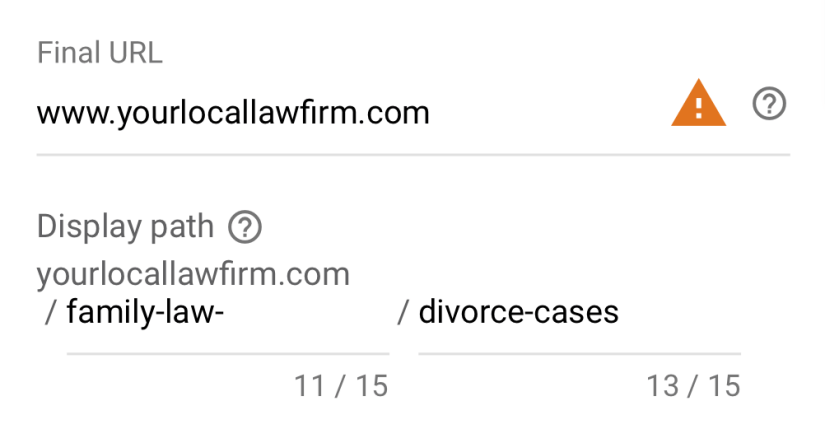 Ad Headlines
Writing strong and persuasive headlines is key to getting visitors to click on your ads, as they are the first thing that visitors in need of your services will see. In your ad headlines you should include a call to action, so people are persuaded to take action and include relevant keywords.
For example, if the user searched for divorce attorneys, your ad headlines should include those keywords. Including keywords, makes your ads appear more relevant to what the user is in need of and creates a higher chance of them clicking on your ad.

Ad Description
Your ad description should also include keywords and a call to action just like your headlines. It makes your ads appear more relevant to the type of legal services the client is in need of. Your ad description should also promote benefits and details of your law firm practice that competitors may not offer.
In your description be sure to also include a call to action. If you offer your clients a free consultation you can include that to stand out amongst your competitors. For example, "Call Today For A Free Consultation," or "Free Case Evaluation, No Commitment. Call Now." This is a great way to generate leads and bring in new clients to your law firm.
You can also include credentials, like "More Than 3,000 Satisfied Clients" or "1,500+ Successful Cases." Showcasing your successes and client satisfaction will give potential clients another reason to call your law firm.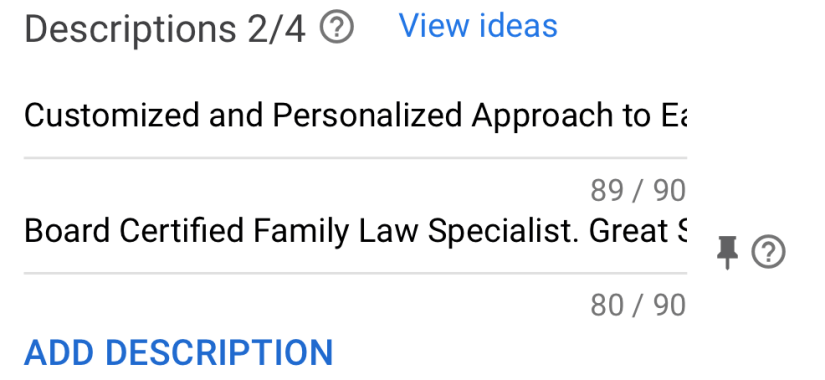 Ad Preview
As you writing your ad text, Google Ads provides you with a preview of what your ads will look like on a mobile and desktop device. This is beneficial in that you will be able to see what users will see before it gets displayed. You can make any changes you feel would make your ads more appealing. After you are done and satisfied, you can publish your ads.
Desktop Preview
Mobile Preview
Ad Extensions
Did you know that the larger your ads the more likely users are to click on them? There is evidence that proves users are more likely to click on larger ads that appear on their search result pages. Ad extensions can help you enlarge your ads by including more of your business information in them.
Different ad extensions do different things. One ad extension will allow you to add your business phone number, one will let you include an app extension, and one can even let you create a lead form for your ad.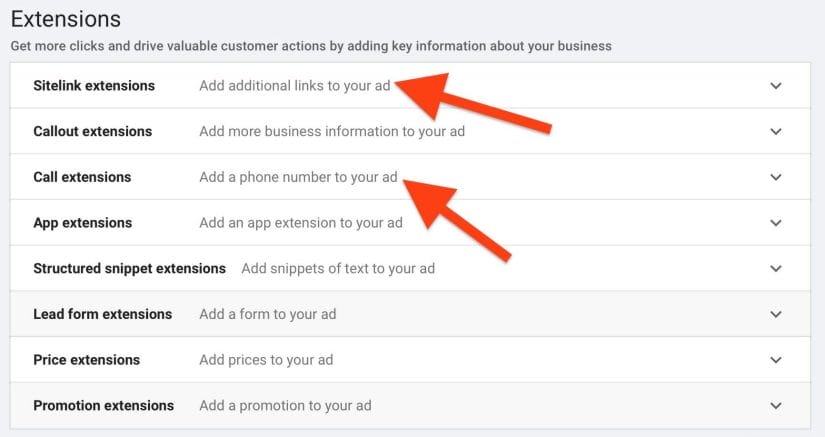 In your ad you should include a call extension. This extension is very easy to include and takes little to no time but is very beneficial. A call extension makes it easier for a potential client to call your law firm by simply clicking a button. They do not have to search your website for your contact information, instead, it is readily available in your ad.
You should also include sitelink extensions. These extensions are sure to make your ad much larger. Sitelink extensions allow you to include extra relevant links in your ads. For example, if your ad is about family law, then you can include sitelinks to pages on your websites about divorce cases, child support cases, or child custody cases. You could also link to a page on your website that includes client testimonials. If potential clients see that you have helped other families then they may feel more confident and trusting towards your law firm.
Need help creating extensions for your Google Ads for law firm marketing?
Below is an example of a law firm ad that uses both call extension and sitelink extensions.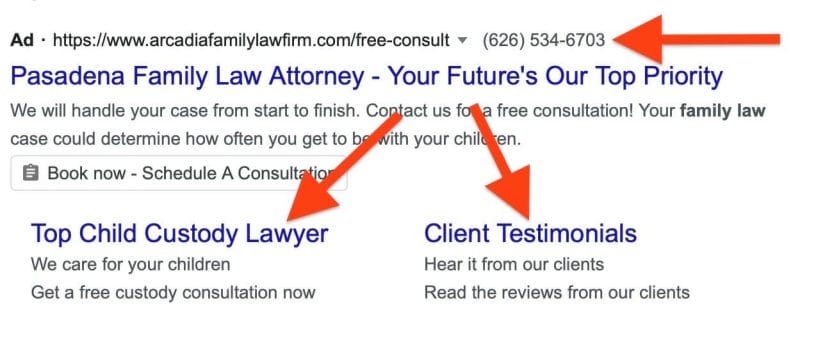 After Your Ads Are Published
Once your ads are published and running you should be checking on their performance regularly. You should ensure that your ads are producing results that you are satisfied with. This will help your campaign generate high-intent clicks while also saving your campaign money.
An important thing to check regularly is your Search Terms list. This is where you will see all the search terms users have searched that cause your ads to show up in their search results. If you see any keywords that are not relevant to your ads and you do not want your ads to show up for then you can add them to your negative keywords list.
Your Negative Keywords list is a list of keywords that you block your ads for showing up for. This helps your ads reach relevant customers and avoids any unintentional clicks.
How To Add To Your Negative Keywords List
First, you will need to check your search terms list. To do so, click on keywords on the left tab on Google Ads.

Then, click on Search Terms. You will see all the keywords that have triggered your ads to show up for users. If you notice any keywords that are not related to the product or services your law firm offers then you can add them to your negative keywords list.
Next, to access your negative keywords lists, click on the Negative Keywords tab on the left bar.
Click on one of the blue plus signs to add your keywords.
Enter all the irrelevant and undesirable keywords in the box. For example, you may notice your ads are popping up for keywords like case studies, books, or school. Add those in your negative keywords list so that your ads are not showing for individuals that are not truly looking for your services.
Conclusion
If your goal for your law firm is to grow your practice and increase your client base then Google Ads for Law Firms is the perfect way to achieve this. You can help create profitable ads for your law firm while also helping litigants in need of the legal advice and services you offer.
Want us to manage your Google Ads for Law Firm Marketing Campaign?