Tres Colori is Shopify store that had never done Google Ads before.
A little about the Tres Colori company from the founders:
'Three Colors', Silver, Gold, and Rose Gold alludes to the materials we craft our beautiful jewelry from.

Language: Italian (Three Colors)

Founded in 1992, our family-based company has been designing and producing jewelry globally. Our founders have always felt the need to share and express who they were with a beautiful piece of custom jewelry. We believe that custom jewelry is a full embodiment of who you are as a person, and what you hold special to your heart. Whether it's a sentimental date, a unique name, or a romantic word or phrase, our designs will hold near what's important to you forever."
They came to us because they were a brand new, blank Google Ads account with no past sales history. They had worked with us to help them improve their website's conversion rate and increase their revenue with much success: How We Increased Store's Revenue by $8000 per Month With One A/B Test.
So when they wanted to do Google Ads they came straight to us.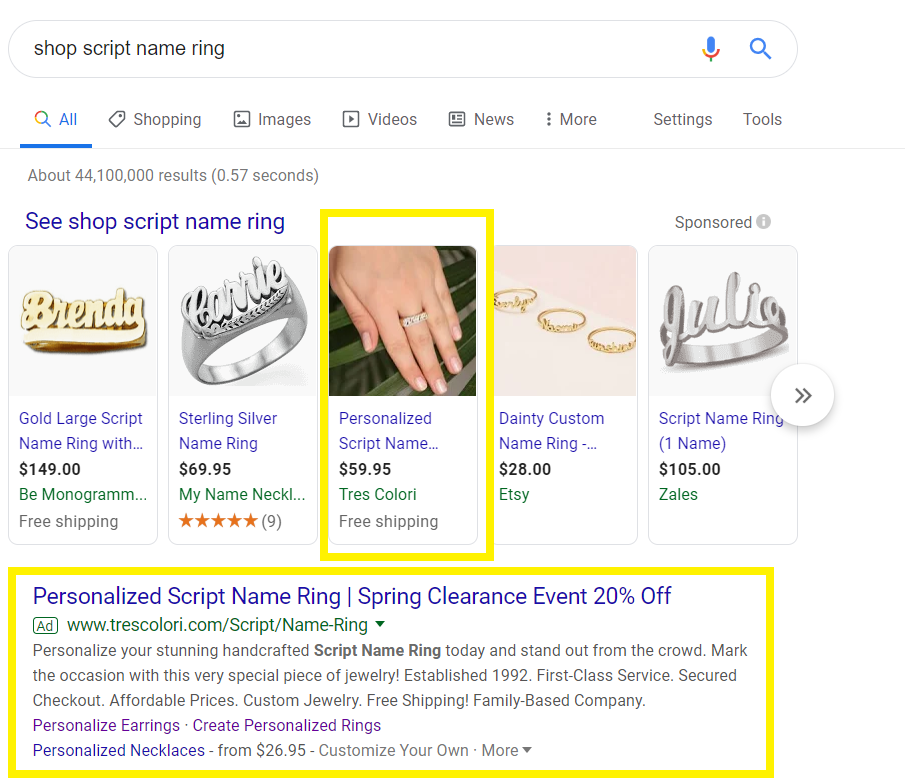 And here's what we did.
We first tested directly against the large competitors on Google such as Amazon and Etsy with their own similar products and brands.
On Google there is no avoiding these competitors.
It's not like on Facebook where you can more or less avoid competing against them directly. On Google they will be bidding on the same high intent keywords as you are. It then becomes a competition of who understands the data better and who can come up with the better ad strategy.
We monitored the data coming in every day and made changes based on our experience. We did a ton of testing with different ad copies, different placements, and different campaign types to figure out what strategies worked best for the product and what didn't.
We start out with the long hanging fruit of Search Branded Campaigns. And then moved onto Shopping campaigns before going back again to re-optimize the Search campaigns. Getting it to 1.18 Return on Ad spend by month 2.
We combined incoming data with research on search volume for each product to figure out how best to name and categorize the products. As we continued to optimize the variant names, product descriptions, product type, etc on Google Shopping for each product, the ratio continues its upward trend.
The same goes for the Search ToF (Top of funnel) campaigns.
Based off the results of the first month, we were in the process of creating a campaign that targets specifically the terms with the highest conversion to cost ratio.
And for Google Search campaigns we aimed for keywords that are specific (ex: rose gold monogram necklace) with good search volume. At the same time we avoided being too specific (ex: cubic zirconia monogram necklace), which means little to no search volumes (aka nobody is searching for it).
We had to balance scaling and at the same time not going too broad (ex: targeting the keyword "necklace"), which means the searcher doesn't really know what they are looking for yet.
In the example of "necklace", the searcher could be looking for any kind of necklace from diamond necklace to kid's necklace.
So to scale we, constantly manually monitored search results and constantly added in new negative while we expanded our targeting to broader and broader keywords. This is to weed out the searches that were of the lowest intent. This allowed us to bid low, cast a wide net, and at the same time get buying customers. We were able to target and get keywords that other people weren't bidding for. And because of our custom ads we were able to maintain a high quality score (8-10) which means cheaper clicks while broadening the targeting. We reached 3x ROAS by the end of month 3.
And many months later, it's still going strong:
Consistency in return on ad spend is what happens when you take the time to set up the funnel and ads correctly in the first few months. What a lot of marketers do wrong is they rush in to get results right away instead of taking the time to test out different ads and different placements. Take your time, do all your due diligence. Research the competitors, research the product, and research the audience. Slowly scale, monitor the data coming in. Being patient is the number 1 tip I give to all marketers. In this day and age of instant gratification, everybody wants it now and wants results on day 1. Don't be that guy.