Tik Tok for Dentists has the ability to reach local and distant audiences of all ages. Tik Tok is a video-sharing app that lets users make short videos about any topic they want. You can create short videos about your office, your staff, the procedures you offer, how-to videos, and even before and after videos of different dental procedures. With Tik Tok videos, you have the opportunity to create engaging content and make learning fun for your audience. This guide will teach you how to create a strong profile and engaging content to help your dental practice gain visibility across the platform.
What is Tik Tok?
TikTok is a video-sharing app that allows users to create and share 15-second to 3 minute long videos, about any topic. Tik Tok is one of the world's most used social media platforms. There are 689 million active Tik Tok users worldwide. According to Oberlo's article, 62% of Tik Tok users are between the ages of 10-29 and in less than 18 months the US number of adult Tik Tok users grew 5.5 times.
The TikTok app offers users different sounds and song clips they can use in their videos. Users also have the option to edit their videos and add special effects and filters. Users can also directly add videos created on their phones and not the app. The app offers a reaction feature, where users can post their side-by-side reactions to different videos.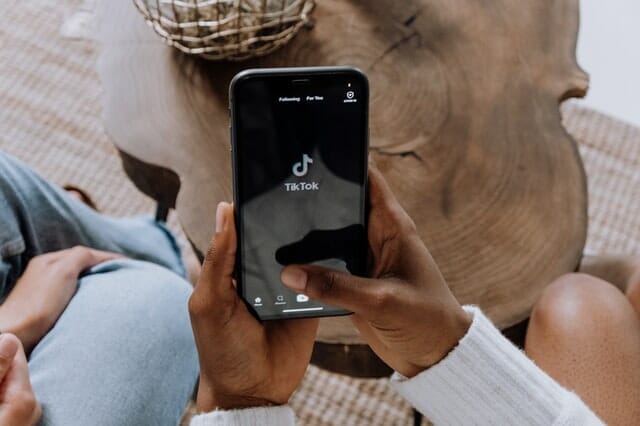 Why Tik Tok for Dentists?
While Tik Tok is a popular global app, the app also has the capability of focusing strongly on localized content. Sometimes the app runs local contests and challenges. It also uses hashtags to start local trends. Local content is a great way for your dental practice to reach patients in your local area. While these users may not be actively looking for dentists at the moment, Tik Tok is a great place to start building a relationship with local individuals so they can remember you when the time comes that they do need a dentist.
A key feature of Tik Tok is it's For You Page. The For You Page is the first-page users land on when they open the app. This page will show you videos that Tik Tok thinks you might enjoy based on the app's algorithm. The videos may be related to past interactions, like videos you've liked or commented on. For example, if a user is liking videos about tips for teeth whitening, they can expect their for you page to be flooded with videos about dentistry and teeth whitening tips and tools from other users or even Dentists, like you!
Read our article to understand why dentists need social media to grow their practice.
Below is an example of top videos when you search for dentists:
Want to learn another way to market your Dental Clinic? Read our comprehensive Google Ads for Dentists guide.
Creating Your Tik Tok Account
First, you will start by downloading the app. You can do so for Apple here, or download it from the Google Play store for Android here.
When you open the app, you will be asked how you want to sign up for Tik Tok.
Using phone or email
Connect to your Facebook
Sign In with your Apple account
Sign in with your Google Account
In this guide, we will follow the steps of using a phone or email. You can link back to your other accounts once your app is fully created.
Tik Tok will then ask you to enter a Birthday.
Next, you will need to enter a phone number to create your account or an email. This is the email or phone number you will use when logging into your Tik Tok account.
Next, create your password.
Lastly, you will need to create a Username for your Tik Tok account. As a Dentist looking to create content about your dental practice, you should choose a username that is simple and professional. This could be your name, "dr.bestdentist," or the name of your practice, "abc123dental." Remember, this is the name users will remember your dental videos by. If needed, you can always change your username later.
Customizing Your Profile
After you are done creating your username, you can start to customize your profile. Just like your username, your profile picture should also be presentable and professional. This can be a picture of you or your dental practice logo.
Next, you will work on writing a captivating bio for your account. Your bio should highlight your expertise and also include the location of your practice. You should also include a link to a landing page you would like to send visitors and potential patients to.
Then, you should link all your other social media accounts to your Tik Tok account. This will help you gain visibility across all platforms.
After, you are done customizing your account you can start creating captivating and engaging content for your target audience. Remember, use hashtags, follow trends and use popular sounds to gain visibility.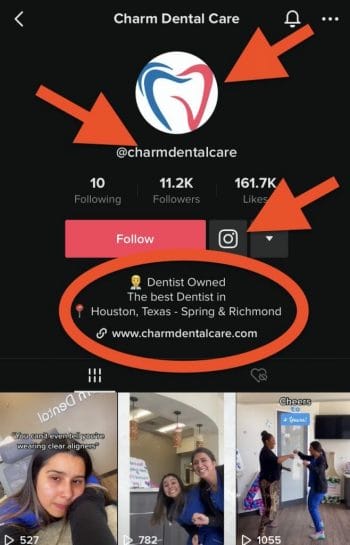 Tik Tok for Dentists Content Ideas
There are some popular video ideas that dentists can create to gain the interest and attention of Tik Tok users. There are many clips and audios that you can apply to dentistry and make it fun for you and your audience. Creating fun, authentic, and informative videos helps you and your practice seem relatable to users and potential patients.
Frequently Asked Questions (FAQ)

FAQ videos provide value to users. If you frequently hear a question, it will be popular content that can be shared. As a dentist, think of popular questions patients ask you when they visit your office and answer that question in the form of a video on your Tik Tok account. Also as your Tik Tok following grows, you may notice a common question in your comments section, answer that question too. You can also ask your audience to leave questions in your comments for you to answer. Answer common questions with the helpful information in a fun and entertaining way. This can drive engagement and interactions on your Tik Tok page.
Capturing A Reaction

Capturing a reaction is better than a testimonial because it is more real and authentic. If you can get the real reaction of one of your patients, it can go a lot further than a testimonial. Catching an authentic reaction of one of your patients on video and making a Tik Tok video out of it can influence other local patients to visit your clinic as well.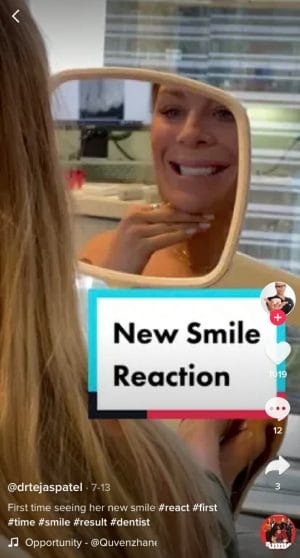 Before and After

When recording a before and after video, you can choose a song where you can edit a quick cut on the beat drop and show a before and after of a procedure. Before and After videos give you an opportunity to showcase your dental skills and your work. These videos may also encourage viewers to visit your dental office for a similar procedure.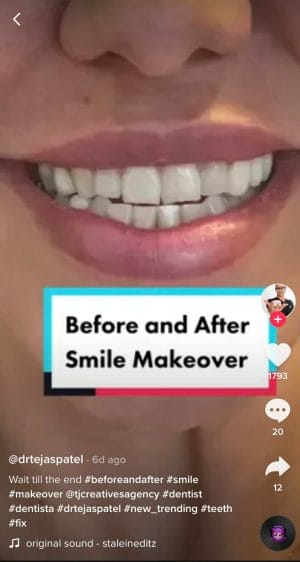 Product Review and/or Demo

In these types of videos, you can review a dental product from a store or show the proper way to utilize a tool or product. These Tik Toks are popular because everyone likes to hear a dentist's recommendation and an honest review from different products out there. Once your page starts to grow, you can also ask your Tik Tok followers to comment on the products they want you to try or review on video. You can choose the most popular ones to try. This will also increase engagement across your page.
 Did You Know

Did you know videos are a great way to share a fun dental or non-dental-related fact? It is a great way to intrigue your audience. You can do trending Tik Tok dances for these videos or you can even create a short video with your patients. What many Tik Tok Dentists are coming to realize is that patients want to know the simplest things. You do not need to think of fun facts that are too elaborate or complicated.
Short videos are a great way to show off your organization's culture and personality. It allows you to create connections with your audience and potential patients before they even visit your office. This is also a fun way to relate with your patients.
Need help outlining and creating a schedule for your Tik Tok content?
Schedule A Free Strategy Session!
Tips To Get On Tik Tok's For You Page
There are a few strategies and features that you should be applying to your dental content so you can land on the for you page of thousands of users. First, make sure your account is set to a Creator account. With a creator account, you will have a better chance of growing your Tik Tok account and landing on the for you page.
Hashtags
Tik Tok uses hashtags to determine if they have an audience for the type of content you are posting. Using hashtags on your videos allows users to find your videos when they are searching for specific content that you are tagging.
There are different types of hashtags that exist on Tik Tok.
Niche-Specific

Niche-Specific hashtags mean using keywords related to your content and niche. You need to be using hashtags in your Tik Tok for Dentists videos that are relevant and have the most views in your niche. For example, "#dentists," "dentistry," and "dentistsoftiktok."

 Trending

Trending hashtags are important. They need to be done quickly as trends on Tik Tok do not last very long. You want to use these hashtags when they are at their peak. Using the trending hashtags and doing the trending videos under the hashtags is the quickest way to go viral. You can find these hashtags on the discover page. You should use the ones that are at the top.

Broad

Broad hashtags are general keywords that are popular on Tik Tok. These include, "#viral," "#foryoupage," and "#trending." These keywords are essential in growing the size of your audience before your account and for your niche. This will help expose your content on a more broad level. Be aware, if you abuse these hashtags they can hurt your account more than help it.
You can use these hashtags in different variations. You can use three from each category to start. Then you can use two hashtags from each category at a time. Do not use the same variation in back-to-back videos.
Do not spam too many hashtags in your video' description. It will confuse Tik Tok and hurt your contents views, likes, and overall engagement.
Not sure which hashtags will increase your Tik Tok videos and profile's visibility?
Incorporating Trending Sounds & Effects In Your Videos
If the topic of your video is not even trending on Tik Tok chances are, it won't even get on the for you page. You can not create videos with ideas that were trending last week, or even a month ago and expect them to go as viral as they once did. You need to create content that is relevant and currently trending. The content you post can be trending broadly on Tik Tok or be niche-specific in dentistry. For instance, you can find trending topics for your Tik Toks for Dentists in that specific niche.
If you are not creating content that looks like what is trending right now then it is likely that Tik Tok's algorithm will decide that they do not have an audience for your content. This means Tik Tok will not push your videos out to users. Don't worry, you can change this by adjusting a few components of your videos.
First, make sure that you are creating videos that use sounds that are trending. You can find out what sounds are trending by visiting the Discover tab on your Tik Tok account. Editing your videos to use what is trending will help make your videos seem more relevant to users.
Next, you should also be using Effects that are trending at the moment too. Similarly, this will help Tik Tok's algorithm decide that the videos you are creating and posting are relatable to what is trending across the app. The algorithm wants to see something that is familiar, so they can push it out again.
Another way to create content that uses trending sounds and effects is stitching, dueting, and recreating a viral video. Creating these types of videos will almost guarantee that your videos look like a familiar piece of content, which means Tik Tok is more likely to showcase your video on the for you page.
Upload Time
First, if you want a higher chance of landing on Tik Tok's for you page you want to make sure you are posting at the right time for your account. You may need to post a couple of videos before determining your upload time.
To figure out the right time to post for your account go into your analytics in your account. Then, go into your content and review your trending videos over the last 7 days. Check the times those videos were posted and those will be the best times to post on your account.
You can post 30 minutes before, directly on that time, or 30 minutes after that time. There will most likely be a couple of time slots that work for your account. These times may change weekly, so, at the beginning of every week, you should analyze and update these time slots. Be aware, the times on Tik Tok are in standard time, you will need to convert the time.
Need help analyzing your data to choose the right upload time to optimize your videos?
Video Length
When trying to get your practice's videos on the for you page you should be conscious of the length of your videos. This is because the attention span of users on Tik Toks is getting shorter and shorter. The videos that are going viral on Tik Tok are typically between 9-13 seconds long. If your videos are too long the audience may become bored and swipe through your video.
Shortening your videos to a more decent length can help increase your watch time. Increasing your watch time will allow your account to hit the metrics that Tik Tok's algorithm wants to see in order to push your videos out.
These are all great tips in helping your dental videos land on the for you page so you can grow your Tik Tok account, increase your following, and heighten your visibility. However, once you have established your following and audience in your niche, you may have more flexibility in how you optimize your videos. You will already have grasped the attention of your audience in your niche and the length of your videos may not affect your engagement the way it may have as a newer account.
Conclusion
Tik Tok for Dentists is a great way to help your practice gain visibility across social media. When using the proper hashtags, it is also a great way to reach potential patients in your area. You can create connections with local users and global users. You can create entertaining, engaging, and informative content for your audience. The short-video app also allows you to showcase the personality and culture of your dental office that can help build the reputation and credibility of your dental practice.
Want to learn more ways to promote your Dental Practice? Read our article for 23 simple marketing strategies for your dental clinic.