The Coronavirus Pandemic
The start of a new year is a start of new beginnings and new resolutions for many. The start of the new decade was exciting at first, with most people claiming that 2020 was going to be "their" year. But little did they know about the amount of chaos that would ensure in the first few months of the new year.
Within a month in 2020, the world was introduced to a new strain of Coronavirus — Covid-19. Numbers of the illness kept climbing in China until it was classified as an epidemic, but as the disease gradually spread all across the world, it was determined that we are all currently amidst a pandemic.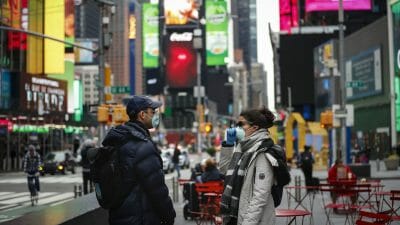 But what does this mean for businesses and how are they coping with Coronavirus? In this article, we reveal Coronavirus business strategies and how some companies were able to reach their consumer base amidst the global pandemic.
Covid-19 has truly shaken up the world, as many countries are too ill-equipped to handle the virus. The disease has prompted lockdown in several countries, including in the US, where it now surpasses the amount of cases in the world, including China and Italy. From a local scale in California, businesses are closed and everyone is currently in a shelter-in-place, cautiously limiting exposure to the outside world and confined within their homes.
Coronavirus Shutdowns
Within the last few weeks, everything seemed to have happened so quickly. I went from classes at school being strongly encouraged to do remote instruction, to all finals having to take place online, to finally having the next quarter of instruction being completely remote — all within the matter of a week. I remember going to a mall about a week before the shutdowns occurred and everything was operating as they should be, with not really a fear in sight regarding the Coronavirus as the area I was in was not impacted by many (if any) cases.
The next time I went to the mall a week later, nearly half the stores were closed with signs placed on display saying that they would close amidst the outbreak for the safety of the customers and employees. I went to a restaurant a few days later and guests were assigned places to sit, even before they finished placing an order. It turned out that guests had to be seated at least 6 feet away from each other to comply with social distancing, and when all the seats were taken, guests would be told to take their food home.
My Experience with a Business Shutdown
When I, Emily Lam, came home to the Bay Area, things seemed much different. In Santa Clara County, where I am from, seemed to have been hit quite hard by the disease. Everyone is quite paranoid by the disease and it is the longest that I have been stuck at home consecutively for a while. I had many plans for spring break, including going back to work to my retail job for a few days while I was home, but they were all put on a pause due to the virus.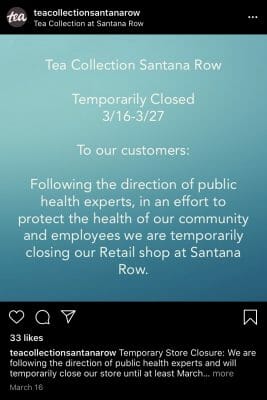 Around the time that Governor Newson put in order the lockdown was when I got an email announcement from my manager that the store would be closing until the lockdown is lifted. (Prior emails I got regarded that work would still be in session, but with many more precautions involved). However, because we would not be going into work, the employees would instead be given projects to complete in the meantime, while still getting paid for the hours that we were initially scheduled before the shutdown. Although they were only able to keep us on for 2 weeks, I know that I can say that I am the lucky ones because I was still able to get paid. However, I'm not sure about what other companies are doing to accommodate their employees, especially the larger corporations.
Businesses Reaching Out
As shutdowns are happening all across the United States, many companies are reaching out via email to communicate with their customers. My inbox has been flooded with emails from companies (some which I even forgot I was subscribed to) to let me know what they are doing amidst the outbreak. Usually, I skim through most of these emails or ignore them altogether, but I was curious and decided to open and read a few. Many of these emails addressed concerns that customers have regarding productions and distributions of goods.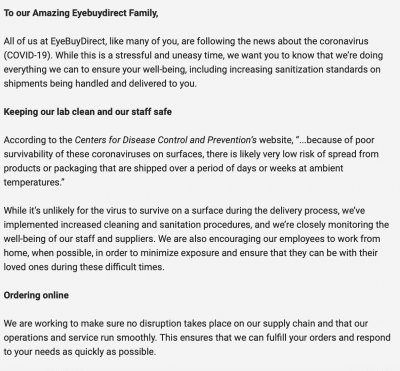 I recently ordered glasses from a site that specializes in selling eyeglasses frames at a fairly cheap price, called EyeBuyDirect. Glasses can be quite expensive if you go through your insurance, but EyeBuyDirect makes buying glasses much easier. I decided to give it a try, but I did not really take into consideration how the outbreak might affect the production of the glasses or its delivery.
Because of the sensitive situation, many people are becoming much more wary of germs (as Covid-19 is extremely contagious) and EyeBuyDirect has made an effective statement to address the concerns. Although it is quite unlikely that someone can catch Coronavirus through a package that they have received, the company still thought that it was appropriate to address the extra precautions that they are adapting to make sure that the customers are comfortable. During a time like this, where many people are not thinking about buying things online or doing online shopping, it is important to address the concerns to ensure that customers are feeling safe while buying products.
Shopping Deals
As I scroll through many more emails, I also noticed that a lot of companies were offering special deals, such as free shipping, for customers.
Ulta Beauty and Sephora are good examples of this. Both of these sites rarely do free or reduced shipping, but during this outbreak Ulta is offering free shipping for purchases $15 or more (as opposed to their $35 minimum) and Sephora is doing free shipping (as opposed to their $50 minimum).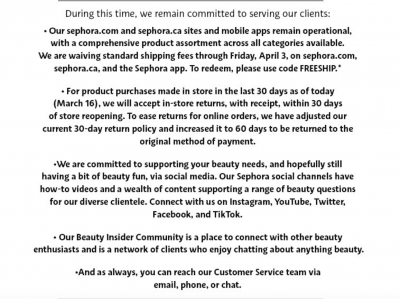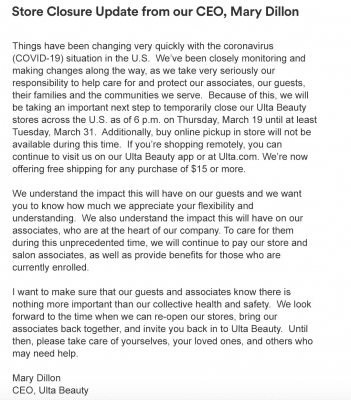 As someone who shops for beauty products quite often, I barely buy online from both of those sites because of their high shipping minimum. Sometimes, the shipping cost is the same as half, or even most of the price of the item that I am buying, so I tend to just go to stores to search for it. When I saw this email, I was more incentivized to purchase something, especially knowing that I will have access to so many more products as opposed to what a single store may have in stock.
Whenever I go to Ulta, I usually am only looking for one or two small things, sometimes not even meeting the $15 minimum that they are offering online right now. Going to the actual stores are a hit or miss sometimes for me because it is never clear if they have something that I am looking for so I will often leave the store empty handed. But shopping online makes everything so much easier and I was more encouraged to find things that would help me reach the $15 minimum, but not only that, I knew that there was a coupon I could use too.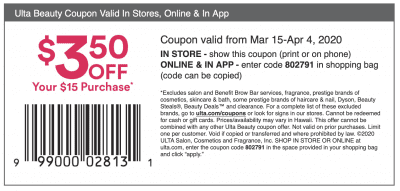 Ulta always has a coupon that is $3.50 off a $15 purchase, so I knew that I could use that and get a better deal and still only pay $15 including shipping. All of these factors really played in encouraging me to buy products that I would not have otherwise. In addition, the most recent Ulta announcement stated that although they are unable to assure when stores would open again, they are doing their best to adapt to changing situations. This includes warehouse workers working efficiently to send out orders, with an increase of $2 to their wage, as well as extreme sanitary protocols and social distancing.
Sephora was also pretty enticing as well, as I usually never buy anything from Sephora's website because I usually do not make purchases more than $50. And when I do need to, I do not buy far enough in advance as delivery times can take up to a week when I am shopping last minute. Sephora barely does free shipping. The exception is for Rouge members who spend $1,000 a year at Sephora and enjoy many perks — including free expedited shipping. So knowing this, I was a little encouraged to buy something, although there was not anything I was looking for in particular, or anything that I really needed. The fact that there was free shipping was enough to almost convince myself to buy something, simply because it was a deal that is not often offered.
Instead of free or reduced shipping, companies like Soko Glam are introducing a site-wide discount in order to attract shoppers to purchasing items. They offered a 20% discount and would be donating a portion of the proceeds to help feed families during this dire time when many are off work and cannot afford to feed themselves. This is just one great example of how they were able to market their brand. To read more about their marketing strategy, click here.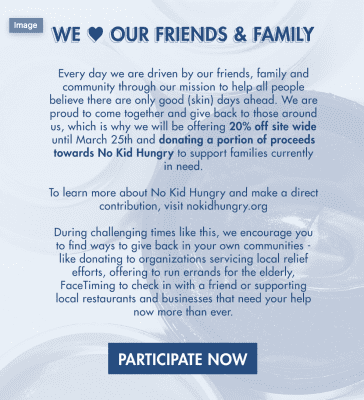 This is just one example, of the many that are probably out there, of how consumers can make a difference by purchasing from a certain company. I thought this was an interesting and heartfelt way to address the pandemic and the things that businesses can do for other people who need it most.
Unlikely Collaborations
One of the most interesting examples of how businesses are coping with the pandemic regards some very unlikely collaborations. Something that caught my eye on Twitter was a story on how a perfume factory is transforming itself to producing medical supplies, such as hand sanitizers.
The company is LVMH, which is a luxury goods conglomerate that was established under Louis Vuitton, in collaboration with Moët Hennessey. A few weeks ago, LVMH chairman Bernard Arnault made the decision to transform the perfume factories that normally produce fragrances for Givenchy and Christian Dior. Instead, they would be producing hand sanitizer to French hospitals to help with the growing issue of a shortage of medical supplies and distribute then free of charge.
Because of the intersection between beauty and science, LVMH already had the three ingredients needed to make hand sanitizer: purified water, ethanol, and glycerine. And because LVMH also produces luxury soaps and creams, those products also have a similar viscosity to that of gel sanitizers. This made it easy for LMVH to continue using their usually filling machines, bottles, and dispensers to make the sanitizers possible.
Something that I got in my email inbox also caught my eye. When I saw the tagline had the phrase "hand sanitizer" in it, I was curious, as hand sanitizer is a highly coveted item right now due to the outbreak. I did not know what to expect when I opened that email from The Face Shop. It was a very unlikely, yet likely duo, as it was a collaboration between The Face Shop and KPop Beauty, but the product of the collaboration was hand sanitizer.


It seems like the hand sanitizer is made in Korea, that official supplies to the Korean government. It is set to be in stock in the US in late March as well as details at which The Face Shop locations they can be bought at.
I have also gotten a lot of emails from The Face Shop regarding the "1830" of washing your hands that is a campaign in Korea. It explains that you should wash your hands everyday, 8 times a day, for at least 30 seconds each time. It has diagrams that details where most people fail to wash diligently and explains the correct way to use hand sanitizer in order to avoid infection from the virus. It also markets the hand-sanitizer that is supposed to arrive at the end of March.
I thought that was an interesting way for businesses to engage with the customers, especially in dire times like this, in order to ensure that people are doing their part to stay healthy. Although many companies talk about what they are doing to make buying products easier during a lockdown, not many address the steps needed in order to stay as healthy as possible, as the best way is to not only stay at home as much as possible, but to also wash your hands as much as possible too.
Final Thoughts
Now, more than ever, is an important time for everyone to come together in order to help flatten the curve. As many businesses struggle to keep afloat with store closures, it is essential to communicate and engage with audiences through email and other forms of traditional media. With effective adaptation of such business strategies such as those mentioned above, hopefully businesses will be able to grasp a better idea of how to engage with consumers during this difficult time.